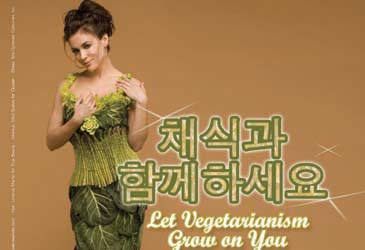 Alyssa Milano
Seoul — Bringing new meaning to the words "natural beauty," vegetarian actress Alyssa Milano dons a spectacular full-length gown made of lettuce leaves — with accents of kale and an asparagus bodice—in PETA's sexy new campaign, "Let Vegetarianism Grow on You."Alyssa, who recently became the face of EZ Up make-up by Debon, wears a gown made entirely of greenery including green leaf lettuce, red leaf lettuce, kale, and more than 2 dozen spears of asparagus. "The world has so much suffering in it already," says Alyssa. "Choosing to be vegetarian is one thing you can do to reduce the suffering on a daily basis."
Alyssa has appeared on the covers of hundreds of magazines- including International editions of FHM, Maxim, and Cosmopolitan. Alyssa joins a growing list of celebrities who have kicked the meat habit, including Joaquin Phoenix, Pamela Anderson, Natalie Portman, Alec Baldwin, Sir Paul McCartney, Tobey Maguire, and Maggie Q.
Who Is Alyssa Milano?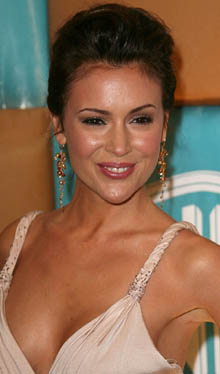 Alyssa Milano
Name: Alyssa Milano
Birth Name: Alyssa Jayne Milano
Height: 5' 2"
Sex: F
Nationality: American
Birth Date: December 19, 1972
Birth Place: Brooklyn, New York
Profession: actress, musician
Education: Bel Air Preparatory School, LA, California
Husband/Wife: Cinjun Tate (aka Cinjun Augustus Tate; lead singer of rock band Remy Zero; together since 1998; married New Year's Day 1999)
Relationship: Scott Wolf (actor; born on June 4, 1968; met in June 1992; became engaged to be married on October 24, 1993; broke up in 1994)
Father: Thomas M. Milano (music editor)
Mother: Lin Milano (fashion designer, personal manager)
Brother: Cory Milano
Claim to fame: as Samantha Micelli in Who's the Boss? (1984)
Profile of Alyssa Milano
By Ken Hall
Alyssa Milano is accustomed to being in front of the camera, going back to her days as a child star on the hit TV show Who's The Boss? and continuing with her current role as a witch on the WB series Charmed. But, as it happens, Milano likes being on the other side of the lens, too. She's been snapping pictures since she was a kid.A few years ago, events would see her make the leap from weekend shutterbug to serious photographer. It began when her father bought her a Canon EOS-1V, a camera she took to right away. She liked the way it captured motion, giving a sense of energy to the photos she was taking.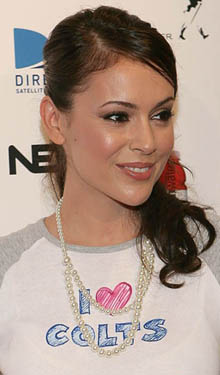 Alyssa Milano
Milano brought the camera to South Africa in 2000, where she was to star in a film for European television. She spent three months on location there, and without any friends or family to keep her occupied, the Canon became her best friend. "There was so much to see," she told American Photo magazine. "Every leaf seemed to have a silver glow over it. Every frame looked great."With much free time on her hands between shoots, Milano volunteered to work at the community center in Mandela Township. She would read to the kids in the afternoons. And when they went out to play, she took their pictures. "They were the cutest, happiest kids," she said. "They had no idea I was an actress, and they wanted to have their pictures taken."Milano ended up taking a wide range of photos — from black-and-white documentary images of shantytowns to highly saturated color portraits and graphic landscapes. But when she returned home to California, the pictures languished in storage for six months."I had a hard time coming back and assimilating the person I was there with the person I am here," she said. "In Los Angeles, I can't be an anonymous humanitarian who feels a kid's pain and makes him happy. Here I'm a girl in Beverly Hills who's on a WB show. It was a hard transition."But Milano wanted to make her parents a book of the images she had captured on film, and when she presented the album to her father, he began to cry. "He told me I needed to do an exhibition of these photos," she said. "I knew they were good, but I didn't want to do anything that would make me a target for the public and the press. I didn't want to be torn apart."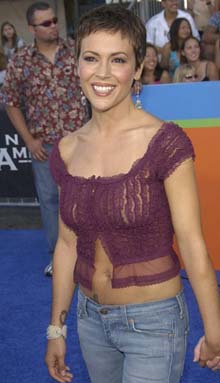 Alyssa Milano
She decided to couple her exhibition with an auction of her photos, the proceeds of which would go to benefit Nkosi's Haven, a South African-based charity that helps mothers with HIV and their babies. The event, held last year at the Track 16 Gallery in Los Angeles, attracted 900 people and raised $50,000."South Africa changed things for me," Milano said. "As soon as I got there, I felt that photography was something I wanted to pursue in a more serious way. Every frame I shot, it felt like a gift. Before, in Los Angeles, I'd shoot a roll of film and there would be a few frames that would make me happy. But those were just snapshots. I feel that I'm taking photographs now."Milano wants to continue using her photography to raise money for worthy causes. "I'd like to open people up to different cultures and lifestyles," she said. "But I don't want to become so obsessed with taking pictures that I stop living in the moment. I don't want to look at a photograph a week after I've taken it and not remember the emotion that went along with it."Today, Milano uses more than just the Canon. She's got a Nikon F5, with just about every lens available. As for film, she's a big fan of Fujichrome Velvia, which she said has "great color saturation." For black and white shots, she's partial to Ilford SFX because of its extended red sensitivity, allowing it to simulate the effect of infrared film.Alyssa Milano was born in Brooklyn, N.Y., on December 19, 1972. At age seven she saw the Broadway play Annie and decided then and there she wanted to become an actress. One year later, she made her acting debut in that very same play, in the role of "July." She toured with the play for a year.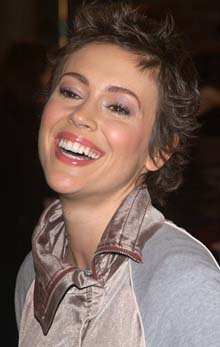 Alyssa Milano
Her big break came when she was cast as Tony Danza's daughter in the '80s sit-com Who's The Boss? The show debuted in 1984 and ran for eight seasons, often at or near the top of the ratings charts. After that, she took five years off before returning to television as the troublemaking Jennifer Mancini (Heather Locklear's arch rival) in the primetime soap, Melrose Place. It, too, was popular.Milano's film career has been a bit more spotty. She has starred in Embrace of the Vampire and Poison Ivy II and was Reese Witherspoon's promiscuous best friend in the 1996 thriller Fear. She also played Arnold Schwarzenegger's daughter in the 1985 movie Commando. Made-for-TV credits have included roles in To Brave Alaska, The Surrogate, Candles in the Dark and as Amy Fisher in Casualty of Love: The Buttafuoco/Fisher Story.Milano is currently one of the three witches on TV's Charmed, along with Shannen Doherty and Holly Marie Combs. She was married in January to a musician. For more information, please visit PETA's Web site GoVeg.com. To learn more about Alyssa, please visit Alyssa.com. Contact:
Ashley Fruno +852-6718-4282 (Hong Kong), AshleyF@petaasiapacific.org
Jason Baker +852-6200-7588 (Hong Kong), JasonB@petaasiapacific.org