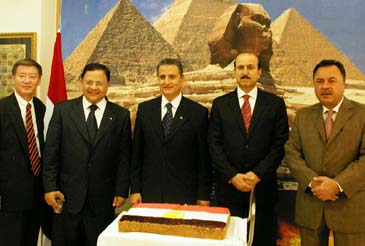 Egyptian Ambassador to Seoul Reda El-Taify (center) poses with Egyptian Commercial Minister Ihab Tahoun, and other dignitaries at the reception held at his residence in Seoul on July 19, 2007.
Egyptian Ambassador to Seoul Reda El-Taify hosted a reception at his residence in Hannam-dong, Yongsan-gu, on the occasion of Egypt's 55th Revolution Day. The dinner reception held on July 19, 2007, drew a number of high-profile guests including many foreign envoys serving in Seoul.The top Egyptian envoy stress the need for better and more relations between Seoul and Cairo in his speech he made on the occasion of the Egyptian national day. The following is the full text of Egyptian envoy's speech on Egyptian and South Korean relations commemorating the 55th anniversary of the Revolution Day.It is always a renewed pleasure to address the distinguished audience of The Seoul Times, especially on this occasion of the Egyptian National Day, which has a special significance for Egypt, since it was the beginning of a movement of freedom that engulfed many African, Arab and Asian countries. Being the Ambassador of Egypt in Seoul , I would like to seize this opportunity to shed some light on the distinguished and growing bilateral relationship between Egypt and South Korea .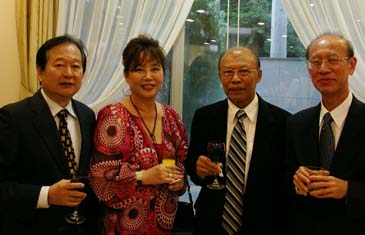 Mr. Lawrence Liew Kok Cheon (left), area manager Korea of Qatar Airways, poses with his wife and two foreign envoys.
Political Dialogue & Framework of Cooperation
Despite the fact that both countries lie thousands of miles away, that did not hamper the political will to maintain close consultations and coordination regarding different international and regional issues as well as exchanging high level visits and extending support to candidatures in different international and regional posts ( It is noteworthy of mentioning that the first ever public support to the election of H.E Ban Ki-moon to the office of the Secretary General of the United Nations was announced by H.E President Hosni Mubarak in the press conference held during the visit of H.E President Roh Moo-hyun to Egypt in March 2006 ) .Undoubtedly , The historic visit of H.E President Mubarak – the first ever by an Egyptian president to the Republic of Korea - to Seoul in 1999 laid the solid foundation for the Egyptian / Korean relations. Through the years, our bilateral relations witnessed major developments in various fields; the bilateral trade volume reached 1.3 billion US $ in 2006 compared with only 120 million US $ in 1980.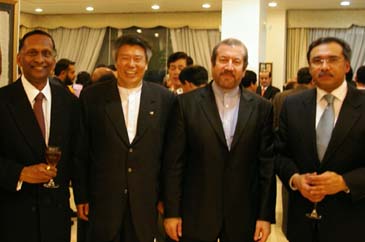 Chairman Kim In-Sik (2nd from left) of the institute of International Strategy poses for camera with his diplomatic friends.
On the other hand , Korean Investments in Egypt totaled $178 million in 2006 in several areas such as Petrochemicals, Electronics, Textiles, Automobiles and Construction, an increase from a mere $20 million in early 1990s. Furthermore , The landmark visit by President Roh Moo-hyun to Egypt in March 2006 generated a remarkable momentum, which further enhanced the bilateral relations as both sides concluded eight MOU's and protocols in various fields . Moreover , and stemming from a firm belief in the importance of further strengthening these relations, the leaders of our two countries were keen on lying the ground for an institutionalized and well - founded cooperation in different areas of cooperation. Therefore, a number of mechanisms were established in this regard; namely : Political Consultations Committee: which was established in 1996, it held its Third session in Cairo in 2006 .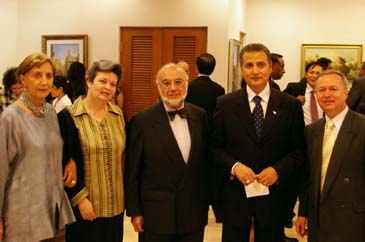 Egyptian Amb. El-Taify (second from right) poses with other foreign ambassadors and their spouses.
Committee on bilateral cooperation in Communications and IT Sector : which was established according to the MOU signed in 2004 , It held its second meeting in Cairo in 2006 and it will be holding its 3rd meeting in Seoul next September . Egypt – Korea Business Council: It was established during President Mubarak's visit to Seoul in April 1999 aiming at enhancing ties between the business communities of both countries and facilitating the establishment of business partnerships . the council held its 6 th meeting in Seoul in May 2007 .
The frame work of bilateral cooperation also includes several agreements and MOUs that spans to different fields including : Civil Aviation – Energy - Cultural, Scientific and Technical Cooperation - Promoting and Protecting Investment – Youth – Environment - Investments Promotion - Industrial Technology - Small and Medium/sized Businesses - Alternative Energy - Information Technology .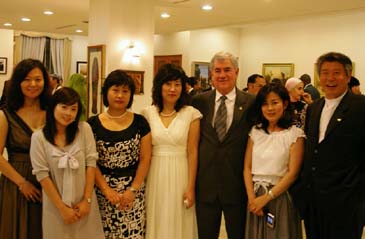 Honduras Ambassador to Seoul Rene Francisco Umana (3rd from right) poses with his South Korean friends. To his left is Connie Kim, press officer of the Egyptian Embassy in Seoul. At far right is Dr. Kim In-Sik, chairman of the institute of International Strategy.
Furthermore, I would like to elaborate on specific areas of bilateral cooperation, as follows: 1- Economic Cooperation - Bilateral Trade : 2007 statistics ( January – May ) shows that The volume of bilateral trade reached 855 million US$ ( Korean Exports recorded 500 million US$ and Egyptian exports recorded 355 millions US$) compared to only 631 million US$ during the same period last year ( January – May 2006) when Korean exports recorded 338 millions US$ and Egyptian exports recorded 293 million US$ at the end of 2006 . Hopefully , trade volume will surpass 2 billion US$ by the end of 2007 .Trade volume for 2006 reached more than 1.3 billion US $, Korean exports to Egypt recorded 853 million US$ whereas Egyptian exports to Korea recorded 450 million US$.a- Egyptian exports to Korea: mainly formed of Oil, LNG, Cotton, Phosphate, Cupper, and marble. b- Korean exports to Egypt: mainly formed of Automobiles, Electronics, Machinery.- Korean investments in Egypt: estimated approximately at 178 million US$, mainly concentrated in petrochemical industries, textiles, steel, automobile, electronics and constructions. Several large Korean companies have their own investments in Egypt such as : Samsung – Hyundai – Dong IL – Dosan – Posco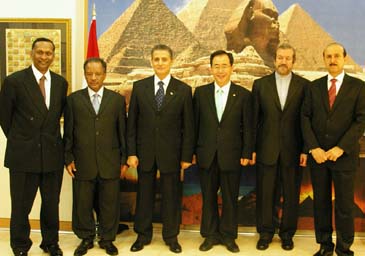 Egyptian Ambassador to Seoul Reda El-Taify (3rd from left) poses for camera with other foreign ambassadors and a local politician.
- The Embassy is focusing on further developing trade between the two countries and addressing the trade imbalance which largely benefits the Korean side by increasing Egyptian exports to Korea and opening the Korean market to new Egyptian products, as well as increasing Korean investments in Egypt .
2- Cultural, Scientific and Technical Cooperation- The Field of Cultural, Scientific and Technical Cooperation is one of the most important and dynamic dimensions of our bilateral relations as both countries attach great importance to interactions and exchanges between their peoples as this helps introducing each country's culture and civilization to the other.- The two countries are currently negotiating the renewal of the executive program for the cultural and scientific cooperation which was signed between the two countries in 1988 . Within the framework of this agreement, the Egyptian government is offering 10 Arabic language scholarships, 4 Islamic studies scholarships and four agricultural studies scholarships to Korean students every year. On the other hand, there are currently 17 doctoral and post doctoral Egyptian students in Korean Universities.- One of the most striking evidence of the growing interest in Korean culture in Egypt is the opening of The first Korean language department in an Egyptian university . that event took place in 2005 in Ain Shams University in cooperation with "Korea Foundation."- As for Egyptian cultural activities in Korea, there has been an exchange of visits between cultural officials in the two countries such as the visit of the director of Bibliotheca Alexandrina to Seoul in August 2006 to participate in the world congress for libraries, and the visit of the director of the national library of Korea to Cairo and Alexandria in December 2006 to explore the possibilities of cooperation between the National Library of Korea and its Egyptian counterpart . Egypt has also actively participated in a series of cultural events in Korea, notably the commemoration of 50 Years of Islam in Korea organized by the Korea Middle East Association, the Nami Island Children's book fair (May 1st – July 1st, 2007), the Hi-Seoul festival (April 29th – May 6th, 2007). - Media institutions in both countries play an important role regarding the promotion of Egyptian culture in Korea as well Korean culture in Egypt .In this regard, the Egyptian Radio and Television Union (ERTU) has signed a cooperation agreement with the Korean TV Network ( MBC) , during the visit of MBC Chairman to Cairo in March 2007 . Accordingly , both networks will exchange TV Programs and Dramas . This will definitely contribute to the efforts to familiarize both peoples of each other's culture .Another Korean delegation comprising of KBC Chairman and a number of KBC officials visited Cairo in April 2007 . A MOU on bilateral cooperation in Broadcasting Regulation was signed between ERTU & KBC .
3- IT cooperation: Special importance is being given to the cooperation between both countries in the field of ICT and telecommunications. The Committee on bilateral cooperation in Communications and IT Sector is expected to hold its third meeting this year to examine the possibilities of enhancing the participation of the Korean Companies in ICT development in Egypt, and to make good use of the new technologies available by Korean companies in the continuously growing ICT sector of Egypt.