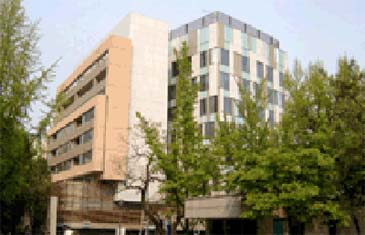 The Canadian Embassy in Seoul
The Embassy of Canada in South Korea has moved to Jeongdong in Seoul, opening a brand new chancery and an exciting new era in Canada-Korea relations. We opened our doors to the public on July 24, 2007. Canada and Korea have worked closely together over the past 40 years to build a warm and friendly relationship. By opening the new freestanding chancery
At Jeongdong, we plan to continue to enrich these links. Like Korea's striking embassy in Ottawa, Canada's freestanding embassy in Seoul is a symbol of the importance of our bilateral relationship. Our new presence in Jeongdong will serve to remind us of the tremendous successes we have achieved together and help us to continue to strengthen our ties in the future. The Canadian government's investment in the new chancery and, by extension, in the relationship demonstrates our strong belief that vast potential exists for even greater bilateral cooperation with Korea.
Koreans and Canadians have many common values, including a respect for the environment, history, education and each other. The new embassy is designed to reflect these values and, in particular, to express the reverence for nature that Koreans and Canadians share. At the embassy's entrance is a 500-year-old tree around which the building was purposefully constructed to serve as a protective frame. Taking its cue from nature,
The exterior of our new building was inspired by impressionist images of the Canadian landscape. The west block is the mountain, a majestic and simple form in the tradition of artist Lawrence S. Harris, presenting a strong, solid background for the tree plaza. The east block is the forest, complete with birch bark trunks and vertical elements to create a natural rhythm against the sky. This image was inspired by Canadian impressionist Tom Thomson. The base ties these elements together and presents a modern interpretation of the undulating textured Duksoogung wall. The Canadian Embassy composition aims to establish a friendly environment and to connect images of Canadian landscapes and cultures to our Korean surroundings.