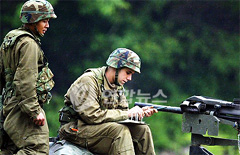 U.S. soldiers belong to Second Infantry Division stationed in South Korea's Dongducho area are taking a break during military drill. Courtesy Yonhap
WASHINGTON — The Defense Department has drawn up plans to move a brigade of troops from South Korea to Iraq, a senior Pentagon official said late Sunday. If the plan goes forward, it would fulfill twin goals of reshaping the American military's deployments on the Korean peninsula and relieving pressure on an Army stretched thin by heavy commitments in Iraq.The plan under discussion calls for moving about 4,000 troops from the Army's Second Infantry Division from South Korea to Iraq, the senior Pentagon official said. At present, about 37,000 American troops are stationed in South Korea, under a 50-year-old security treaty.It would be the first movement of American troops from South Korea to the front lines of Iraq.The Pentagon announced this month that it had scrapped plans to cut American forces in Iraq this year, and would maintain 135,000 to 138,000 troops at least into 2005. Before the most recent spike in Iraq violence, the American troop commitment was to have dropped to 115,000 by the end of this month.The decision forced Pentagon planners to scramble to prepare fresh forces to meet that larger commitment without breaking a promise to the troops that they would be deployed in Iraq for only 12 months.At least 20,000 troops from the First Armored Division had their yearlong deployment extended by 90 days to fill the gap until more forces could arrive this summer.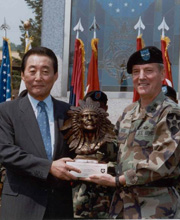 South Korea's Acting President Koh Kun (left) meets with commander of U.S. Army's Second Infantry Division stationed in South Korea.
The decision to keep the higher level of troops in Iraq presents another political challenge to the Bush administration in this election year as public concern over the war effort increases, along with casualties. But any final decision to decrease the number of American troops in South Korea is likely to set off a debate there about whether the United States is undermining an Asian ally — especially as new revelations emerge about North Korea's program to build nuclear weapons.In South Korea, Lt. Col. Deborah G. Bertrand, a spokeswoman from the Air Force, would not comment about possible troop redeployments, but said, "We remain fully committed to maintaining deterrence on the Korean peninsula." The assessment of whether to reshape the troop commitment to South Korea began in a review separate from Iraq war planning. Defense Secretary Donald H. Rumsfeld has been drawing up new deployments for American forces worldwide, not just in South Korea.
The above article is from The New York Times.