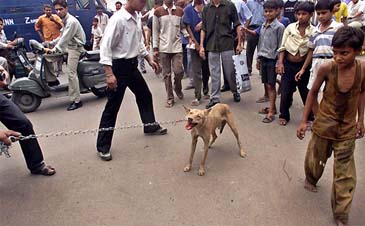 An employee of the Municipal of Corporation of Delhi (MCD) drags a chained dog into a truck during a drive to catch stray dogs in New Delhi, India, on June 19 (Thursday), 2003. Shipping the thousands of strays to South Korea, where dog meat is widely consumed in soup, was one of the more outlandish ideas proposed at a city council meeting to deal with the problem, the Hindustan Times newspaper reported on Aug. 16 (Thursday), 2007.Photo Courtesy of AP/Manish Swarup
NEW DELHI — New Delhi's stray dogs might soon face the fate of being shipped to South Korea to be made into soup for local Koreans as India's capital is grappling with the menace of countless abandoned dogs lurking in the roads.One of New Delhi's councilors suggested that the stray dogs roaming the street of India's capital should be rounded up and sent to South Korea for making dog soup, a summer delicacy, or stamina dish in that part of the world.The Hindustan Times newspaper reported in its recent edition that a New Deli city council member proposed that thousands of stray dogs should be shipped to South Korea, where dog meat is widely consumed in the form of dog meat soup.City councilor Mohan Prashad Bharadwaj was quoted by the newspaper as saying he had read that Koreans are fond of dog meat and "maybe we can send all the stray dogs of Delhi there." He was speaking at a standing committee of the council to canvass measures to curb stray dog numbers ahead of the 2010 Commonwealth Games.At a meeting to canvass measures to curb stray dog numbers ahead of the 2010 Commonwealth Games one local councilor, Mohan Prashad Bharadwaj, ventured the "Korean option" after saying he'd read that nation was fond of dog-meat. Another member came up with another idea. Mira Aggarwal, BJP councilor from Kohat Enclave, wondered if there was any drug that could be administered to the stray dogs during daylight hours "so that they keep sleeping all day long and don't get in our way."A third councilor, leader of the Opposition in the MCD JK Sharma expressed his desire to round up all the stray dogs and relocate them to some neighboring state. "That way, Delhi can be saved," she said, obviously not taking into account how the neighbor would react to canine consignments.All the suggestions will eventually find their way into the minutes of the Standing Committee meeting. It was, however, not clear if chairman Vijender Kumar Gupta would pursue any of the suggestions. He directed the veterinary department to come up with its own blueprint on how to make Delhi free of stray dogs.
The newspaper said that the "Korean option" proposal came out of the situation where thousands of stray canines are becoming a serious problem for the city and its residents. India's capital is suffering from a 300,000-strong plague of feral dogs. Tens of thousands of abandoned dogs live in New Delhi. The stray canines scavenge the city's open rubbish dump, hunting in packs, and terrorizing bikers and other pedestrians at night. They are becoming a hindrance in traffic movement in the capital.Many of the dogs are aggressive, and bite residents. Rabies is becoming a serious health hazard for the New Deli residents. Each year over 200 residents in the capital die from rabies contracted through dog bites.Efforts to sterilize them have been largely unsuccessful. A three-year sterilization drive advocated by animal rights activists turned out to be a failure, creating growing impatience amongst politicians with the city's inability to combat the stray dog menace.Mindful of Mahatma Gandhi's adage that "a country is known by the way it treats its animals," the Indian capital is at least hoping to avoid the kind of brutal cull that Athens resorted to ahead of the 2004 Olympic Games.More than 3,000 abandoned dogs in and around the Athens were killed in an s effort to clean up the city before the 2004 Olympics.
What is boshingtang or dog meat soup?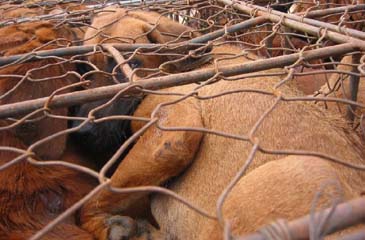 Puppies are squeezed into tiny cages with no room to move in in Moran Market in Seongnam east of Seoul. The dogs are just waiting to be butchered to be consumed as delicacies for the local people. Moran Market is notorious for being the largest dog meat market in Seoul.
A soup with dog meat called boshintang is popular in Korea, especially on the three hot "dog days" of summer on the lunar calendar. The meat is boiled well together with many kinds of vegetables and seasoning for a long time.The traditional belief is that dog meat helps boost stamina and virility, but activists regularly criticize the practice and call for bans on eating dog meat.A total of 2 million dogs are consumed yearly for meat or soup in South Korea, which population is near 45 million, according to a South Korean daily reported. The daily quoted a survey conducted by a lawmaker.More than half of the respondents said that they had an experience of eating dog meat, according to the survey. Estimated 75 percent of them said that they are opposed to any attempt to ban the dog meat.