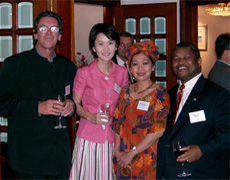 Amb. Sydney B. Kubheka (far right) and Mrs. ambassador pose for a photo with Mr. Gary Van Staden (far left) during the reception on May 19, 2004.
Amb. Sydney B. Kubheka of South African Embassy in Seoul and Mrs. ambassador arranged an official reception for Mr. Gary Van Staden, a prominent South African journalist at the ambassador's residence in Hannam-dong, Yonsan-gu, Seoul.
The reception was held at 7:00 p.m. on May 19, 2004 and lasted for about three hours. About 30 guests from media, diplomatic, and other social fields participated in the open-air dinner party held in the ambassadorial residence. Also present were two people including Mr. Youn Hyun-Bae, assistant manager of the Korea Press Foundation, which invited Mr. Staden to Korea for his first visit.
Mr. Staden serves as editor in chief of The Citizen, South Africa's second biggest daily newspaper. Recently he held a press meeting with local journalists from major news organizations, arranged by the Korea Press Foundation.
During the reception, the Amb. Kubheka was showered with congratulatory remarks from the guests on South Africa's winning the right to host 2010 World Cup in the executive committee meeting of FIFA (Federation of International Football Association) held in Zurich, Switzerland on May 15, 2004.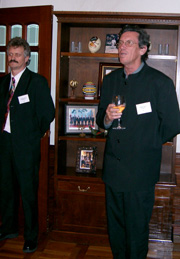 Mr. Gary Van Staden (right), editor in chief of The Citizen, with Mr. Sake van der Wal, counsellor of South African Embassy
South Africa will become the first African nation to hold the world's largest soccer tournament. Three other bidding countries were Morocco, Egypt, Tunisia, and Libya in the FIFA executive committee meeting. In return, Amb. Kebheka thanked all the Korean people as well as media entities for their full support for South Africa in its winning the right to hold world's greatest soccer festival. He emphasized the need for more cooperative mutual ties between South Korea and South Africa.
In particular, Mr. ambassador stressed that South Africa needs to learn the successful experience 2002 World Cup, which was jointly hosted by South Korea and Japan. Mr. ambassador said that he sees the South Africa's successful bidding as a chance to unify a variety of different tribes and culture in his country through the 2010 World Cup.