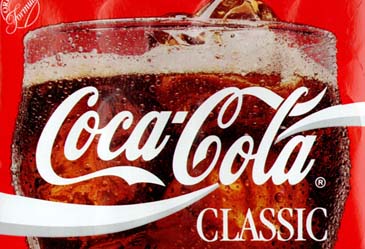 A Coca-Cola ad
The third largest ingredient in Dasani is potassium chloride. If you are to be put death, first you get a barbiturate, then a paralytic agent, and then the chemical to stop your heart (what a coincidence!) you guessed it: potassium chloride! "If you take everything out of the water, you don't get the crisp, clean taste that consumers desire," was the sanguine comment of Kim Price, spokesman for Coca-Cola. Question from Student at Oregon State University: I just noticed potassium chloride was listed as an ingredient in
some bottled waters (Dasani, for example). But I remember from Chemistry and other sources of information KCl is used for lethal injections and is often times hazardous... so why would it be in bottled water?Corporate Party line Answer: Potassium is a mineral found in a variety of natural foods and it is needed for your body to function properly. The reason you may see Potassium Chloride (KCl) as an ingredient in bottled waters is to help replenish a person's natural potassium stores. The amount of KCl a person consumes through food and beverage consumption is much less than is necessary for it to be harmful to a person's health. In order for KCl to be toxic, a person would have to consume more than 2500 mg/kg of KCl, which is an extremely large amount of KCl.After contacting Coca-Cola directly, a representative from Coca-Cola stated that potassium chloride is added to their Dasani bottled water "because consumers prefer it." After conducting several taste-test studies, the results showed that consumers prefer water with the mineral (Potassium chloride) than without it. The representative stated that the amount of KCl in the Dasani water is negligible according to FDA standards. This means there is less than 5 mg of KCl in each bottle of water. Another Coke representative, Ray Crockett, told Sun News last week that "the amount of KCL is tiny; there are no health effects for anybody, and that it is added for taste and to satisfy customer preference." In other words, according to Coke: NO PROBLEM!Checking a little further, we found that Potassium Chloride has some alarming properties: first, Potassium chloride occurs naturally as sylvite and is also extracted from salt water and can be manufactured by crystallization from solution, flotation or electrostatic separation from suitable minerals. It is a by-product of the making of nitric acid from potassium nitrate and hydrochloric acid. The majority of the potassium chloride produced is used for making fertilizer, because the growth of many plants depends on their potassium intake. As a chemical feedstock it is used for the manufacture of potassium hydroxide and potassium metal. It is used
in water as a completion fluid in oil and gas operations. Side effects can include gastrointestinal discomfort including nausea and vomiting, diarrhea and bleeding of the gut. Overdoses cause hyperkalemia which can lead to paresthesia, cardiac conduction blocks, fibrillation and arrhythmias.Lethal injection has 3 steps: first, Sodium thiopental: to render the "offender" unconscious; second, Pancuronium/ Tubocurarine: to stop all muscle movement except the heart. This causes muscle paralysis, collapse of the diaphragm, and would eventually cause death by asphyxiation. Last:
Potassium chloride: to stop the heart from beating, and thus cause death. In 1977, Jay Chapman, Oklahoma's state medical examiner, proposed a new, 'more humane' method of execution: "An intravenous saline drip shall be started in the prisoner's arm, into which shall be introduced a lethal injection consisting of an ultra-short-acting barbiturate in combination with a chemical paralytic." The People's Republic of China began using this method in 1997, Guatemala in 1998, and the Philippines in 1999; other countries have also legally, but not practically adopted the method. Nazi Germany's T-4 Euthanasia Program used lethal injection (with drugs that differed from the modern method) as one of several methods to destroy "life unworthy of
life." ("Life unworthy of life" (in German: "Lebensunwertes Leben") was a Nazi designation for the segments of populace that, according to racial policies of the Third Reich, had no right to live and thus were to be "exterminated." This concept formed an important component of the ideology of Nazism and eventually led to the Holocaust.)Among other "contraindications" for taking potassium chloride as medicine are these: kidney disease; Addison's disease; stomach ulcer or intestinal blockage; and chronic diarrhea. There is another one, according to the FDA which is almost never there to protect you: FDA pregnancy category C." This
medication may be harmful to an unborn baby. Tell your doctor if you are pregnant or plan to become pregnant during treatment. It is not known whether potassium chloride passes into breast milk or if it could harm a nursing baby. Do not use this medication without telling your doctor if you
are breast-feeding a baby." Yet there are no warnings of any kind on a bottle of Dasani ... So if you drink a lot of Dasani, like 6-7 bottles a day, perhaps less, you might develop some of these symptoms: paralysis, numbness or tingly feeling, uneven heartbeat, feeling light-headed, fainting, chest pain or heavy feeling, pain spreading to the arm or shoulder, nausea, sweating, seizure
(convulsions), or coma. If they persist or if you die from "Dasani poisoning," on behalf of your living survivors, ask your lawyer to get in touch with Neville Isdell, the Chairman and CEO of The Coca-Cola Company.Contact information:(404) 676-2121 | 1 Coca Cola Plz NW Atlanta, GA 30313.
He has a phalanx of telephone operators who won't connect you, however ...Our efforts might be productive, after all: in May 2007, Coca-Cola reformulated two of its soft drinks in the US to halt a lawsuit alleging they may contain the cancer-causing chemical, benzene. Coca-Cola, while still denying the allegation, said it changed formulas in its Vault Zero and Fanta Pineapple drinks in September 2006 to minimize benzene formation, the settlement document says. PepsiCo, Coca-Cola's arch-rival, which recently admitted that its bottled water comes straight out of the tap, still has action pending against it . Benzene is a known carcinogen and concerns over its presence in drinks went public last year, following an investigation by BeverageDaily.com and US lawyer Ross Getman. The widely used preservative sodium benzoate breaks down to form benzene in drinks also containing either ascorbic acid (vitamin C) or citric acid. America's soft drinks industry and food safety officials had known this for 15 years, internal memos show, although levels found were "not considered a risk to consumers' health."Coke said it would ensure anyone performing a Google search for 'benzene,' together with either of the products, would be directed to a special message on the Coca-Cola website.News of Coca-Cola's reformulation is likely to spark more questions as to why these ingredients are still being used in drinks. America's Food and Drug Administration (FDA) made a private deal for the soft drinks industry to "get the word out and reformulate," according to Greg Diachenko, an FDA
chemist present at meetings with soft drinks firms in late 1990 and early 1991. However, independent testing, as well as probes by the FDA and food safety officials in the UK, last year again found benzene in some drinks.One ex-FDA official suggested the agency has again fallen short. "Big companies
are very powerful. If you're a regulator with a tight budget, it could have been one of those closets with skeletons in that you don't want to open," he said on condition of anonymity. Soft drinks industry leaders admitted to BeverageDaily.com that the message on benzene may have been lost in places since the issue emerged in 1990. But they also argued sodium benzoate's ability to kill bacteria both cheaply and effectively outweighed negligible risks over benzene.One final question for soft drink consumers: the primary ingredient after water and sugar in all of them is always phosphoric acid, which gives the drink its "zing." Yet phosphoric acid is primarily used outside of the soft drink industry as an industrial solvent, to clean toilet bowls, and to oxidize raw steel, so that it can be painted. Is this something you really want to drink or that your children should be drinking?