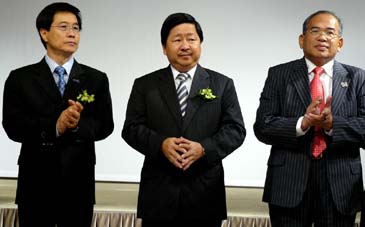 Malaysia's Deputy Tourism Minister Donald Lim Siang Chai (center) poses with Director Abdul Mutalib Awang (right) of "Tourism Malaysia Seoul" and Chairman Lee Jin-Bok of InfoTech Range ADN BHD, who is also chief counselor of Tourism Malaysia's Korea Advisory Council at the luncheon seminar in Seoul on Sept. 14, 2007.
Malaysia's Deputy Tourism Minister Donald Lim Siang Chai hosted a seminar in Seoul on Sept. 14, rounding up his "Visit Malaysia Year 2007" campaign held in major cities in South Korea.The luncheon seminar held at the Westin Chosun Hotel drew some 300 tourism-related guests and local journalists.In the seminar the deputy minister delivered a speech regarding the growing importance of tourism in his country. He also introduced "Malaysia My Second Home (MM2H)" program to the participants."Last year Malaysia has managed to attract 17.5 million international tourist arrivals compared to 16.4 million in 2005," he said in the speech.This year with over 200 events and 50 "mega events"
Malaysia has managed to draw 10.6 million tourists
in the first half of this year.The number represents an increase of nearly 25 percent in comparison to the number of tourist arrivals in the corresponding period of last year.The MM2H program encourages qualified foreign citizens to choose Malaysia for a long-stay destination by issuing relevant visa for them.Under MM2H program Malaysia has attracted nearly 10,000 foreigners to Malaysia since its launch in 2002.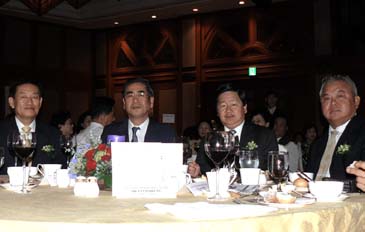 Malaysia's Deputy Tourism Minister Donald Lim Siang Chai (second from right) poses with dignitary participants at the luncheon seminar in Seoul on Sept. 14, 2007. Among the guests are Chairman Shin Joog-Mok of the Federation of Korea Tourism Association (FKTA) and FKTA's Vice Chairman Jon Kim.
The deputy minister also emphasized the benefits of
sending kids to international schools in Malaysia."The cost of private education (in Malaysia) is very much cheaper compared to the cost in the United States, Canada, and New Zealand," he said. "In addition, Korean children studying in Malaysia not only get to learn to speak the English language but also Mandarin and the Malay languages."Accompanied by his delegation the Malaysia's deputy tourism minister attended tourism seminars in several cities of Busan, Daegu, Daejeon, and Seoul around the country during his week-long visit to the nation.Among the delegation members is Dr. Junaida Lee Abdullah, undersecretary of Policy, Planning & International Affairs Division of the Ministry of Tourism Malaysia.A total of 700 applications has so far been made for
MM2H program in Tourism Malaysia's Office, according to Director Abdul Mutalib Awang of Tourism Malaysia Korea Office.
The following is the full text of Deputy Minister Chai's speech.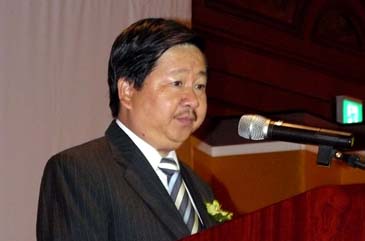 Malaysia's Deputy Tourism Minister Donald Lim Siang Chai delivers a speech at the luncheon seminar in Seoul.
"Ladies and Gentleman!"On behalf of the Government and the people pf Malaysia, I would like to wish all of youAhnnyong haseyo and "Selamat Datang!"First of all I would like to thank you for making time to attend this special event which is held in conjunction with the Ministry of Tourism Malaysia's multi city promotion to South Korea and the on-going Visit Malaysia Year 2007 campaign. I view this as a very important gathering. In decent decades, Malaysia has gained recognition as a most interesting tourist destination with the diversity of her natural resources and cultural heritage. Our beautiful island, lush green rain forests, cool highlands and culturally diverse society have won over many hearts. In addition, the warm sunny weather all year round, modern infrastructure and communications facilities, affordable cost of living, rapid economic and safe environment, have also made it all the more easier for visitors to enjoy memorable holidays here. I am happy to inform that last year Malaysia has managed to attract 17.5 million international tourist arrivals compared to 16.4 million in 2005. This year being visit to Malaysia Year with more than 200 events and 50 mega events we have managed to attract 10.6 million tourists for the first half of the year which represents an increase of 24,8% more compared to the total number of tourist arrivals for the same period last year. To capitalize on the momentum and excitement that we have built up during this Visit Malaysia Year Campaign, which is held in conjunction with Malaysia's celebration of 50 years of Independence which we just celebrated on August 31, 2007; we are going to promote our "One Golden Celebration" until 30th August 2008 with a range of more new and exciting events to attract more visitors to Malaysia especially from Korea.
Miss Shelly Xiao in Seoul attends the luncheon seminar of Visit Malaysia Year 2007 in the Westin Chosun Hotel in downtown Seoul on Sept. 14, 2007. She is the sales and marketing representative for Genting International. She was among scores of representatives of foreign tourism businesses from overseas at the event.
Photo by Axel Roitzsch, staff reporter
We hope you will now help us package and sell more tour packages to Malaysia to double, if not triple the current number of Korean tourists arrivals to Malaysia. We are indeed happy to note that the number of Korean tourists to Malaysia has increased from 158,177 in 2005 to 189,464 in 2006 which represents an increase of 19.8%. For the first 6 months of this year the number of Korean arrivals to Malaysia has also reached 109,246 which is 22.9% more compared to the same period in 2006. Ladies and gentlemen, since the Ministry of Tourism Malaysia took over the promotion if the Malaysia My Second Home Program, we have set up a dedicated One-Stop Centre in May 2006 and now increasing our promotional efforts to attract more qualified foreign citizens to long-stay in Malaysia. Korea is one of the important markets for this MM2H program Today's session is the third Malaysia My Second Home seminar that our Ministry of Tourism is organizing in Korea. Since our two promotions in November 2006 and June 2007, we have noted very encouraging response from the Korea market. This can be seen from the increased number of applicants for this program. We hope our MM2H Presentation today will increase greater awareness and interest in you to help us promote this program to more Korean citizens who are interested to look for second homes in overseas market. Since the launch of the MM2H program in 2002, we have attracted nearly 10,000 foreigners staying in Malaysia. Many of them have made Malaysia their summer residence during their ice-cold winters; used Malaysia as a base for their overseas operations; whilst others have built themselves a cozy place to enjoy their retirement time. For the Korean market we have noticed an increasing trend of Koreans sending their parents under the MM2H program so that they can look after their children who study in our private schools, colleges and Universities. This is because of the cost of private education is very much cheaper compared to the cost in the United States, Canada and New Zealand. In addition, Korean children studying in Malaysia not only get to learn to speak the English language but also Mandarin and the Malay languages. Ladies and Gentlemen, I can assure you that our Government is very serious about MM2H program and special incentives for participants of this program to make their lives much more enjoyable and comfortable in Malaysia. In addition you can count on the support of our Malaysia My second Home centre if you need an advice or assistance while staying in Malaysia. Basically, our MM2H Centre functions as a focal point to answers any MM2H enquiries and related matters. To facilitate Koreans' enquires about our MM2H program, we have just translated our MM2H website into Korean language where you can find all the information regarding this program. This includes the terms and conditions how to apply to become a participant, what are the incentives provided and even how to bring your pet over. We also have appointed a Korean-speaking staff at our MM2H Centre to make it easier for Koreans to fine out more about this program. At the same time, we are encouraging our local tour and travel agents to provide optional tours for Koreans who are holidaying in Malaysia to visit our MM2H Centre if they are thinking of having a second home in Malaysia. In this respect you can also work together with our licensed companies who have been authorized to promote this program in overseas market. We have some of them here with us today. We hope you can establish business contacts each other so that together we can develop the market quickly. In addition we are now making it easier for parents of participants who are 60 years and older to stay longer in Malaysia. They can apply for a 6 month Social Visit Pass which is renewable on a 6 month basis, without having the need to fulfill the financial requirements of MM2H program. As for those who have retired and are drawing a monthly government pension of at least RM10,000 (USD3,000) they can be considered for the monthly off shore income criterion upon arrival. Ladies and Gentlemen, while it is not always easy to relocate to another country, I would certainly urge you to visit Malaysia if you have not done so recently, to see for yourself as to why Malaysia is considered a great place for retirement or as a summer vacation home overseas. You might want to visit Malaysia first as a tourist to experience firsthand what our country hast to offer Before I end, I would like to emphasize again that the success of our promotional program in Korea is due not only to our efforts but also to the contribution and cooperation of all our partners in Korea. I would like to thank everyone involved — the tour operators, MM2H agents, airlines, the media and other organizations, who have helped to position Malaysia to where it is today. And, we are counting on your support to help us promote Malaysia My Second Home program and make it a great success in Korea. With me here today is my delegation from Malaysia comprising representatives from my ministry, state agencies as well as licensed companies for MM2H. We will be pleased to answer any of your questions and to assist you to become a participant of this program. "TERIMA KASIH. KAMSA HAMIDA."