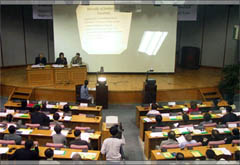 GSIT International Conference Room
Graduate School of Interpretation & Translation (GSIT) at Hankuk University of Foreign Studies has become Asia's first member of the International Permanent Conference of University Institutes of Translators and Interpreters (CIUTI).During its General Assembly meeting in Germersheim, Germany, on May 21, 2004, the CIUTI approved the admission of the Korean graduate school.The CIUTI is a nonprofit international academic organization located in Belgium, which is aimed to ensure the quality of professional translation and interpretation, thus meeting the needs of the ever-changing global professional environment for highly qualified translators and interpreters. With 25 member institutes in 13 countries, the mission of the CIUTI is to contribute to the development of research in translation and interpretation and to the continued development of the training of professional translators and interpreters across the world. "The admission marks the first in Asia, which is sure to greatly help enhance the status of GSIT as a world-class institute of higher education in training highly qualified professional interpreters and translators," said Joh Jae-young, dean of GSIT, in an exclusive interview with The Seoul Times.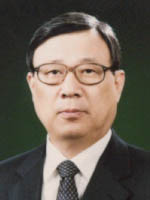 Dean Joh Jae-young
Joh attributed the feat to the ceaseless efforts by GSIT's Brain Korea (BK) 21 Specialized Project Team in Interpretation and Translation in extending its global reach. GSIT was established in 1979 as Korea's first graduate school for interpretation and translation. Since its application for the membership in October 2003, Joh said GSIT has been successful in passing CIUTI's demanding admission procedures. Martin Forstner, a professor at Mainz University in Germany, now serves as president of CIUTI."Our annual international conferences have played a crucial role in being admitted to the prestigious international academic organization," Joh said, adding that most world-renowned cross-cultural communication scholars attending the Seoul conferences seemed deeply impressed by students' excellent simultaneous interpretation performance during the conferences. "The visiting scholars also gave high marks to GSIT's state-of-the-art facilities, including 48 simultaneous interpretation booths."With the admission, Joh said GSIT is expected to play an active role in promoting and developing student and staff exchanges; in facilitating cooperation in available training resources; in ensuring collaboration between members in research and in development of new teaching methods; and in sustaining and promoting concerted actions in relation with international organizations and their linguistic services having to do with the training of interpreters and translators.