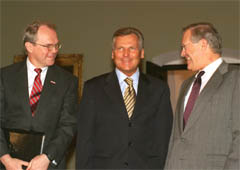 U.S. Ambassador to Poland Hill (left), Polish President Kwasniewski (center), and U.S. Secretary of Defence Rumsfeld pose for photographers.
Coincidence happens in diplomatic areas too. Mr. Christopher Robert Hill, soon to be sworn in as a new U.S. ambassador to Seoul, comes to Seoul for his ambassadorial duties directly from his missions in Warsaw. But way back in 1985 when served as an economic officer at the U.S. Embassy in Seoul, he came to Korea directly from Warsaw missions, as well.In early February 2004, the 52-year-old career diplomat, currently U.S. ambassador to Warsaw, was nominated by President George Bush as the new U.S. ambassador to Seoul. And in early May 2004 South Korea's Ministry of Foreign Affairs and Trade confirmed his nomination as the new U.S. ambassador to Seoul."Ambassador-designate Hill is a career diplomat with high reputation," the ministry spokesman Shin Bong-Kil briefly commented.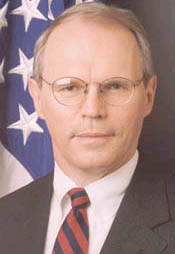 Incoming Amb. Christopher Hill
"He is expected to make great contribution in advancing the Korea-U.S. relations." "On the basis of his previous experience in Seoul, Amb. Hill is expected to develop the bilateral ties of both Seoul and Washington government particularly over the mutually crucial issues of the North Korean nuclear problems and the realignment of the U.S. troops stationed in South Korea," Mr. Shin added.As mentioned earlier, Mr. Hill served as first secretary in economic section of the U.S. Embassy in Seoul from 1985 to 1988. Coincidentally, back then again Mr. Hill came to Seoul immediately after his service in Warsaw.Mr. Hill will replace the current U.S. Amb. Thomas C. Hubbard when the U.S. ambassador to Poland concludes his four-year mission in Warsaw. Amb. Thomas Hubbard assumed the ambassadorial post in May 2001 and his term terminates in August 2004.
Amb. Hill
Amb. Hubbard
Nominated by President George Bush, Mr. Victor Henderson Ashe, the former mayor of Knoxville, will succeed Mr. Hill as the new ambassador to Warsaw. Mr. Hill, who was serving as a Balkans troubleshooter, was named as ambassador to Poland by President Bill Clinton in Feb. 9, 2000.Mr. Hill assumes his duty as the Seoul envoy at a very sensitive time of political chances in South Korea. South Korea's unicameral National Assembly has recently been dominated by liberal-minded politicians including those promoting Socialist's causes. A number of anti-Communist conservative lawmakers failed to be reelected in the general election held on April 14, 2004.As senior career diplomat with 30-plus years of career, Mr. Hill appears to be aware of the rapid social and political changes, particularly the ideological switchover taking place between new and older generations of Korea in recent years.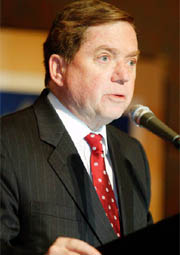 Outgoing Amb. Hubbard
In a recent interview with a local daily, the former "Balkan troubleshooter" said he will seek chances to talk with Korea's new generations who have different (liberal) perspectives from older ones. Mr. Hill also pointed out the significance of humbleness in U.S. diplomacy in the interview. "I want to form a friendly relations with the new generations and I would like to listen to their voices and demands," Mr. Hill was quoted as saying. Asked about the increasing anti-American sentiments around the world as well as in Korea, Mr. Hill emphasized the importance of humble mind and attitude in diplomacy. "We have to ask ourselves whether our behavior is the best option we can adopt now," he said.Mr. Hill also said that U.S. needs a new site for its Seoul Embassy. He said he was surprised that the relocation issue of the U.S. Embassy in Seoul has not been solved since it was initially raided by U.S. government in the 1980s.Waiting for Mr. Hill are a series of other thorny issues including the North Korean nuclear problems, the realignment of the U.S. troops in Korea, and the planned dispatch of additional Korean troops to Iraq.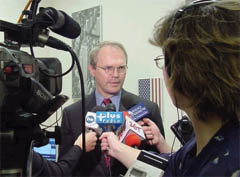 Amb. Hill in a press conference
Mr. Hill said that Seoul's decision to send its army to Iraq was not an easy one but eventually Seoul would commit the third largest troops to Iraq after the U.S. and Great Britain."Pyongyang is one of the worst violators of human rights in the world," the ambassador-designate showed a keen interest in the human rights conditions of Northern half of the Korean Peninsula. He wishes to improve the human rights conditions when he takes charge of diplomacy in Seoul.During a Senate confirmation hearing held on April 22, 2004 Mr. Hill stressed the significance of bilateral strategic alliance between Seoul and Washington by saying " the Seoul-Washington alliance is the cornerstone to stability in Northeast Asia." Yet, Mr. Hill said, "The Korea-U.S. alliance must always re-adjust itself in accordance with the changes of the times, and that's not an easy thing."He added that based on his prior experience of serving in Seoul in the late 1980s he will dedicate himself to strengthening the Korea-U.S. alliance and to promoting bilateral economic and trade relations.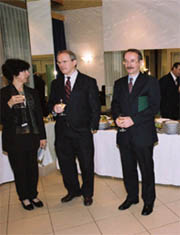 Amb. Hill attends a function of the National Bank of Poland in November 2002.
Mr. Hill mentioned that the systems at the current U.S. Embassy in Seoul are functioning very well and its staff are highly efficient. He said that he will listen to Korean people and learn a lot from them for his new ambassadorship in Seoul. Regarding his impression about Korean people, Mr. Hill praised Koreans as very industrious people who have a very high standard for success.
Profile: Amb. Christopher Robert Hill
Christopher Robert Hill was born and raised in Little Compton, Rhode Island in 1952 until he went to Brunswick, Maine for college education.Mr. Hill graduated from Bowdoin College in Brunswick, Maine, in 1974 with a B.A. (bachelor of art) degree in economics. He completed his M.A. (master of art) degree at the Naval War College in l994.Fresh out of college in 1974, Hill volunteered to serve as a Peace Corps member in Cameroon for two years. He joined the State Department in 1977.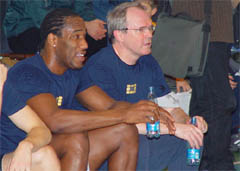 U.S. Ambassador to Poland Christopher Hill (right), plays in the "all star" basketball game sponsored by Gazeta Wyborcza, Poland's largest circulation newspaper, on Feb. 12, 2003.
As a senior member of the U.S. foreign service, Mr. Hill spent better part of his career mainly in Eastern Europe and the Balkans. As multi-lingual, he is capable of speaking fluent Polish and Serbo-Croatian, and some Macedonian and limited Albanian. Mr. Hill was the U.S. ambassador to Macedonia from 1996 to 1999.At the urging of then President Bill Clinton, Mr. Hill served a special envoy for the Kosovo crisis and played his role as a U.S. negotiator for the Bosnian peace accord.Mr. Hill received both the Robert S. Frasure Award for Peace Negotiations and the State Department's Distinguished Service Award for his achievement in the Bosnian peace negotiations. He earned his nickname "Balkan troubleshooter" while he was solving the knotty problems In Kosovo.After his missions in Kosovo, he served as the senior director for Southeast European Affairs with the White House's National Security Council (NSC).Mr. Hill also served as the senior country officer for Polish Affairs in the Department of State before he was appointed as ambassador to Poland by President Bill Clinton in Feb. 9, 2000.
Amb. Hill playing basketball
U.S. Ambassador to Poland Christopher Hill (far left) plays in the "all star" basketball game sponsored by Gazeta Wyborcza, Poland's largest circulation newspaper, on Feb. 12, 2003.
As U.S. ambassador to Warsaw he was quite successful in persuading Polish government to send its troops to Iraq in the face of strong objections from Poles. Speaking in response to the President George Bush's order to disarm Iraq, Amb. Hill was quoted as saying later that America had no other alternative."We tried everything we could to avoid this conflict. We used every institution possible," Amb. Hill said. "Ultimately the problem was that we had a dictator who not only has used weapons of mass destruction on his own people, on his own neighbors, but who has continued to refuse to get rid of those weapons of mass destruction. So ultimately we came to the end of the road."Amb. Hill stressed that the U.S. is very appreciative of everything Poland has done throughout the crisis. He noted that this has not been an easy time for Poles. "Many Polish people have direct experience of war, and they recognize what a dangerous thing it is, added Mr. Hill. "So, we are very appreciative of what the Polish leadership has done to support us in this venture."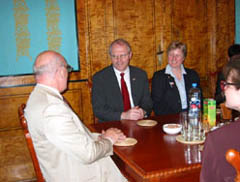 Amb. Hill and his wife Mrs. Hill visit Polish Filmschool Lodz.
He was awarded the prestigious Gordon S. Hargraves '19 Preservation of Freedom Prize while he was serving as U.S. ambassador in Warsaw for his outstanding achievement in Kosovo crisis.Mr. Hill's hobbies include sports activities. His favorite sports is paying tennis. He reminisces his paying tennis game atop a building in the middle of winter while he was working as an economic officer nearly two decades ago in Seoul.Mr. Hill is known to be a big fan of Korean baseball player Kim Byung-Hun of Boston Red Sox. In winter he regularly enjoys skiing.As an avid reader, Mr. Hill favors history books. His recent reading list includes "The Two Koreas: A Contemporary History" by Don Oberdorfer.Mr. Hill has one son and two daughters with his wife Patricia. His son now lives in Washington DC after college. His older daughter, who attends college in Boston, has many Korean friends. His younger daughter is a high school student who was born in Seoul in 1987.