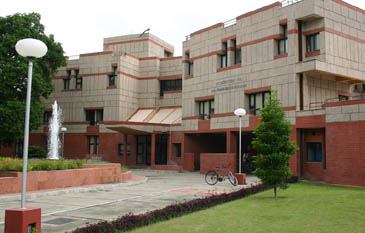 Main building of the Indian Institute of Technology Kanpur
image courtesy of Matt Welsh
Despite of all attempts by IIT Kanpur administration to stifle news related to three unfortunate deaths that happened on the campus recently, the news finally got confirmed on Saturday Sept. 22, 2007.Director of IIT Kanpur had imposed a blanket ban on everyone at IIT to prevent them from speaking to media about these alleged deaths on campus, but his attempts failed with the sad and gory news finally leaking out and a growing concern from human rights organizations and IIT alumni across the world. The prestigious and world renowned Institute of IIT Kanpur, seems to have a practice of suppressing information about untimely deaths of daily wage workers on the campus.All these three deaths were preventable – only if IIT administration had provided better living conditions for the daily-wage workers. Two of these deaths happened due to fatal snake/ scorpion bites and one because of electric shock owing to the dangerous wiring of a welding machine. Ironically IIT which is the launching pad for people to have access to world-class living conditions globally, provides such shameful treatment and unfortunate living conditions to daily-wage workers. News of first death that came out recently was of 12 years old Rohit who was bitten by a snake/scorpion followed by refusal by IIT Medical Centre to treat him on the pretext that he was not an employee's son. Being denied life-saving medical intervention, Rohit succumbed to the fatal bites on 26 August 2007.Second death was of 24 years old Udayvir Yadav who died due to the electric shock he got from his own welding machine on 30 August 2007. IIT administration was reluctant to provide any information about Udayvir's death, till the news became public knowledge and IIT administration began getting the heat. There were continuous murmurs about a third death and IIT Director was fervently trying to block all information with an order on everyone at IIT to not to speak to media! Now it is confirmed that Mohammad Rustam, resident of Malda, West Bengal, aged between 50-55 years, died around 26 July 2007, due to snake/scorpion bite in the early hours like Rohit. He is survived by 3 sons and 3 daughters. He used to work at the Core Lab construction site near Wind Tunnel and SIDBI Centre on IIT campus. His dead body was shipped out silently of the campus in a tractor trolley and buried in a graveyard near a Mosque in Naramau. The Mukhiya of this village was summoned and the matter was settled, till it was finally unearthed by others concerned much to their surprise and shock! "Like IIT Director, some IIT professors too feel indignant that the stories of deaths have been revealed to the outside world. They are not so much concerned about the families of the dead or the poor working conditions of the daily-wage-workers who have made it possible for IITians to enjoy world class material facilities on the campus. The insensitive and cold attitude of IIT community to the deaths of daily wage workers and shoddy manner in which they are dealt must by strongly condemned" retorted an ex-IIT Kanpur faculty member Dr Sandeep Pandey, who also later won Magsaysay Award for emergent leadership in 2002 and is a senior frontline social activist in India today. Interestingly, Dr. Pandey, who was earlier an academician and joined IIT Kanpur faculty after completing Ph.D. from University of California, Berkeley in late 1980s, left IIT Kanpur to plunge in full-time development activism in 1991 when he was irked by the plight of daily-wage workers and their families and the criminal apathy of then IIT Director to their welfare. Old-timers at IIT Kanpur reminisce that Dr. Pandey was so perturbed and frustrated with IIT administration's apathy that he finally resorted to a fast lasting many days to draw attention of IIT administration to the cause. Although more than 15 years have passed by since then, IIT's apathy to the welfare of people who work on-campus hasn't changed. Dr. Pandey after leaving IIT, established alternative education centres for the children of these daily-wage workers and have been involved in strengthening people's rights movements across the country. It shows IIT in very poor light so far its respect for human rights record is concerned. It is also to be noted that the nexus of IIT administration and contractors first tried to summarily dispose of these three death cases so that neither becomes liable for these deaths. The guilty at the Medical Centre, at least in the case of Rohit's death, must be punished and dependents of deceased must be immediately compensated. The IIT administration must put in place a transparent and verifiable system for ensuring due rights of the daily-wage workers under the law of the land. Health care for families of workers, education for their children and good quality housing (to prevent incidents like snake/scorpion bites) is the minimum basic responsibility of IIT if it is to live up to its reputation of a world class institution.