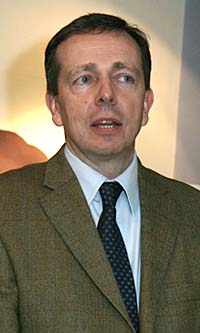 Czech Ambassador to Seoul Tomas Smetanka
To most Koreans, Czech Republic means Prague, its historical monuments, classical music by Dvořák, Smetana, or Janáček, novels by Kundera and, quite recently, a romantic backdrop for the TV drama Lovers in Prague.A festival entitled "Czech It Out," organized by the Czech Embassy in Seoul, will add to the picture and offer other features to be experienced.Scheduled forOct. 8 to 14, 2007, the series of events aim at enhancing the knowledge of the Czech Republic as an attractive tourist destination, highlighting its rich musical culture, and introducing some of the country's traditional products to Korean distributors and consumers. The programme of the week will include:
Week of the Czech Cuisine
Cetnral-European menu by chef Miroslav Soukup of Prague InterContinental HotelDate: 8th-14th October 2007
Venue: Seoul Grand InterContinental, Grand Café
www.seoul.intercontinental.com
Concert of Pavel Šporcl (violin) and Petr Jiříkovský (piano)
Šporcl is a musician who skilfully manages to combine virtuosity with a talent to entertain, qualities that earn him both the recognition of the professional public and the attention of the media. His concerts attract many young listeners and arouse their interest in classical music.Date: 13th October 2007 at 7:30 p.m.
Venue: Art and Culture Center Anyang
www.pavelsporcl.cz
www.ayac.or.kr
Concerts of Gipsy.cz
Hip hop band that emerged as a new phenomenon of the Czech music scene, breaking borders between world music, gipsy music, hip hop and pop; their first CD Romano Hip Hop has been a stunning success of spring 2007. Date: 13th October 2007 at 00:30 a.m.
Venue: Hip Hop Club Velvet Banana
Date: 14th October 2007 at 1:00 p.m.
Venue: Seoul Plaza
www.gipsy.cz
www.vbclub.kr
Musical Hamlet
Premiere of a Korean version of an original Czech rock opera. The musical adaptation of Shakespeare's play was brought on stage by Czech pop star and Grammy Award winner Janek Ledecký. Produced by PMG Networks.Date: 12th October 2007
Venue: Seoul Universal Arts Center
The musical runs daily until 11th November 2007.
www.musicalhamlet.com
Exhibition: Beauties and Secrets of the Czech Republic
Texts and photos presenting highlights of the Czech history.Date: 8th-14th October 2007
Venue: Seoul Grand InterContinental Hotel
Seminar for tourism professionals on tourist destinations in the Czech Republic
Date: 11th October 2007
Venue: Seoul COEX InterContinental Hotel
Registration in advance at 02) 776 9837 Other events as a wine-tasting or an introduction of four Czech breweries will target special groups.The week-long programme is organized by the Embassy in cooperation with Seoul InterContinental Hotels and the Korean representation of CzechTourism agency. Hyundai Motor, Sungwoo Hitech, ING Life Korea, Korean Air, and Czech Airlines support it as sponsors, the concert of Gipsy.cz is supported by Seoul Metropolitan Government.For more information please check the website of the Embassy www.mzv.cz/seoul.Heesook LEE
Assistant to Ambassador
Embassy of the Czech Republic
T.82 2 725-6765(dir.105) F.82 2 734 6452
neth@naver.com
www.mzv.cz/seoul