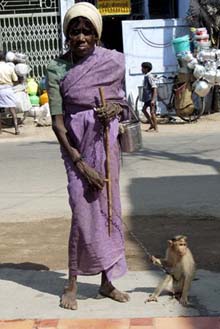 One of the poor Indians begging on the street
The 2007 Corruption Perceptions Index (CPI) Report in 180 countries merits India at rank 72. CPI Report looks at perceptions of public sector corruption, scoring countries on a scale from zero to ten, with zero indicating high levels of perceived corruption and ten indicating low levels of perceived corruption.India was scored at 3.5 for the year 2007. CPI report is prepared by Transparency International (TI), the global coalition against corruption. India has further slipped down 2 ranks. In 2006, CPI report ranked India at 70.
However all is not that gloomy. There is increased recognition by people and government systems in place to fight corruption.
The ongoing Lead India Initiative which is highlighting people who have demonstrated leadership in India has also selected 33 years old Gaurav Krishna Bansal, an IRTS officer working as Divisional Operations Manager, Northern Railways, who has been spearheading a drive to uproot corruption at different levels. Bansal is one of the top eight finalists for Lead India. Bansal had organised and led a drive against black-marketing of railway tickets. He succeeded in arresting the proprietor of the travel agencies running the rackets. A strong correlation between corruption and poverty continues to be evident. The poorest countries suffer most under the yoke of corruption. Public institutions are heavily compromised. "We need to improve transparency in financial management, from revenue collection to expenditure, as well as strengthening oversight and putting an end to the impunity of corrupt officials" said another senior governmental official on condition of anonymity. Corruption remains an enormous drain on resources sorely needed for education, health and infrastructure.The 2007 CPI report highlights the need for governments to engage more actively with civil society in fighting corruption. "Partnering with civil society and citizens is another essential strategy for developing countries seeking to strengthen the accountability of government. Civil society organisations play a vital watchdog role, and can help stimulate demand for reform" said Cobus de Swardt, TI's Director. Agrees senior social activist and Magsaysay Awardee (2007) Dr Sandeep Pandey. "In a new democratic culture building up in the country since the Right to Information (RTI) Act 2005 has been implemented, it is a chance for citizens to intervene and check the rampant prevalent corruption and irregularities in the system" says Pandey. To stem-out corruption, state governments like in Andhra Pradesh have been facilitating social audits with active partnership of civil society. "The advantage of Government itself facilitating such a social audit process is that the government documents become easily accessible to the people, a right for which the country had to wait for 58 years since independence. Since most of the corruption takes place by fudging figures on paper, once documents start becoming public there will be a natural check on corruption" explained Sandeep Pandey. Social Audit is a process where in an open meeting of the people, physical verification of the government records is done with the help of officials, civil society representatives and the people themselves. The entire atmosphere of transparency forces the officials to take corrective action whenever a discrepancy is discovered. "However, if the initiative of social audit remains in the hands of the government or administration, there is a danger that ultimately it'll be subverted" cautioned Pandey. The government department's role should be limited to creating public awareness and facilitating the social audits where there are some obstacles. "The two landmark Acts in 2005 – RTI and NREGA- when properly implemented and used in conjunction with each other have the potential to eliminate corruption at all levels on the one hand, and ensure food security for the poorest sections of the society, on the other" says another senior social activist with Narmada Bachao Andolan Arundhati Dhuru. "An empowered citizenry is the only key to ensuring transparency and accountability in the system" says she.With ongoing Lead India recognizing young leaders like Bansal who are fighting corruption within the government system, the tumultuous media and public support to operationalize RTI and NREGA to decimate corruption and empower the most under-served communities, and increasing public outrage against corruption, malpractice and realizing their rights for transparency and accountability, there is certainly a hope for a positive change.