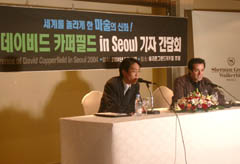 David Copperfield meets with Korean press.

David Copperfield has been hailed by audience and critics alike as the greatest illusionist of our time in a press conference held at Sheraton Walker Hill Hotel, eastern Seoul, May 24, 2004. Some 50 local journalists participated in the conference.In addition to decades of network television event, worldwide tours, and "Dreams and Nightmares," the critically acclaimed Broadway show that set box-office records, he has been featured on the covers of Forbes, Architectural Digest and Esquire and is the thirteenth highest paid entertainer in the world.Copperfield has elevated the ancient art of magic to new heights and redefined it along the way. He has vanished the Statue of Liberty, walked through the Great Wall of China, flown through the air and made audience members disappear and reappear in places they would never expect.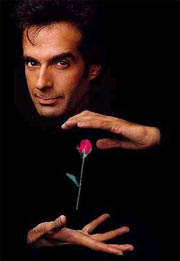 David Copperfield
And now he returns to Seoul where he is set to bring his show "An Intimate Evening of Grand Illusion" to the Sejong Center for the Performing Arts. His new show is a mix of old Copperfield classics and new illusions. "This show comprises of my best magic based on making people's dreams happen," Copperfield said. "And showing the wonder and excitement of magic ... I gain inspiration from observing people on the street and listening to their dreams.""For example, nobody dreams of pulling a rabbit out of a hat but people do dream about winning the lottery and in the show I try and make these dreams happen … the Lotto piece uses principals that haven't been used in magic before," Copperfield added.Even as a kid, Copperfield was performing illusions in his hometown of Metuchen, New Jersey. He began performing professionally at age 12 and became the youngest person ever to be admitted to the Society of American Magicians. By 16, he was teaching a course in magic at New York University.Copperfield has continued to learn and improve his magic. "If I stopped learning I'd give up, what would be the point," Copperfield insisted.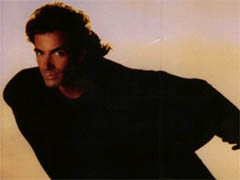 This dedication to improve magic and treat it more as an art medium, where he differs from so many other illusionists is his ability to make magic very personal "an idea which has been used in other art forms but never before in the art of magic."Of all his accomplishments, Copperfield insists that his greatest work to date is Project Magic, a rehabilitative program established in March 1982 to strengthen dexterity and motor skills in disabled patients, using sleight-of-hand magic as a method of therapy.By giving these patients a skill that able-bodied people don't possess, Project Magic also motivates patients and helps to build self-esteem. The new Project Magic Handbook will be available soon. Project Magic has been accredited by the American Occupational Therapy Association and is currently implemented in 1,100 hospitals and in 30 countries worldwide.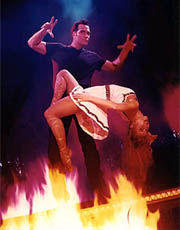 In addition to performing over 550 shows per year to sold-out audiences around the world, Copperfield has a passion for preserving the art of magic for future generations. His International Museum and Library of the Conjuring Arts is a permanent home for antiquarian props, books and other historical ephemera related to conjuring. The museum houses the world's premiere collection of historical documentation and artifacts pertaining to magic, illusion, and the allied arts.David Copperfield has revolutionized magic. He has taken it to heights of artistry and imagination undreamed of by wizards and audiences of the past, combining spellbinding illusions with extraordinary theatre but it his want to personalize this art form that make this show in the Sejong Center so tantalizing.Shows start from this Wednesday, May 26, 2004 at 1 p.m. and run for a total of 13 shows ending next Sunday, May 30, 2004 at 7 p.m.* Date : 2004. 5. 26 ~ 5. 30
Wed. 1 p.m./4 p.m./7 p.m.
Thu. 7:30 p.m.
Fri. 7 p.m./10 p.m.
Sat. 1 p.m./4 p.m./7 p.m./10 p.m.
Sun. 1 p.m./4 p.m./7p.m.* Venue : The Sejong Center for the Performing Arts* Ticket : R/200,000 Won S/160,000 Won A/100,000 Won B/80,000 Won C/60,000 Won D/40,000 Won