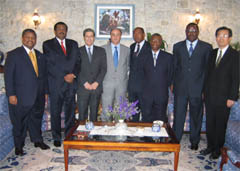 On May 25th, every year, in accordance with a long-standing tradition, the African Union is commemorating Africa Day, and this year is no exception. The commemoration of Africa Day, which fell on May 25, 2004, coincided with the official launching in Addis-Abebe (Ethiopia), in the presence of the heads of state of its 15 member states, of the Peace and Security Council of the African union of which fundamental mission is to preserve peace and stability in Africa.This landmark event was attended, as well, by representatives from the UNO, the European Union, and the countries partners of NEPAD (New Economic Partnership for Africa Development). The G8 members are NEPAD partners since 2001. And, when the G8 leaders convene their meeting slated for June 10, 2004 in Sea Island in Georgia, USA, the heads of state of Algeria, Ghana, Nigeria, Senegal, South Africa and Uganda will be in attendance, and peace and security will be one of the main themes discussed in this meeting.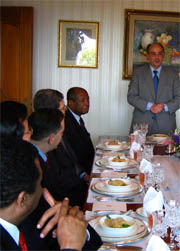 Several other topics will be discussed between the leaders of the most industrialized countries and their African counterparts, such as NEPAD, peace and security, private-sector-led growth and poverty alleviation, food security, and health. As for NEPAD, on the G8 summit's agenda since 2001, its Steering Committee (Algeria, Nigeria, South Africa and Senegal) has worked closely with the G-8 to improve governance, reduce trade barriers, and stimulate investment in Africa's social and physical infrastructure.According to a White House statement pertaining to this matter, President Bush's invitation to "the African leaders emphasizes the important relationships which the United States and the rest of the G-8 have with Africa, and reflects continued commitment to the G-8 Africa Action Plan."In Seoul on May 25, in the meantime, Amb. Ahmed Boutache of Algeria, dean of diplomats corps of African ambassadors accredited to Korea hosted a luncheon at his residence in celebration of the Africa Day which serves as a reminder of the gathering of African heads of state that took place 41 years ago in Addis Ababa, Ethiopia.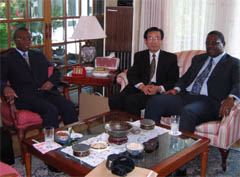 Ambassadors from Africa and Korean guests were invited to the function. Kah Jae-mo, president of Global Korea Co. and former vice president of Global Business Center of the Korea Telecom (KT) was also on hand.The OAU's principles, now upheld by the African Union (AU) are contributing positively to the lives of all in Africa. These include freedom, equality, justice and dignity, which are essential objectives for the achievement of the legitimate aspiration of the African people."It reminds us of the struggles for independence during those dark days when our African brothers and sisters engaged in the fight for freedom," said Amb. Boutache.