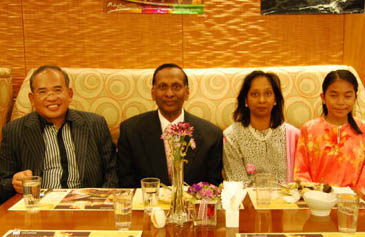 Director Abdul Mutalib Awang (left) of the Tourism Malaysia Korea Office poses with Malaysian Amb. Dato' M. Santhananaban (second from left). Second from right is Mrs. Datin Marie Santhananaban, wife of the Malaysian envoy.
Members of Malaysian community in South Korea and their friends in Korea enjoyed attending open houses as they could truly relish the good food as well as chat about life and work in general at leisure. Hundreds attended the event, now in its third year, organized by Tourism Malaysia Korea Office.Malaysian Ambassador to Seoul Dato' M. Santhananaban and Director Abdul Mutalib Awang from the Tourism Malaysia Korea Office ,Lim Cheng Hoe, Korea regional director of MAS in Seoul were among those who attended the Hari Raya Open House.The event offers a chance to get a closer perspective of Islamic culture, as well as experience Malaysian culture, which is ethnically and religiously diverse."Attending open house invitation is like going to a Malay traditional ceremony for us. We enjoy the company and the conversation,"said John Kim, chairman of Friends of Malaysia Club in Korea, who is concurrently vice president of Korea Tourism Association.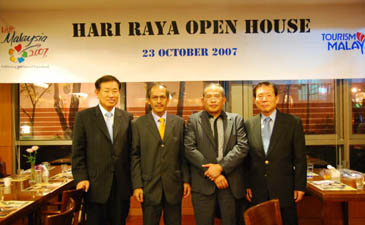 Director Abdul Mutalib Awang (second from right) of the Tourism Malaysia Korea Office poses with Mr. Mihn Byung-Il (right), editorial director of The Seoul Times, Vice Chairman Jon Kim (left) of the Federation of Korea Tourism Association (FKTA). Second from left is President Haji Sahariman Hamdan of Homestary Association Malaysia.
Joseph Kim, one of leading local journalists, said that visiting his Malaysian friends during Hari Raya gave him the opportunity to bolster friendship and better understand things Malaysia apart from savouring Malaysian food, cakes and drinks.To celebrate the festivity has become a norm here thanks to Tourism Malaysia, which organizes the festive event each year.Park Young-ho, another member of the Friends of Malaysia Club in Korea said he found the celebration here unique and joyous.The Hari Raya Open House is a celebration of the successful Hari Raya Aidilfitri is a festival offering Malaysian food which could not be enjoyed over the Ramadhan period on a free-flow basis.This special event is enjoyed by all in Malaysia and as the festival is also enjoyed by non-Islamic believers and The ninth month of the Islamic year is observed as a sacred one with fasting practised daily from dawn to sunset.The end of Ramadan saw the biggest human migration in Malaysia and other Islamic countries in Southeast Asia. Some 1.2 million cars in Malaysia were reported to have used the nation's biggest highway, which runs the entire length of the peninsula.