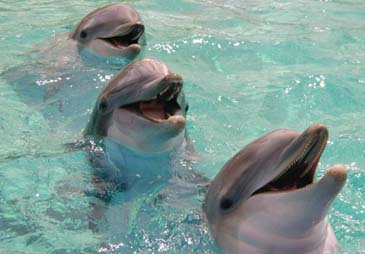 Dolphins help shark attack victim: Todd Endris was surfing when he was bitten by a 12- to 15-foot shark, but thanks to a couple of Flippers and a friend.
Surfer Todd Endris needed a miracle. The shark — a monster great white that came out of nowhere — had hit him three times, peeling the skin off his back and mauling his right leg to the bone. That's when a pod of bottlenose dolphins intervened, forming a protective ring around Endris, allowing him to get to shore, where quick first aid provided by a friend saved his life."Truly a miracle," Endris told TODAY's Natalie Morales on Thursday.The attack occurred on Tuesday, Aug. 28, just before 11 a.m. at Marina State Park off Monterey, Calif., where the 24-year-old owner of Monterey Aquarium Services had gone with friends for a day of the sport they love. Nearly four months later, Endris, who is still undergoing physical therapy to repair muscle damage suffered during the attack, is back in the water and on his board in the same spot where he almost lost his life."(It) came out of nowhere. There's no warning at all. Maybe I saw him a quarter second before it hit me. But no warning. It was just a giant shark," Endris said. "It just shows you what a perfect predator they really are."The shark, estimated at 12 to 15 feet long, hit him first as Endris was sitting on his surfboard, but couldn't get its monster jaws around both surfer and surfboard. "The second time, he came down and clamped on my torso — sandwiched my board and my torso in his mouth," Endris said. That attack shredded his back, literally peeling the skin back, he said, "like a banana peel." But because Endris' stomach was pressed to the surfboard, his intestines and internal organs were protected.The third time, the shark tried to swallow Endris' right leg, and he said that was actually a good thing, because the shark 's grip anchored him while he kicked the beast in the head and snout with his left leg until it let go.The dolphins, which had been cavorting in the surf all along, showed up then. They circled him, keeping the shark at bay, and enabled Endris to get back on his board and catch a wave to the shore.
Our finned friends
No one knows why dolphins protect humans, but stories of the marine mammals rescuing humans go back to ancient Greece, according to the Whale and Dolphin Conservation Society. A year ago in New Zealand, the group reports, four lifeguards were saved from sharks in the same way Endris was — by dolphins forming a protective ring. Though horribly wounded, Endris said he didn't think he was going to die. "Actually, it never crossed my mind," he told Morales.It did, though, cross the minds of others on the beach, including some lifeguards who told his friend, Brian Simpson, that Endris wasn't going to make it.Simpson is an X-ray technician in a hospital trauma center, and he'd seen badly injured people before. He had seen Endris coming in and knew he was hurt."I was expecting him to have leg injuries," he told Morales. "It was a lot worse than I was expecting."Blood was pumping out of the leg, which had been bitten to the bone, and Endris, who lost half his blood, was ashen white. To stop the blood loss, Simpson used his surf leash as a tourniquet, which probably saved his life."Thanks to this guy," Endris said, referring to Simpson, who sat next to him in the TODAY studio, "once I got to the beach, he was calming me down and keeping me from losing more blood by telling me to slow my breathing and really just be calm. They wouldn't let me look at my wounds at all, which really helped.A medivac helicopter took him to a hospital, where a surgeon had to first figure out what went where before putting him back together."It was like putting together a jigsaw puzzle," Endris said.Six weeks later, he was well enough to go surfing again, and the place he went was back to Marina State Park. It wasn't easy to go back in the water."You really have to face your fears," he told Morales. "I'm a surfer at heart, and that's not something I can give up real easily. It was hard. But it was something you have to do."The shark went on its way, protected inside the waters of the park, which is a marine wildlife refuge. Endris wouldn't want it any other way."I wouldn't want to go after the shark anyway," he said. "We're in his realm, not the other way around."
International Shark Attack Research Foundation: Learn more about the organization and their work to prevent shark attacks by visiting this site.
Bottlenose Dolphin
From Wikipedia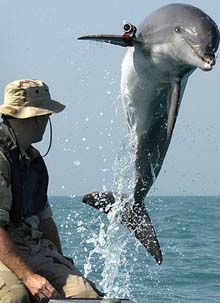 K-Dog, trained by the US Navy to find mines and boobytraps underwater, leaping out of the water.
The Bottlenose Dolphin is the most common and well-known dolphin. Recent molecular studies show it is in fact two species, the Common Bottlenose Dolphin (Tursiops truncatus) and the Indo-Pacific Bottlenose Dolphin (T. aduncus).It inhabits warm and temperate seas worldwide and may be found in all but the Arctic and the Antarctic Oceans.
Bottlenose Dolphins and humans
Bottlenose Dolphins are still occasionally killed in dolphin drive hunts for their meat or because they compete for fish. Bottlenose Dolphins (and several other dolphin species) often travel together with tuna, and since the dolphins are much easier to spot than the tuna, fishermen commonly encircle dolphins to catch tuna, sometimes resulting in the death of dolphins. This has led to boycotts of tuna products and a "dolphin-safe" label for tuna caught with methods that do not endanger dolphins.Bottlenose Dolphins (as well as other dolphins) are often trained to perform in dolphin shows. Some animal welfare activists claim that the dolphins there are not adequately challenged and that the pools are too small; others maintain that the dolphins are well cared for and enjoy living and working with humans.Eight Bottlenose Dolphins that were washed out of their aquarium pool during the devastating August 2005 strike of Hurricane Katrina were later found alive by rescue forces, huddled together in coastal waters near their former home in Gulfport, Mississippi, USA.[citation needed]Direct interaction with dolphins is used in the therapy of severely handicapped children and adults, and many report it as having a highly positive effect.The military of the United States and Russia train Bottlenose Dolphins as military dolphins for wartime tasks such as locating sea mines or detecting and marking enemy divers. The USA's program is the U.S. Navy Marine Mammal Program, located in San Diego, California.In the town of Laguna in south Brazil, a pod of Bottlenose Dolphins is known to drive fish towards fishermen who stand at the beach in shallow waters. One dolphin will then roll over, which the fishermen take as sign to throw out their nets. The dolphins feed on the escaping fish. The dolphins were not trained for this behaviour; the collaboration has been going on at least since 1847. Similar cooperative fisheries also exist in Africa, and have been reported through recorded history.A dolphin with an extra set of fins was found in Wakayama, Japan on October 28 2006. Scientists are researching and have found that they may be the remains of hind legs. The dolphin is alive and will go through X-Ray and DNA tests.In New Zealand there was a very famous dolphin by the name of Opo or her long name Opo the Dolphin. She was friendly to the locals and when she died they honoured her with a statue of her, including a child on her back and she was also honoured with a public funeral. There is also a NZ folk song about her. Maori believed that she was a messenger from one of the first people who discovered New Zealand.
The above article is from Today Show.