Arts & Living
Fireworks in SNU-ISA@SNU Diwali Blast!
Special Contribution
By Sukdeb Pal & Satyanshu Srivastava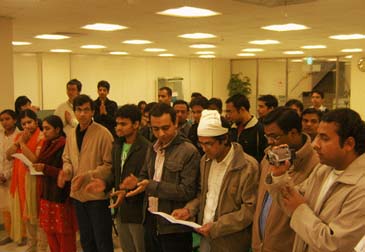 Indian students at Seoul National University in South Korea
"With dusk descending on the city one sight strikes the eyes with a pleasant sensation. Most of the houses are illuminated. On the eve of Diwali all Indians seem to be enjoying the festival in their own typical way."
Well don't panic as yet. No doubt this could have been a perfect start of a Diwali Celebration report had we been in India. But it was not much less for Indians in Seoul National University. Continuing the legacy of successful Ganesh Utsav at SNU, the Indian Students Association @SNU (ISA @SNU) blasted again this Friday (November 9, 2007) for Diwali celebrations. Diwali was celebrated in a grand way- full of fun-packed games, delicious Indian cuisine, Bhangra, and lots of Fireworks- a perfect blend for a perfect Diwali. As part of the ISA@SNU's annual celebration of Diwali last Friday, the Student Center hosted a joyful and vibrant evening, and the lighting of lamps that represents Diwali. Not only Indians in SNU but also officials from SNUCO (SNU cooperative), Indian, Srilankan, Chinese and Korean students from Korea University, Korea Advance Institute of Science & Technology (KAIST) and Kyunghee University crowded their way into a full house at the Student Center basement Hall on Friday for the Diwali Festival. "Diwali is the Indian festival of lights. It is an event celebrated annually all around India. The light of Diwali is the light of hope, love, and courage," the hosts said. "Our aim was to have a perfect concoction of a traditional Diwali pooja with fun-filled events to follow." Rohidas Arote, a doctoral course student in college of agriculture & life science, and other Indian students on campus were in charge of providing SNU with this year's annual Diwali Festival. "It took the ISA@SNU about two weeks to get ready for Diwali," Arote said. There was naturally no lack of devotion and gaiety. But one thing that came as a damp squib to the preparations was the weather conditions and that was the fluctuating mercury. The behaviour of the climate was queer. In the morning it was cloudy and along with it, a slight nip in the air. But with the day break and the advancement of the sun, the climate became a bit warmer. Then again with the evening setting in, the weather changed and it started drizzling. But the Diwali fever persisted with more than 50 enthusiastic people attending the program. Organizers were seemed to be more than ready to elude the adverse climatic conditions. "Based on the overwhelming concern regarding cold weather and forecast of rain on this Friday we finally decided to organize the main program in a covered place," said Nitin Singhal, a second year master course student in electrical and computer engineering. Dr. Ram Sagar Misra, a postdoctoral fellow in the department of Chemistry, well supported by his wife Smt. Nisha started the celebration with Pratisthapana of Laxmi and Ganesha Idol followed by achaman and tilak. Aarti was accompanied with traditional Hymns (Vandana).In his Diwali Katha Dr. Mishra said Diwali is a celebration of the return of King Rama to his kingdom after 14 years of exile. He said King Rama destroyed Ravana, the demon king of Lanka. By destroying Ravana, the evil power of Lanka was also demolished. Diwali symbolizes the old-age culture of India, complete with fireworks and candles. It depicts light over dark and good over bad. The festival of lights teaches to uphold the true values of life, he said.A sumptuous dinner was provided at the program. Delicious north Indian Curd Vada Curry made everyone feel home. Gulab Jamun was liked most by the non-Indian guests. Satyanshu Srivastava, one of the organizers, majoring in Korean literature, said about 90 percent of the individual contribution went toward the food. Instead of sticking to old India tradition, the organizers chose various games, and music to catch up the mood of young generation and non-Indian participants. Indians from various renowned universities were tested on a memory game. But the first prize finally went to a Korean student from Kyunghee University. Indians grabbed second and third places. Now it was the turn of the King of all party Games "Tambola." Everyone was praying for their numbers to be called holding their breaths tight. However, only a few were lucky enough to get away with the prizes. Here again two of the six prizes went to our Korean friends. Musical chair event was in the final segment of the fun games. It proved to be a real digestive for everyone who participated. With Indian music on play everyone danced while moving round the chairs. Dance floors were open for all those quirky feet out there, but finally everybody joined the Bhangra. It was a sincere effort to make this Diwali a special one that can be kept close to heart for years to come. "The purpose of the program was to let everyone know more about Diwali, why it is celebrated, to make the students from India feel closer to home, and to give a piece of the Indian culture to everyone," the organizers said. Finally the celebration was concluded with fireworks at SNU open air theater, the place which has already become famous after Ganesh Utsav 2007 @SNU. Ravinder Chutani, perusing doctoral study in Physics said "It was a great Diwali evening in Korea. I would like to thank all the member of ISA@SNU to make this Diwali such a wonderful one."
"Well Diwali celebration did not match up to expectation; completely turned out to be different. Much better than what we had thought. AWESOME also may not describe my feelings for celebration, it's too less," said Abhishek Joshi, a graduate student in electrical and computer engineering, and also a member of the ISA@SNU. "Home away from home!"
Mr. Sukdeb Pal, born 1976, is a research student in the Laboratory of BioChip and Bioimaging for Drug Screening, College of Pharmacy, Seoul National University. He received his MS degree in Chemistry from the University of Kalyani, Kalyani, India in 2001. Mr. Pal worked for several years in academic and industrial research. Before joining the Nanobiosensor Lab, Research Institute of Inorganic Materials Chemistry, Chungnam Nat'l University in 2005 he was working with Unilever Research India as a Research Officer. Subsequently, he moved to the Research Institutes of Pharmaceutical Sciences, College of Pharmacy, Seoul National University as a visiting researcher. He is one of the recipients of the Post BK 21(Brain Korea) program excellent research award 2007, College of Pharmacy, SNU. Currently he is working on new generation of biosensors (DNA and protein chips), and metal nanoparticle-based antibiotics. He has special interest in microfluidics and laser spectroscopy. He has a good record of scientific publications in peer-reviewed journals. He also authored a few international patent applications. Indian Classical Music is his favorite pastime.

Mr. Satyanshu Srivastava, born 1984, received his Bachelors degree in Korean Language from Jawaharlal Nehru University, New Delhi, India in 2006. He was an exchange student in ChungAng University (2004-2005) and Kyunghee University (2006-2007). Currently he is on Korean Government Scholarship, majoring in Korean Modern Literature from the Department of Korean Language and Literature, Seoul National University. Being fluent in Korean, English, and Hindi, Mr. Srivastava also performs as an interpreter and translator occasionally. He has been actively involved in many activities that indulge in exchange of Indo-Korean cultural heritage. He dreams to play his part in bridging the cultural gap between Korea and India. Apart from academics he pursues interest in travelling and photography.

Related Articles
Mr. Sachin Satpute, President of Novelis Asia, ...
ICCK Chairman Vasudev Tumbe Hosts "ICCK Diwali ...
"ICCK Diwali Ball 2018" Planned in Seoul Nov. 9
Gujarat Investment Seminar to Be Held in Seoul
ICCK Hosts Investment Forum in Seoul
ICCK to Host "Investment Opportunities in ...
ICCK "Diwali Ball 2016" at JW Marriott on Nov. ...
Ex-Public Official Yoon Sock-Joong Appointed ...
Chairman Dilip Sundaram to Host ICCK Forum
ICCK to Host 25th Speakers Forum on ...
IIK Diwali Festa 2014: A Taste of Diwali with ...
Indians In Korea (IIK) to Mark Diwali ...
Indians In Korea (IIK) to Celebrate "Diwali" ...
Indians in Korea Celebrates Diwali in Grand Way
Indians Celebrated Diwali in South Korea
Zealous ISA@SNU Celebrates Diwali Night ...
Whither The Light of Democracy