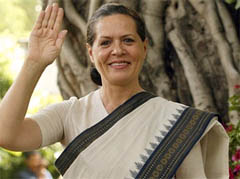 Sonia Gandhi, President of India's main opposition Congress Party Reuters
Madras, India, May 31, 2004 — India has one immensely remarkable plus point. Despite all its faults and follies, this country has been able to keep its flag of democracy flying high. Elections here have ensured largely peaceful transfers of administrative power from one political group to another.During the latest polls to Parliament, nobody dreamt that the Congress Party would come back to power after so many years. Even Sonia Gandhi, who heads the party by sheer virtue of the fact that she is the widow of India's former Prime Minister, Rajiv Gandhi, was taken aback by the people's mandate.Now in charge of the destiny of a billion-plus people, Gandhi, an Italian by birth, was often ridiculed by the Bharatiya Janata Party and its allies when they were in power before the recent elections in India for her foreign origin. They were never tired of saying that Gandhi's ambition to rule India smacked of ruthlessness and greed for power.If the Congress surprised us, Gandhi did so even more. Having shattered the hubris and complacency of the Bharatiya Janata Party Government and punctured the pride of political pundits, she stunned just about everybody by refusing to become the Prime Minister.She chose Manmohan Singh, an economist and a man with a clean record to lead India. An architect of the nation's economic reforms in 1991, Singh is best suited to guide India at this juncture.
Congress Party celebration
Activists of India's main opposition Congress Party celebrate with a cutout of their party president Sonia Gandhi in the eastern Indian city of Calcutta May 13, 2004. India's Gandhi dynasty swept back to power on Thursday on a stunning wave of anger among millions of rural poor, who felt left behind by the country's economic boom and voted out the Hindu nationalist government.
REUTERS/Jayanta Shaw
The Congress believes in religious and social tolerance, values that took a beating during the regime of the Bharatiya Janata Party. The murder of Australian missionary Staines and his two very young sons, the desecration of churches, the massacre of Muslims in the Western Indian State of Gujarat and the curtailment of artistic freedom were some of the ugly events that tarnished the image of the Bharatiya Janata Party.Added to this was the sense of overconfidence and arrogance that permeated the Hindu nationalist Bharatiya Janata Party. I remember speaking to a couple of Ministers before the elections who said with a touch of glee that the Congress under Gandhi could never hope to win. "We would come back with a thumping majority," they told me with a note of disdain for the Congress Party, which is credited with having won India its independence from the British in 1947.Not only did the Congress wrest power from the Bharatiya Janata Party, but also Gandhi was wise enough to hand over the prime ministership to Singh. This decision removes a political liability that could have hampered the functioning of the Congress government, which is now ruling as the head of a coalition. Paradoxically, this gives Gandhi a greater power to guard India's democratic institutions and secularism. A political cartoonist friend of mine who works out of New Delhi quipped, "Can you imagine a Hindu leader giving up power... Sonia by doing this has reaffirmed my belief in humanity." He had some nice things to say about European sense of fairness and justice.
Sonia Gandhi greets press
Italian-born Sonia Gandhi, president of India's main opposition Congress party, greets the press as she arrives to cast her vote in New Delhi May 10, 2004. More than 200 million Indians go to the polls on Monday in the fifth and final stage of the elections, with 182 seats up for grabs in the toughest phase of the election for Vajpayee's Bharatiya Janata Party.
REUTERS/Sucheta Das
However, Gandhi by distancing herself from the prime-ministerial chair and enhancing her moral authority, has in some respects made sure that she will rule without reigning. It does not need any intelligence to understand that the real authority behind Singh would be Gandhi.She grew up in small town near Turin in Italy and was brought up as a devout Catholic. Her marriage to an Indian pilot, Rajiv Gandhi, turned her fortunes. She became part of the renowned Nehru-Gandhi political dynasty that has governed India for 37 of its 56 years since Independence. After Jawaharlal Nehru, the nation's first Prime Minister, his daughter, Indira Gandhi, took over. When she was assassinated in the late 1980s by Sikh extremists, her son, Rajiv, became the Prime Minister. He was also killed by Sri Lankan terrorists.Now, with Manmohan Singh at the helm of India's affairs, not only is the Congress back in power in New Delhi, but also a beautiful interplay of secularist forces has begun to work. In an overwhelmingly Hindu-majority India, we have a Muslim for a President and a Sikh for a Prime Minister. An Oxbridge-educated former professor with an Oxford doctorate in economics, and a firm believer in the virtues of economic growth as a necessary condition for attaining social goals, Singh should be a reassuring person for international investors. And, of course, for India's teeming millions.