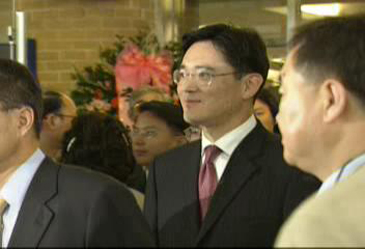 Lee Jae-Yong, son of Samsung Group owner Lee Kun-Hee
Samsung Group, which describes itself as a "top brand of South Korea," may be facing a major blow to its reputation over the latest suspicions of corruption linked to the conglomerate. The snowballing scandal involves renewed allegations of illegal intra-group stock deals to transfer ownership of the group from its chairman to his son and of political payoffs during the 2002 presidential election campaign. The problems aren't new, but previously Samsung had succeeded in deflecting public criticism.
But this time around, the situation looks different as the National Assembly approved a bill to appoint independent investigators to probe Samsung's irregularities, including allegations of bribery, illicit transfer of ownership and creation of slush funds. The unicameral parliament approved the bill in a 155-17 vote with 17 abstentions. President Roh Moo-hyun has indicated he would probably veto the bill, calling it a political offensive ahead of Dec. 19 presidential election. Before the bill's passage, presidential spokesman Cheon Ho-seon told reporters that the presidential office would announce its official stance "after considering a lot of things."
"With sufficient time, we plan to review it with all possibilities open," Cheon said. The special investigators, if appointed by President Roh, would probe other irregularities such as opaque stock deals at Samsung affiliates, aimed at helping Samsung Chairman Lee Kun-hee transfer control of the group to his only son, Jae-yong. "We welcome the decision ... Allegations about Samsung must be brought to light through thorough investigations by independent counsels," said Kim Sang-jo, a professor at Hansung University, who leads the civic group Solidarity for Economic Reform, after conservative and liberal lawmakers agreed on Thursday to submit the bill to appoint special investigators for Samsung scandal. The widening scandal was triggered early this month by Samsung's former chief legal attorney Kim Yong-chul, who publicly claimed that Samsung bribed prosecutors, judges, high-ranking government officials, journalists and scholars to support the actions of Samsung's Chairman Lee Kun-hee aimed at passing control of the group to his son. Samsung has denied the allegations, accusing its former legal chief of "malicious" revelations. However, Samsung was hit with another allegation again last week when a former legal aide to President Roh claimed that Samsung offered him a cash bribe in 2004. He said he rejected it. Lee Yong-chul, who until 2005 handled anti-corruption matters at the presidential office Cheong Wa Dae, said 5 million won (US$5300) in cash was delivered to his home by a Samsung Electronics lawyer in a package that looked like a book. The revelation by the former presidential aide appears to support widely publicized allegations of bribery by Samsung. Responding to the latest allegation, an official at Samsung said, "We are trying to check whether the claim is true or not."
As the lawmaker agreed to endorse the bill on an independent counsel, Samsung issued a two-paragraph statement, saying, "It is regrettable that an independent investigation was agreed to at a time when the business climate is so difficult." Some Samsung executives expressed concern that the independent probe, which may last as long as 100 days, could have a negative effect on the group's affiliates, including Samsung Electronics, the world's largest maker of computer memory chips. However, shares of Samsung Electronics have been unaffected by the problem. On Friday, Samsung Electronics stock gained over 3 percent on Seoul's bourse after the company announced an investment plan for a new liquid crystal display (LCD) factory. "The Korean public has nowhere else to turn," said Jeong Byeong-ho, a law professor of the University of Seoul, in a column for the Hankyoreh newspaper. "The only thing they have to set Samsung straight is their own strength." He added, "Foreign investors will also be watching with interest to see whether this case is handled with principle and fully according to law(Yonhap News)