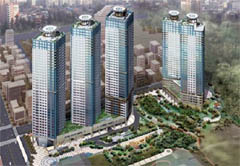 Artist's rendition of City Park towers, a 39-story complex for apartments and offices to be constructed in Yongsan in central part
of Seoul.
"Yongsan, grab it while you can!" beckoned advertisements for apartments bordering the American military headquarters on the Korean peninsula. "Korea's Central Park that will change the map of Seoul!"Try to grab it they did. About 250,000 potential buyers recently put down a total of $6 billion in deposits, hoping to be chosen for one of the 629 apartments or 141 offices in the City Park towers. For now, the color of this sprawling downtown base is not park green, but United States Army green. But, suddenly, Seoul's hottest real estate is ringing an American base that in more normal times is ringed with the riot police.Three years from now, when new owners are to move into the 39-story City Park towers, most of the 7,000 American soldiers are to be moving out, ending the presence of foreign soldiers at Yongsan since 1882.First, troops of China's Qing dynasty seized this strategic site between the Han River and Korea's royal court. About 25 years later, the occupiers of Yongsan, or Dragon Hill, were Japanese Imperial Army troops who established their military headquarters there.
Occupation history of Yongsan by foreign forces
Whising to make fortunes
A large number of applicants crowd an office of a construction company in their hope for being selected as one of the lucky owners of apartments or offices in City Park complex on March 24, 2004.
Courtesy Newsis
Today's tenants, American troops, live behind cinder block walls topped with barbed wire, esthetic scars that evoke a Fort Leavenworth transplanted from Kansas to Korea. (The American military recently announced that 3,600 American soldiers would move to Iraq from South Korea, reducing the American troop strength here by 10 percent.) "Whoever rules Yongsan, rules Korea," is the old refrain. In a new twist, today's rulers are players in Seoul's real estate bubble, a commercial frenzy that evokes Tokyo's bubble of the late 1980's."We are now the No. 1 destination for development in Seoul," Jeon Young Sik, a 31-year-old marketer for the City Park towers, said in an office festooned with posters for other projects in the long-neglected neighborhood: Megatrium, Yongsan Eclat, Daewoo Trump World III and a tower cluster to rise in the red-light district near the base.The target for these billions of dollars in investments is a run-down neighborhood of bars, discount shops and apartment buildings built low enough to allow military helicopters to take off and land."Compared to the air-brushed advertisements, this site is not that great a location," admitted Kim Su Yeon, whose father put down almost $1 million for a 2,060-square-foot apartment in City Park. "So, yes, I see a big bubble."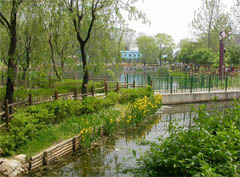 Yongsan Family Park south of U.S. Army's Yongsan Garrison
Under an agreement near completion, American troops stationed here are to move over the next three years to an expanded base at Pyongtaek, a city 40 miles south. An American pullout from Yongsan would provide 656 acres of open space to the 10 million residents of Seoul, a city where parks were sacrificed in the rush to create the world's 12th-largest economy. Almost overnight, Seoul, one of Asia's most densely populated cities, could have one of world's largest urban parks."Yongsan is 80 percent the size of New York's Central Park," Lee Myung Bak, Seoul's mayor, said, barely suppressing his jubilation in an interview at City Hall. Central Park is 843 acres. "If the U.S. troops are relocated by 2007, it would be the first time in 125 years that the Yongsan site is returned to the people of Korea." But President Roh Moo Hyun, who survived impeachment to win back full presidential powers on May 14, has described Yongsan as "a symbol of foreign intervention, invasion and dependence."Now, Koreans ask, who will pay for the move? More than a decade ago, South Korea promised to buy land and invest in facilities and services for a new American headquarters, about $3 billion. But the new, liberal-dominated National Assembly that is to open on June 6 is expected to question the cost.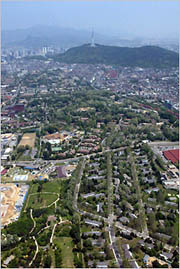 Yongsan area in central Seoul
"Now things have changed in Korea; we are in a position to renegotiate," said Mr. Jeon, the real estate promoter. "We will not accommodate all the U.S. requests unconditionally. We will probably pay for what we can pay for, and the U.S. side will pay for the rest." Rather than reduce military spending, South Korean defense officials argue, why not raise the money by auctioning off this prime real estate? "The land must not be sold to developers," said Seo Jae Chul, a director of Green Korea, a major environmental group. "If that happens, it will directly affect the political livelihood of the Roh administration."Already, new uses are nibbling at the park. South Korean officials have agreed in principle to allow the construction of a United States Embassy on one corner and an English school and a German school on other corners.Inside Yongsan, some American officers recall that the United States first agreed to leave Yongsan in 1988. The move was delayed because successive South Korean governments never found a suitable site outside Seoul."I bet my paycheck that while I am in the Army it will never happen," said one American officer here. "Twenty years from now, I will still be reading about it. It is a great political platform for some people. It's a self-licking ice cream cone."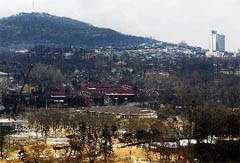 U.S. Army base in Yongsan
But Pentagon planners vow that the move from Seoul will not be stopped. To sweeten the shift, the United States has promised to spend $11 billion over three years to upgrade American forces in South Korea. "We move this time, or we just leave," said Scott Snyder, a Korea specialist who works for The Asia Foundation, a research institute. "A brigade could be relocated to Iraq, and then not come back."Last fall, South Korean conservatives were startled to hear an American defense secretary suddenly sound as if he were ready to demonstrate for green parks and Korean sovereignty. On a visit here, Secretary of Defense Donald H. Rumsfeld asked at a news conference, "If foreign troops were stationed in New York's Central Park, would it be acceptable to Americans?"
The above article is from The New York Times.