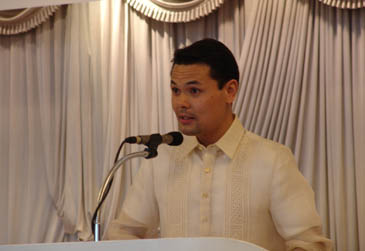 Tourism Secretary Durano says that the franchises in China and S.Korea are looking for locations that are acceptable to the DoT to open TCPs in 2008..
Three new branches of Travel Café Philippines would be opened in Makati and Pasay to serve as showcase operations for investors interested in this pioneering concept,Ms Maricon Basco-Ebron, tourism attaché at the Philippine Embassy in Seoul said.The franchise for all three new stores were granted to the same group behind the first TCP outlet in Tokyo, and which had entered into a joint venture with catering firm Makati Skyline, Ms Ebron quoted Philippine Tourism Secretary Joseph Ace Durano as having said.The first of the three is in Greenbelt 5 and would open on Dec. 18 and another one would be at the SM Mall of Asia and a third in the SMX Convention Center, both expected to open in January, according to Ms.Ebron.She explained that as "showrooms," the new stores would be fully-operational cafés but would serve as models that would be available for potential franchisees to view.So far, new franchisees include those that would open TCPs in New Delhi, San Francisco in California, Seoul and Shanghai.The cafés in India and the United States would open in 2008 while those in South Korea and China would have to wait a little longer as the franchisees were still looking for locations that were acceptable to the DoT."We have been receiving positive feedback and inquiries from interested investors," Durano was quoted as saying. "But when they ask to see an example, we could only point to the Tokyo café, which is an expensive trip and out-of-the-way for some."Launched in 2006, TCP in Tokyo was developed under a concept that consulting firm Francorp Philippines designed."This was a world's first in terms of integrating the businesses of a café and of travel," Durano was quoted as having said. "New Zealand has adopted this model."Secretary Durano also said that TCP was an innovative and cost-effective means for the DoT to promote the country with limited resources, according to Ms Ebron."Unlike the traditional and seasonal advertising media of television and magazines, TCP is all-year-round, quite experiential and a lot cheaper," Secretary Durano was quoted as having said.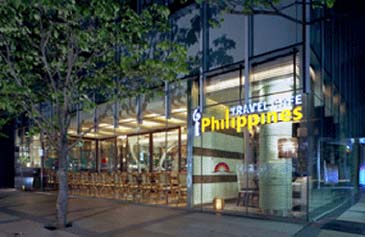 Travel Cafe Philippines (TCP) will likely to have its offshoot in Seoul soon.
Durano said the new franchise would be heavy on featuring destinations—by way of items in the menu, naming of the foods and the themes in the different areas of the café—as well as "very strong" on the travel components.
In the meantime, travel warnings following the recent failed mutiny have not deterred foreign tourists from visiting the country, Tourism Secretary Joseph Ace Durano was quoted as saying..He went on to say that the country's tourism business operations remained normal with no reports of booking cancellations by foreign tour groups."Peak season fervor continues to preoccupy the industry and so far we have been dealing only with standard queries from tour operators from various markets abroad about the travel advisory," Durano was quoted as saying.According to Durano, top tourist drawers such as Boracay, Palawan, Bohol and Cebu were not affected by the hotel standoff in the country's financial district and continue to receive many foreign guests.He added that his department, through its various offices abroad, had been monitoring the situation but has not received any cancellation of bookings.Former Navy officer and now Sen. Antonio Trillanes IV led a failed revolt by taking over The Peninsula Manila hotel in Makati last Thursday before eventually surrendering to authorities.Durano, however, assured that the Philippines remains a safe destination for both local and foreign tourists despite the attempted power grab."We are in coordination with our private stakeholders, especially hotels around the Makati area, to ensure the safety of our guests," Durano said, adding that the DOT is still expecting to attract three million foreign visitors by yearend.In September, tourist arrivals grew 10.3 percent year on year, bringing the country's total guests to 2.266 million for the first nine months of the year.The Philippine Tourism Authority (PTA), on the other hand, is supporting moves to remove Trillanes from the Senate for putting the country's tourism industry in peril.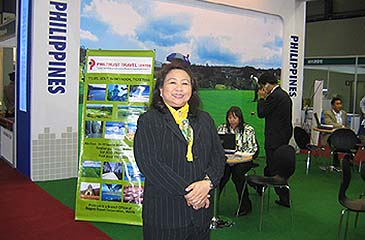 Ms Maricon Basco-Ebron, tourism attache at the Philippine Embassy in Seoul ..
"It is simply unimaginable for a public servant, how much more a senator of the Republic, to barge into a reputable tourist facility, hiding behind the populace in order to evade a court order and driving foreign guests out of their rooms. Let us expel him from the Senate," PTA general manager Robert Dean Barbers said.He said Trillanes' action has turned the financial district of Makati into an undesirable place for business and tainted the country's image abroad."The tourism industry has gained so much and by their actions we now stand to lose more than what we have gained," Barbers said. According to Barbers, the tourism industry had worked hard to recover from losses resulting from the Oakwood mutiny also led by Trillanes four years ago, and now he again put those efforts to risk.