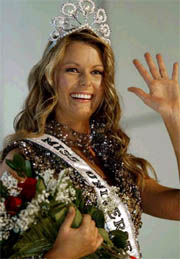 Miss Universe 2004
Jennifer Hawkins, Miss Australia 2004
Miss Australia, Jennifer Hawkins, has been crowned Miss Universe 2004 in Quito, Ecuador. The 5-foot-11-inch blonde with blue eyes was chosen from among 80 beauty queens. It is the second time an Australian has won the pageant since it began in 1952. The other Australian victory belonged to Kerry Anne Wells in 1972.Hawkins received the crown from Miss Universe 2003, Amelia Vega, from the Dominican Republic.Miss USA, Shandi Finnessey, was named first runnerup, while Miss Puerto Rico, Alba Reyes, 22, an aspiring doctor, was named second runner up. The two other finalists were Miss Paraguay, Yanina Gonzalez, third runner-up and Miss Trinidad & Tobago, Danielle Jones, fourth runner-up.
| | | |
| --- | --- | --- |
| | | |
| Miss USA Shandi Finnessey | | Miss Puerto Rico Alba Santos |
The finalists were announced after 10 semi-finalists, including Tanushree Dutta, paraded in swimsuits before spectators and a panel of judges that included musician Emilio Estefan, singer Paula Abdul, actress Bo Derek and supermodel Petra Nemcova. The glitzy pageant was hosted by celebrity news reporter Billy Bush and model Daisy Fuentes.Some 1.5 billion people in 150 countries watched the pageant, owned by billionaire New York real estate developer Donald Trump. Another 7,600 spectators paid 250 dollars a seat to watch the event live in an auditorium near Quito.
Final Results:First Runner Up:
Miss USA, Shandi Finnessey.
Second Runner Up:
Miss Puerto Rico, Alba Giselle Reyes Santos.
Rest of Top Five:
Miss Trinidad & Tobago, Danielle A. Jones, Miss Paraguay Yanina Gonzalez.
Rest of Top Ten:
Miss Colombia, Catherine Daza Manchola, Miss Costa Rica Nancy Soto, Miss Ecuador, Susana Rivadeneira, Miss India, Tanushree Dutta, and Miss Jamaica, Christine Straw.
National Costume Award:
Miss Panama, Jessica Rodriguez. Chosen by a local panel of judges during a two-hour telecast in Quito, Ecuador for the delegate who displayed her country`s pride and spirit best in costume.
Congeniality Award:
Miss Italy, Laia Manetti. The award reflects the respect and admiration of the delegate`s peers, who voted for her as the most congenial, charismatic and inspirational participant.
Photogenic Award:
Miss Puerto Rico, Alba Giselle Reyes Santos.
Here are the questions and answers with the newly crowned Miss Universe 2004 Jennifer Hawkins, who is Miss Australia 2004, as well.
Question:
Name one person, other than your parents, who has had the most influence on your life. Why?
Answer:
Megan Gale (fashion model/ambassador for Australian tourism to Europe). The typical girl next door, she personifies health and beauty. She has risen to stardom yet maintains her down-to-earth charm.
Question:
What is the most interesting or unique thing that has ever happened to you (aside from winning your title) and/or what is the most interesting thing about you?
Answer:
The first time I caught a wave standing up on a board. It was such an exhilarating moment. It was like being accepted into the men's club as it is such a male-dominated sport and a fundamental way of life in Newcastle. This also exemplifies my "give it a go" attitude about life, which typifies Australians.
Question:
What is your career ambition and what are you doing or plan to do to accomplish that goal?
Answer:
Presently I am a model and a choreographer, but ultimately I would like to work my way onto the television networks as a presenter. I would like to utilize my contacts and experience from the modeling industry to help leverage a position on television.
Question:
Could you list any interesting or unsual jobs you may have had?
Answer:
Participated as a model in a student designer fashion show that incorporated outrageous clothing to generate a reaction from invited guests.
Question:
Describe your childhood home and living conditions. Were you raised with a large family with lots of brothers and sisters?
Answer:
I was born in Newcastle, a regional city two hours north of Sydney. It is a township with a strong beach culture and a warm family environment. I am the youngest of four children. I look up to my siblings, and they have all influenced me. My parents, who have been happily married for 30 years, have particularly influenced me.
Question:
What one word describes you best?
Answer:
Vivacious.
The above articles and photos are from SantaBanta.com.