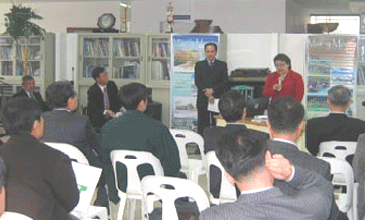 A seminar on investment in Zamboecozone is under way at the Philippine Embassy in Seoul.
A business delegation from Zamboanga City in the southern Philippines flew into Seoul on Dec. 11 to attract Korean investors to the Zamboecozone and Freeport, emerging trading hub of Southeast Asia.Leader of the delegation is Ms. Georgina P.Yu, chairman and administrator of Zamboecozone, otherwise known by its corporate name as Zamboanga Freeport Authority (ZFA).She told a group of invited 30 would-be Korean investors on Dec. 12 that Zamboanga Freeport Authority, located in Visayas in southern Philippines, was conceptualized to be an economic hub that is designed to generate local economic activities that will serve as a springboard for the promotion of trade, investments, and ecology tourism not only in Zamboanga City but also throughout the region, thus bringing about socio-economic upliftment.Philippine Ambassador to Korea Susan Castrence and Ms Maricon Basco-Ebron, tourism attache at the Philippine Embassy also joined the conference held at the embassy compound.She explained that the Zamboanga Freeport Authority has two development site. The first Development Site consists of the 1st and 2nd Industrial Park. The 64.56-hectare San Ramon development site known as the First Industrial Park was once a barren agricultural land devoid of any semblance of basic infrastructure. It was formerly administered by the Philippine Coconut Authority until it was transferred to the Zamboanga Freeport Authority while the 2nd Industrial Park is a 664-hectare beachfront property formerly administered by the Department of justice which was turned over to the Authority, according to Ms. Yu.The Second Development Site on the other hand, which is located in the hinterlands of barangays Pamucutan and La Paz, consist of 15,391 hectares of logged-over forest.The 64.56-hectare First Industrial Park is suitable for commercial and service-oriented projects, institutional complexes and light to medium enterprises.Inside the First Industrial park is a Nature Park that boasts of two swimming pools, canteen, shower rooms and picnic huts which can accommodate as many as 500-700 guests. A staff house with a beautiful landscape in the facade is available for lease for seminars, conferences, retreats may be availed as a vacation home for families and friends who want to get away from the hustle and bustle of city life. Investor's houses , Standard Manufacturing Building and Storage building were also constructed for lease by interested locators.Pointing ot that the Zamboanga Freeport Authority has 20 registered locators including one from Korea as of now, she went on to say that the growing investors' confidence fueled by President Gloria Macapagal-Arroyo's administration's sound government programs grounded on strong macro-economic fundamentals is mirrored domestically with the entry of various locators in the zone.The Zamboanga Freeport Authority is managed as a separate customs territory and offers incentives for would-be investors like tax free importation of goods, and other tax incentives.By nature of its operation, Zamboanga Freeport Authority is unique being both an Economic Zone and Freeport and is in fact the only freeport in Visayas and Mindanao.The prospects for legitimate domestic and foreign investors to set up shop in the Zamboanga Freeport where they can be free from customs tax, duties and tariff obligations, among an array of fiscal incentives like one peso per square meter per month on lease rates at the 1st Development Site; PhP 3,000.00 per hectare per year at the 2nd Development Site; Income Tax Holiday for four years extendible to a maximum of eight years; Net Operating Loss Carry Over tax scheme; 5% on Gross Income Earned ;guaranteed lease period of 50 years renewable for another 25 years, and foreign investors investing US$20,000 to $50,000 will be granted permanent residential status, along with their spouses, dependents and unmarried children below 21 years of age , foreign executives and technicians with highly specialized skills are issued working visas, renewable every two years; and 100% foreign ownership of business is definitely an attractive package to reckon with.
Presently, the Zamboanga Freeport Authority maintains a 4-storey office building in San Ramon manned by a complement of 80 technical staff tasked to oversee the area's day-to-day operations and map out its long-termed development plan.
From the locators and projects inside the zone, a total of 1,064 jobs were generated for the residents of the city.
On the other hand, the 664-hectare seafront property of the Authority which serves as the site for the Second Industrial Park is the proposed site for the construction of a world-class International Seaport Complex. The complex will have a main area of 20 hectares. Other projects envisioned for the seaport site include an 18-hole golf course, hotel, recreational facilities, restaurants, marina and theme parks.The concept of a retirement center in the hinterlands is now in the drawing boards. The identified 40-hectare property for this project nestled among the rolling hills has a magnificent view of the ocean and has a serene and calming effect most idyllic for a retirement community complete with hospital facility, fitness center, outdoor entertainment, sports and recreational center, spas and salons, she explained.The Second Development Site of the Zamboanga Freeport Authority is a 15,000-hectare logged-over area in upper La Paz and Pamucutan. It is ideal for agro-forestry, high-end residential projects, information technology ventures and a university village.The Baguio-like climate is highly viable for eco-tourism. Visitors have raved about the once-in-a-lifetime experience of trekking in the slopes of the rugged terrain accompanied by well-trained members of Team Kaguang, the Authority's mountaineering club. Guests vowed to come back for the exhilarating experience once more.The rich soil in the highlands is ideal for high value crops, vegetables and cut-flower. Proof of this is the success of the experimental strawberry farm in the La Paz area. The cool climate yielded several harvests of strawberries and plans are now underway for the expansion of the farm."Indeed, the Zamboanga City Special Economic Zone has taken off on a dawdling start but it has slowly but surely increased its pace with the entry of local and foreign investors that believe in this project and what it stands for," Ms Yu said.The Zamboanga City seaport provides a link to Manila, Cebu, Sandakan (Malaysia) and other Mindanao ports. At the same time, Zamboanga City Airport is the central transit point to various destinations for passengers and goods, including manila, Cebu and Davao. Zamboanga's telecommunication facilities are keyed to the conduct of global commerce, supporting multi-modal communications such as voice/fax phone, internet and e-mail access, fixed line, mobile phone services, and satellite broadcast reception, she concluded.