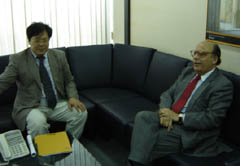 Amb. Carlos Frota (right) talks with Mr. Joseph Joh, editor of The Seoul Times at his embassy.
Coming 10th of June is Portugal's most important day. This is the day Luis de Camoes died in 1580, arguably the most sublime figure in the history of the small nation on the Iberian Peninsula. The Day of Portugal is observed by not only 10 million-plus Portuguese but also nearly 5 million overseas people of Portuguese descent.On the occasion of the National Day of Portugal, on June 10, 2004, Portuguese Ambassador to Seoul Carlos Manuel Leitao Frota met with The Seoul Times to tell the stories of the meaning of its National Day and other bilateral issues facing the two countries. Here are the questions and answers with Amb. Carlos Frota.
Question:
We are aware that you served in Macau as you resume shows. After the sovereignty of Macau was handed back to China in Dec. 20, 1999, what kinds of relations does your former colony presently have with Portugal? In particular, what's going on about tourism industry there?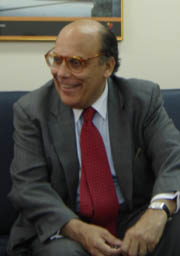 Amb. Carlos M. L. Frota
Answer:
The territory of Macau was handed over to China in 20 of December 1999 and, in accordance with the Joint Declaration, signed by China and Portugal in April 1987, was converted into a Special Administrative Region of the Peoples Republic of China. The relationship between Portugal and Macau is of course part of the global relationship between Portugal and the PRC (People's Republic of China) and it's a very positive one. During my term as the first Consul General of Portugal ever, my country signed with Macau different agreements on education, culture, science and technology, economic cooperation, etc., including the judicial field, and there are a lot of exchanges and cooperation on all these areas.
Question:
You participated in "2004 Seoul Wine Expo," held in the Intercontinental Hotel on May 27-28, 2004, with the attendance of some 20 countries including France, America, Italy, and Germany. It was very popular among the local people. Do you have other plans to introduce Portuguese wine to Korean customers? What are the differences of Portuguese wine compared with other countries?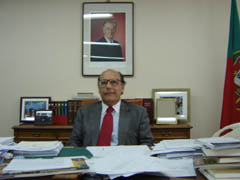 Amb. Carlos Frota in his office
Answer:
We are envisaging the regular participation in "Fairs" and also we are organizing some events linking "Food and Drinking" in order to marry Portuguese traditional food to different types of red, white and rose Portuguese wines.
Question:
Korea's export to Portugal in the first quarter of this year has increased by 41 percent to 76 million U.S. dollars and Korean import from Portugal has risen by whopping 89 percent to 20 million dollars. Korean export items were mobile phones, cars, and air conditioners while Portuguese items included construction materials fabrics. What do you think were the main reasons for drastic expansion of trade between the two countries?
Answer:
Korean products are being very well appreciated by Portuguese consumers and their presence in the Portuguese market is growing. Also, from the Portuguese side, our companies are becoming more aggressive in order to target the Korean market.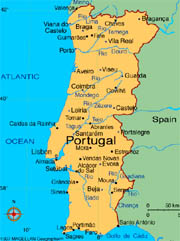 Question:
Major corporations in your country are moving their plants to European countries due mainly to "not so good" investment conditions in Portugal. In case of Korea very few companies invested in your country. Samsung Electronics built its plant in Lisbon in 1992, but 10 years later in 1992 Samsung closed down its plant. And LG Electronics invested 8 million dollar in Lisbon in the year 2000. What do you think the investment from outside is not so active in your country? Does your country have investment inducement plans including tax incentives?
Answer:
The investment from outside is very active in Portugal, but there is a misconception about the real conditions for investment in my country. Portugal is a stable country, the legal conditions for companies setting up plants are very good, the government is very flexible in negotiating almost tailored-made conditions for investors, but people simply don't know that these conditions exist. We have several important plants in Portugal, for instance in auto industry and pharmaceuticals, with impressive results and these examples are multiplying.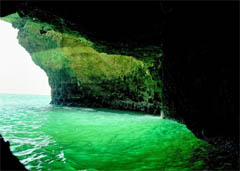 I suppose some foreign economic groups should reevaluate their strategies and we have different teams from our API (Agency for the Promotion of Investment), similar to KOTRA, visiting countries and CEOs and giving all information concerning our investment conditions, in an entirely new legal framework created by my government.
Question:
Recently, The Seoul Times covered the reopening of British Council, Korea office. In the same vein, we would like to introduce your cultural center to our readers, as well. Could you tell us about your cultural center?
Answer:
The cultural center of the Portuguese Embassy is undergoing some restructuring in order to be able in the future, to be a more active service.
Question:
What could be the ideal policy of South Korean government for the unification of Korea? What are the desirable attitudes of South Korean people for that goal? How soon could Korea be peacefully reunified?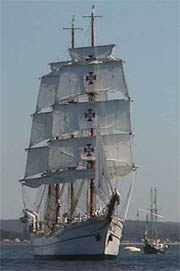 Answer:
The Korean authorities are wise enough on these delicate matters to need some advice from outsiders. The only thing we can do is to encourage initiatives helping a peaceful resolution of the nuclear issue and the full integration of North Korea in the international arena.
Question:
What could you do to further improve bilateral relations for the remainder of your ambassadorship here in Seoul?
Answer:
Connecting more often CEOs of Korean companies, introducing our products to Korean costumers, and increasing visits of cultural delegations. The goal is vast and diverse as always.
Question:
What are your most memorable things you went through or you did as an ambassador to Seoul?
Answer:
Visiting the DMZ (Demilitarized Zone) was a kind of shock, for me, because there I saw the physical barrier dividing the two halves of the Korean nation.
Epic poem the Lusiadas
Also visiting your historic monuments including palaces and temples, etc. I realized the presence of history side by side with the impressive modernity of your skyscrapers — past, present, and future altogether — in the beginning of the 21st century.
Question:
Could you please tell us about your family? Are they all here in Korea? What do they do?
Answer:
My wife is a medical doctor, serving as an internist in several countries. And she is also an artist, because she discovered years ago the passion for painting porcelain.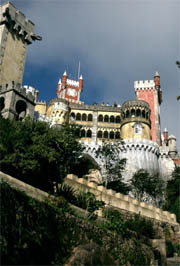 We are married for 34 years now and we have four children, three of them also married themselves. My eldest son has a Ph.D. in acoustics and is a research-engineer for AirBus Industries, in Toulouse, France. He has four children. Our second son received a M.A. (master of arts) degree in economics from the London School of Economics. Now he is working in Geneva for the International Labor Organization. He has a little daughter.Our daughter is a joint medical doctor in Lisbon married, one little son and our youngest son is a lawyer, training to become a member of the Portuguese Bar Association.
Day of Portugal, Camoes & Portuguese Communities Abroad
Contributed by Amb. Frota
The 10th of June is the day Luis de Camoes died, in 1580. Like Shakespeare, Dante, Cervantes, Victor Hugo Luis de Camoes is a giant of the world literature, famous for writing the epic poem the Lusiadas in honor of the Lusitanians, another traditional name for the Portuguese people, derived from one of the groups inhabiting the west part of the Iberian Peninsula, well before the foundation of the Kingdom of Portugal, in the 12th century.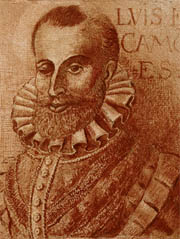 Luis de Camoes
The reference to Camoes is symbolic because the poet wrote about the maritime voyage of Vasco de Gama to India, the first trip by sea ever, following the African coast, from Europe to the Indian sub-continent. The Portuguese people are proud of this fabulous adventure which projected the Portuguese navigators to Asia including China, Japan, Korea, etc. And South America including Brazil, and Africa including Angola, Mozambique, etc.But Portugal, in this same day, pays homage to the Portuguese people living abroad, about four and a half million people living in the five continents and helping with their talents to the developments of the countries where they are living in.