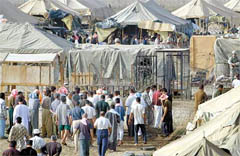 Iraqi inmates gather for morning call on May 10, 2004 at Abu Ghraibb prison. Thousands of Iraqi prisoners of war remain in custody in the prison.
Courtesy AP
In the wake of the Abu Ghraib Prison revelations and controversy over President Bush's letter supporting Israeli Prime Minister Sharon's plan for unilateral withdrawal from Gaza, the debate over the future of this vital region once again has embroiled the US and Europe in controversy, which has profound consequences for not only our trans-Atlantic Allies, but for our partners in Asia, as well.Disagreements about how to advance the peace process and bring about reform in the Arab world have obscured the common interests shared by the US and European and Asian democracies in stabilizing the Middle East. As we move toward the upcoming G-8 summit, our leaders must develop an urgently needed common strategy to address the on-going crises in the region.America and her allies clearly have shared interests in the region: stemming terrorism and the spread of weapons of mass destruction, assuring stable, affordable supplies of energy, and promoting economic and political reform. At the same time, it is fair to say that our interests are not identical. There are differences that are a function of history, geography and demography, as well as distinctive strategic cultures.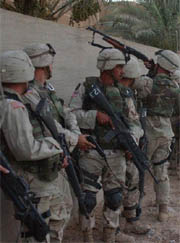 US soldiers in Iraq
In recent years, the United States has been far more focused on the Middle East as an exporter of terrorism. Europeans have been more focused on instability and economic stagnation that can directly affect European societies either through radicalization of their own Muslim populations, or by triggering new waves of immigration. Close historic ties have colored many Europeans' views toward Arab states and the Palestinians, while the United States has functioned as the principal bulwark behind Israel's security.Japan has been deeply, but more quietly, involved in the region, both because of its strong economic interests and humanitarian contributions. Its involvement has deepened further with the deployment of members of its Self-Defense Forces to Iraq in support of the coalition effort.Korea has agreed to send troops to support the US effort in Iraq, as well. However, public opinion in Japan and Korea has reflected the fact that their present and future troop deployments are not universally popular. In Korea, the decision by the US to transfer a combat brigade from Korea to Iraq has given rise to questions in some quarters about the future of that alliance, as well.Furthermore, as has been evident recently, important differences remain about priorities in the region and in particular, about two key issues first, the implications of the invasion of Iraq for regional peace and security and second, the relationship between the Middle East peace process and threat of terrorism and prospects for reform.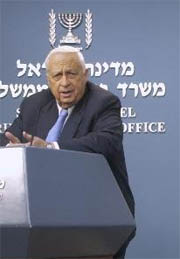 Ariel Sharon
These differences have been further complicated by the twin crises brought on by the abuse of prisoners in Iraq and the Likud vote against Ariel Sharon's disengagement plan, which demand an urgent, agreed response by the US and its allies that will require a willingness to recognize the allies' perspectives and put aside past differences to avoid an outcome which could plunge the region into a deeper confrontation and jeopardize our common interests for years to come.If, despite the Likud party's vote, Sharon is persuaded to stay the course of complete withdrawal from Gaza as demanded in the Quartet statement, then the Palestinians will have an opportunity and the responsibility to help put the negotiations back on track by seizing the opportunity to govern Gaza in a way that benefits its residents and assures the security of the Israelis.But this is only likely to happen if the US and its international partners play key, complementary roles. The United States' partners in both Europe and Asia who have provided an economic lifeline to the Palestinians over the past several years — must make clear to the Palestinians that violence does not provide the Palestinians leverage against Israel to achieve their objectives; to the contrary — they must emphasize that support for Palestinian aspirations depends on a convincing commitment on their part to end the war and resort to exclusively peaceful means.The United States, in turn, must make clear that by renouncing violence the Palestinians gain, not lose, leverage by bringing in the United States as an active partner to assure that the unilateral pullout from Gaza is not a way station to a rump, unviable state, but rather guarantees a meaningful outcome.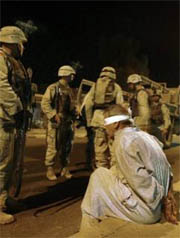 US soldiers in Iraq
With respect to Iraq, American credibility has suffered a body blow, which risks fatally undermining the Iraqi consent that is the sine qua non for a continued US presence. Yet no-one in Europe or Asia can wish for a result that leads to a humiliating US withdrawal followed by prolonged civil strife in Iraq that could spill over to neighboring countries and undermine prospects for a transformed Middle East, which is so essential to our common long term interests.The United States must make clear once and for all that our aim is to empower the Iraqis themselves even if it means political outcomes that are not to Washington's liking so long as the new Iraqi government poses no serious threat to its neighbors, offers no sanctuary to terrorists, and observes basic human rights for its citizens.To demonstrate this commitment, the Administration must be prepared to share responsibility for the transition with all other interested countries who have a stake in Iraq's future those in Europe, Asia, and not least, the countries of the region. Our international partners, in turn, must agree to play a more active role including by contributing security forces — to help stabilize Iraq during the political transition until indigenous Iraqi forces can provide meaningful security.Our Japanese and Korean partners can also play a helpful role in bringing about a reconciliation of the US and European views. Through their steadfast support of US efforts to stabilize Iraq, they have unique credibility in Washington. Through their long experience in the region, they are respected by Arab leaders and through their commitment to strengthen the international system and rule of law, their views will be welcomed in Europe, where American credibility has been affected.The path to a common strategy is straightforward the road to Baghdad leads through Baghdad, and the road to Jerusalem leads through Jerusalem. Meeting each of these challenges is essential to the security of the international community, and together we must be equally serious about resolving them both.