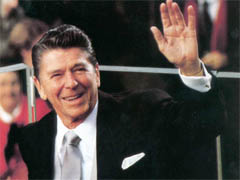 Ronald Wilson Reagan (1911~2004)
WASHINGTON — On Jan. 20, 1989, President Ronald Wilson Reagan pretended to move out of the Oval Office. He'd actually packed up his things the day before, clearing the way for his successor, George Bush. But no one had photographed the historic moment, so on Inauguration Day he did it again — for the cameras. He tapped his now-empty desk, on cue. He went to the door and gave the room a sentimental look."You know what I was thinking while all that went on?" said Colin Powell, then chairman of the Joint Chiefs, who was there. "This was the conclusion of a big dramatic production ... and there, all alone against the backdrop of the Oval Office, was Ronald Reagan shooting his last take."Alas, for the person that was true. Mr. Reagan faded quickly after leaving office. Disease robbed him of the chance to be anything to the nation but a symbol of his better days.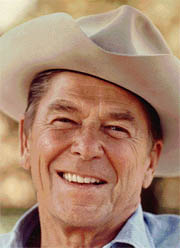 But the production — the production lives. Ronald Reagan ineradicably changed the presidency, and presidential politics. He was the nation's symbol-in-chief, not its chief legislator. He made many American voters feel their nation was both virtuous and governable, at a time when that was in doubt. Will any president ever again give a State of the Union without that most Reaganesque of moments, the introduction of heroes from the balcony?The secret of Reagan's political success was that he was "uncompromisingly unoriginal," in the words of one observer. In the era of "Doonesbury," the one comic strip he read every day was the old-style soap opera "Mary Worth."He believed in the old verities. Communism was not just mistaken. It was evil. Taxes were not just a burden. They were evil, too.Opponents saw an aging actor who thought that oil slicks made air healthy, and wrote him off. They underestimated the power of sincere belief delivered simply, with a smile.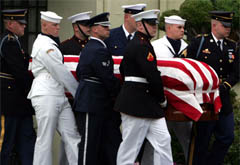 Coffin of Ronald Reagan Courtesy Reuters
"I just didn't feel that people would vote for him," sighed Edmund G. (Pat) Brown, the Democratic ex-governor of California, years after his 1966 loss to Reagan.
Modest origins
The man who would become the 40th president of the United States had extremely ordinary origins.He was the second son of John and Nellie Reagan, born on Feb. 6, 1911, in Tampico, Ill. When the young "Dutch" was 9, his shoe salesman father moved the family to nearby Dixon, in search of a better life. What the father found instead was a deepening addiction to alcohol."We didn't live on the wrong side of the tracks, but we lived so close to them we could hear the whistle real loud," Reagan remembered later.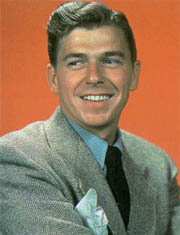 Young Ronald Reagan
Dutch struggled to haul his troubled father in the door more than once. Perhaps in reaction, he became an active participant in youth programs at the local Disciples of Christ church. He was attracted to what was then called "practical Christianity," a strain of worship that emphasized the importance of virtuous acts in the wider secular world.In his Washington years he attended religious services infrequently. But even as president he would not write out mild epithets with full spelling. In his speech notecards, they were always "h - l," and "d - n."He spent his youthful summers as a lifeguard on the banks of the Rock River. From 1927 to 1932, he rescued 77 swimmers from the river's swift current — though, if truth be told, not all 77 thought they needed rescuing.At nearby Eureka College, Reagan developed into a dramatist and budding politico: A student strike he helped lead forced the college president from office. A quick study with stage presence, he moved easily into the new world of radio after graduation.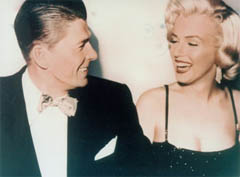 Ronald Reagan with Marilyn Monroe
But he wanted more from life than announcing Minnesota Gopher football. On a trip to California he wangled a screen test at Warner Brothers. The camera emphasized his lean good looks and native geniality, and the young man from the Midwest quickly established a Hollywood career playing, basically, himself."That's my Dutch. That's the way he is at home," said his mother after seeing her son on screen for the first time.In later years political opponents used the term "former actor" to try to denigrate Reagan as an intellectual lightweight. In truth, actor Reagan was intensely interested in public policy. His constant chatter about issues bored his first wife, Jane Wyman, and helped lead to their divorce.
Early on, a fan of FDR
As a young man he had been an ardent defender of Franklin Roosevelt and the New Deal. As late as 1950 he campaigned for the liberal Democrat Helen Gahagan Douglas in her losing US Senate race against Richard Nixon.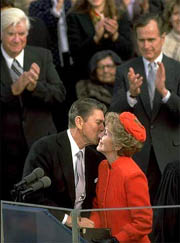 Reagan kissing his wife Nancy
But the influence of his conservative older brother, Neil, plus Hollywood politics, pushed him toward the right. As president of the Screen Actors Guild he testified before the House Un- American Activities Committee on communist infiltration of the film industry. By 1960, Reagan was Republican enough to write an angry letter about Playboy's decision to hire a long-blacklisted writer, Dalton Trumbo. "The American communist is in truth a member of a 'Russian American Bund' owing his first allegiance to a foreign power," Reagan wrote Playboy publisher Hugh Hefner.In 1966, Reagan was a self-proclaimed "novice amateur" in politics. But he was also on his way to becoming governor of California. Once in office, he cut taxes, or tried to: Welfare costs forced him to actually raise revenues by $1 billion. He stood up to Berkeley campus protesters with the blunt slogan, "observe the rules or get out."He won a second term in 1970 and cut state welfare rolls by 300,000. A novice amateur no more, he could feel that his qualities — a genial toughness, a sunny outlook, a belief in simple, bold strokes — struck a deep chord with voters.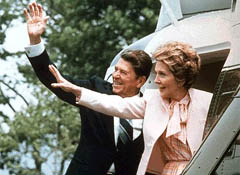 Reagan and Nancy wave to reporters
Gerald Ford underestimated him, as Pat Brown had, and Mr. Ford almost lost the 1976 GOP presidential nomination to a Reagan insurgency. By 1980 the party, and the presidency, were in Reagan's hands.
The Reagan Revolution
Today it is hard to remember the force with which the Reagan Revolution took Washington. Within the span of a few weeks, the new president pushed through legislative changes that were to remain perhaps the defining domestic accomplishments of his administration. Taxes were cut 25 percent. Defense spending was boosted by half.Reagan's economic legacy remains hotly debated today. To some, he was the father of soaring deficits — nondefense spending largely escaped his knife — and emcee of an era of indifference to the poor. Ketchup was declared a vegetable, for school lunch purposes.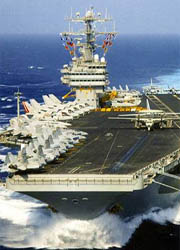 Nimitz Class nuclear powered aircraft carrier USS Ronald Reagan
But his proponents insist that it was Reagan's tax cuts and deregulation policies that led to the long boom of the last years of the 20th century — tarnished only by a shallow recession that coincided the Persian Gulf War. Sure — the nation ran deficits almost as far as the eye could see, to paraphrase Reagan-era budget director David Stockman. But that red ink was caused by defense spending that won the cold war, say Reaganites. Today there are more pieces of the Berlin Wall in US museums than in Berlin.
Anachronistic views
Ronald Reagan's views about the Soviet Union were an anachronism, in the sense that Winston Churchill's Victorian combativeness was an anachronism when he became prime minister of a demoralized England in 1940.Reagan did not see the Kremlin as a bureaucratic regime that happened to be Communist. He saw it as an evil empire — and one whose hidden weaknesses would cause it eventually to collapse.He thought that the Strategic Defense Initiative — "star wars" — would hasten the Soviet Union's day of internal reckoning.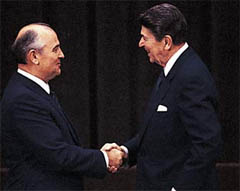 Reagan shaking hands with Gorbachev
Few scientists outside the military believed missile defense possible, and Reagan's musings on the subject lent themselves to caricature. Yet Soviet leader Mikhail Gorbachev tried doggedly to get the US to stop the expensive project.Reagan refused. Eventually, he and Mr. Gorbachev agreed on landmark arms treaties, including the first pact to reduce, instead of cap, superpower nuclear arsenals.Reagan's anticommunism produced less successful results in Latin America. Controversy over the Iran-contra affair swallowed up much of his second term. Though a congressional investigation never produced evidence that Reagan directed secret funds from Iran arms to Nicaraguan rebels, it produced a portrait of a president with little knowledge of or control over his subordinates' actions.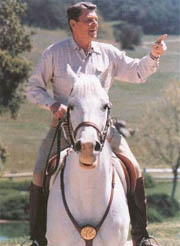 Congress's final report concluded that Reagan had failed to "take care that the laws be faithfully executed." As a campaigner, Reagan redefined the nature of running for president. Optimism, carefully controlled imagery, and poll-tested themes ousted incumbent Jimmy Carter in 1980 and smashed Walter Mondale in 1984.
Living the dream
As an administrator, he was not known for attention to detail. Whenever possible he raced out of the office at 5 p.m., headed for the White House residence and his beloved wife, Nancy.He was a believer in family values whose own children rebelled against what they perceived as his inattention.He was a Democrat who became a Republican, a poor boy who became rich, a loner who won fame by talking to others. He was a union president and a spokesman for business. He was shot, and lived. Later he lived, and, diagnosed with Alzheimer's, remembered nothing.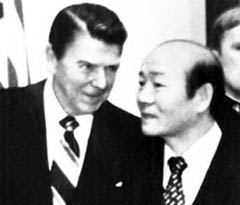 Reagan with Chun Doo-Hwan in 1983
Jeanne Kirkpatrick, his national security adviser, once summed him up like this: "Ronald Wilson Reagan, 40th president of the United States, believed the American dream because he has lived it."
On government:
"Government is not the solution, it's the problem."
Inaugural address, Jan. 20, 1981"I've always stated that the nearest thing to eternal life we'll ever see on this earth is a government program."
April 9, 1986
On the USSR:
"If you seek peace, if you seek prosperity for the Soviet Union and Eastern Europe, if you seek liberalization, come here to this gate ... open this gate ... tear down this wall."
June 12, 1987, in Berlin; remarks addressed to Soviet leader Mikhail Gorbachev
On Beirut:
"Sending the marines to Beirut was the source of my greatest regret and greatest sorrow."
About the Lebanon bombing that killed 241 servicemen in 1983, from his 1990 book, "An American Life"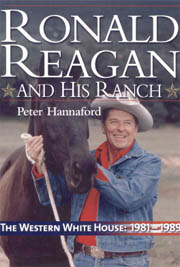 On Iran-Contra:
"A few months ago I told the American people I did not trade arms for hostages. My heart and my best intentions still tell me that is true, but the facts and the evidence tell me it is not."
March 4, 1987
On being shot:
"Honey, I forgot to duck."
To Nancy Reagan in the emergency room after being shot by would-be assassin John Hinckley Jr., March 30, 1981
On the Challenger:
"The crew of the space shuttle Challenger honored us by the manner in which they lived their lives. We will never forget them, nor the last time we saw them, this morning, as they prepared for the journey and waved goodbye and 'slipped the surly bonds of earth' to 'touch the face of God.'"
After the shuttle disaster, Jan. 28, 1986
The above article is from The Christian Science Monitor.