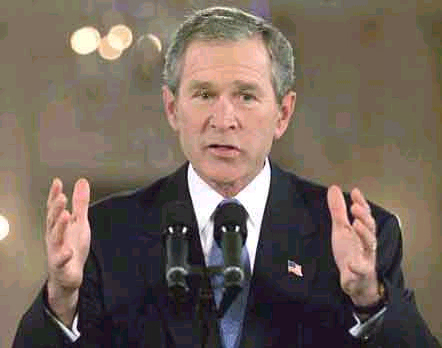 George W. Bush has been given a lot of credit for the Republican victories during the mid-term election. Yet, politics never stops. With the possibility of another very close election in 2004, the President could be looking at the increasing Latino population to provide the winning ticket. The recent development of a Spanish-language web site by the Bush administration reflects a continuing effort to court the Latino vote. The site aims to provide information on government grants, trade, and high tech issues to the 1.2 million Hispanic-owned businesses.It's easy to argue that if Hispanics own a business in all likelihood know English and do not need information in Spanish. But politics is not always about substance. Often, it's about images. And George Bush has been very good at courting Hispanics through language.As is well-known, the president speaks passable Spanish. He learned it in school and honed it the oil fields of Texas. Although he has admitted that his Spanish is not very good, he still includes some Spanish phrases in his speeches to Latino audiences.Democrats deride Bush's use of Spanish, claiming that he is simply using empty palabras. It's not the words that matter, it's the issues. Democrats do not understand that language is indeed an issue for Latinos. Bush understands very well the symbolic use of language but also the fact that Latinos feel very strongly about espanol as an issue. The virtual elimination of bilingual education in California, Arizona, and most recently Massachusetts, is viewed by Latinos as an imposition on how their children will be educated.
Anglos typically vote against bilingual education by 2-to-1 margins; Latinos support it by the same margins. The declaration of English as the official language in twenty-five American states has also been interpreted as an attack on Spanish and by extension on Latinos themselves. So when Bush speaks Spanish, he gives himself an entry into Latinos' hearts. The Spanish coming out of the resident of the White House helps bring down the walls separating Anglos and Hispanics. It also sends a strong message to Latinos: I am like you; I am also struggling with your language as you are with mine; I am on your side; I'm part of your familia.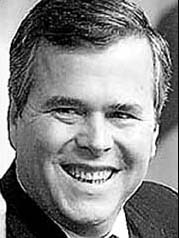 And he is. His brother, Jeb Bush, Governor of Florida, is married to Columba Garnica Gallo, a native of Mexico. Democrats cannot match the President on the question of the Spanish language with a highly visible national leader. Aside from language, Bush also had an edge over Democrats ons the issue of immigration. Early in his presidency, he floated a number of ideas which clearly resonated with Latinos. One of the plans was to increase the number of Mexican nationals who can come and work legally in the US. The other major suggestion was the possibility of regularizing the status of undocumented workers already in the US. Of course, the events of 9-11 put a screeching halt to those efforts.Overall, though, on most issues Latinos part company with Bush and Republicans in general and identify instead with Democrats. According to a study conducted by the Pew Hispanic Center, for example, Latinos favor raising the minimum wage. That's clearly a Democratic issue. Republicans in general oppose raising the minimum wage because of costs to business. Healthcare for all is also an important issue on which Bush and Republicans get low marks from Latinos. Although Latinos make up only 11% of the US population, they represent 35% of the uninsured.On the question of taxes Latinos again diverge from Republicans. The Pew study found that 60% of Latinos would be willing to pay higher taxes to obtain government services (34% opposed higher taxes).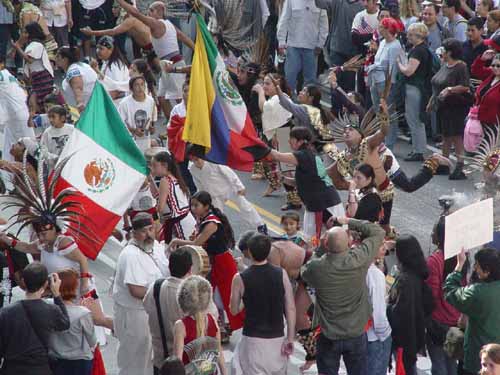 Bush's plan to cut the taxes on stock dividends does not resonate with Latinos. In fact, it confirms his image of someone who cares about the rich, among whom most Latinos clearly do not feel they belong.The razor-thin election of 2000 proved that every vote counts. In a number of states Latinos could easily make the difference between victory and defeat for Bush in 2004. So far, though, aside from his smart use of espanol, he has not given Latinos much of a reason to switch from their traditional allegiance to the Democratic Party.