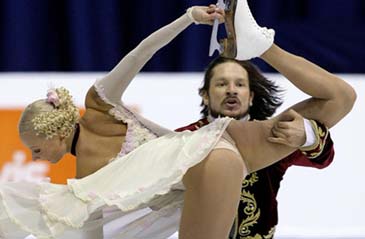 Oksana Domnina and Maxim Shabalin of Russia are the winners of gold medals at the Cup of Russia on Jan. 20 (Sunday), 2008.
MOSCOW — Oksana Domnina and Maxim Shabalin of Russia waltzed effortlessly to gold medals in ice dancing at the Cup of Russia on Sunday (Jan. 20, 2008), holding the strong lead they had maintained throughout the competition.It was Russia's only gold medal at the competition and the first at the Cup of Russia in two years.Nathalie Pechalat and Fabian Bourzat of France finished more than 20 points behind after the free dance in second place. Anna Zadorozhniuk and Sergei Verbillo of Ukraine took bronze.Domnina wore a long, white dress and Shabalin was in a velvet costume. They gave an inspiring and technically solid performance to Aram Khtchaturian's Waltz Masquerade, ending it with a real kiss."Technically, we've managed to do everything as we planned," Shabalin said.Pechalat and Bourzat danced energetically to electronic music and impressed the audience with bold lifts. On one, Pechalat was up in the air, full-length and face-down, holding on to Bourzat's shoulder.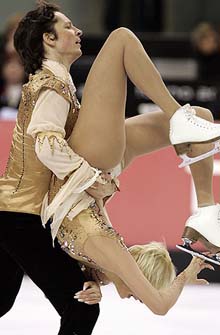 Ice dancers Oksana Domnina and Maxim Shabalin of Russia in performance
Bourzat said they were not perfect on some technical elements, but were happy with second place because it gave them a spot in the Grand Prix final in Italy.Ekaterina Bobrova and Dmitri Soloviev of Russia were third after the original dance, but they fell on a "twizzle" to allow Zadorozhniuk and Verbillo to win their first medal at a major international competition.On Saturday, Johnny Weir of the United States won gold in the men's competition with a program less adventurous than the one by two-time world champion Stephane Lambiel of Switzerland.It was Weir's second Grand Prix gold of the year and gave him a berth in the Grand Prix final.Andrei Griazev of Russia came third.In the women's event, Kim Yu-na of South Korea won her second Grand Prix of the season with a precise and passionate free skate. The gold in Moscow and her win at the Cup of China qualifies Kim for the Grand Prix final, which she won last year.Yukari Nakano of Japan won silver, opening with a triple axel and completing an unexpected triple-double-double toe loop cascade. Nakano also qualifies for the Grand Prix final.Joannie Rochette of Canada moved from fifth place after the short program to win bronze.Zhang Dan and Zhang Hao of China took their second gold medal in two weeks in pairs.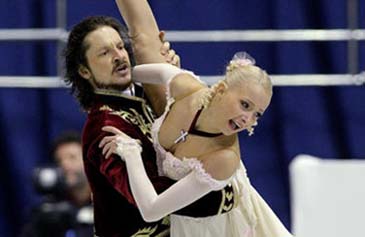 Oksana Domnina and Maxim Shabalin of Russia are the winners of gold medals at the Cup of Russia on Jan. 20 (Sunday), 2008.
Aliona Savchenko and Robin Szolkowy of Germany won silver. Yuko Kawaguchi and Alexander Smirnov of Russia completed a quad throw salchow — only the second time the jump has been accomplished in International Skating Union competition — and got bronze.Weir was less than half a point behind Lambiel going into the free program and ended more than 11 points ahead.Lambiel has a big quad on his best days, but Saturday wasn't one of them. He missed both planned attempts, putting his hand down on the first and falling on the second. His two axels were only doubles.The above story is ESPN.com
Who Is Oksana Alexandrovna Domnina?
From Wikipedia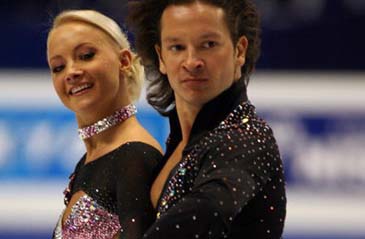 Russian ice dancers Oksana Domnina and Maxim Shabalin
Oksana Alexandrovna Domnina (Russian: Оксана Александровна Домнина) (born 17 August 1984 in Kirov) is a Russian ice dancer. She currently competes with Maxim Shabalin.They are the 2008 European Champions and 2007 Grand Prix Final champions. She previously competed with Ivan Lobanov and Maxim Bolotin.Domnina and Shabalin teamed up in May 2002. In their first season together, they won every junior level competition they entered, including the 2002 Junior Grand Prix Final and the 2003 World Junior Championships.