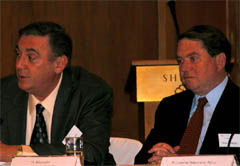 Ambassador Thomas Hubbard (left) and Mr. Richard Lawless
WASHINGTON, June 8 — Senior Bush administration officials insisted Tuesday that plans to withdraw one-third of the 37,000 American troops in South Korea would not be viewed by North Korea as a weakening of American commitment to South Korea's security or a lessening of resolve to force North Korea to dismantle its nuclear arsenal.The administration's plan — to remove about 12,500 troops from South Korea during the next 18 months and move most of those remaining on the Korean peninsula far from the demilitarized zone between North and South Korea — amounts to a very different approach than the one President Bush adopted last year before the invasion of Iraq.In that case, to demonstrate Washington's seriousness about forcing Saddam Hussein to give up what the administration said at the time was a range of unconventional weapons, Mr. Bush ordered the region flooded with American forces.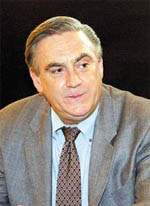 Mr. Richard Lawless
Officials say that Mr. Bush's decision to take the opposite tact on the Korean peninsula reflects the fact that the presence of American troops now within range of 10,000 artillery pieces and rockets that North Korea hides in caves along the border makes them a target for a first strike. Moreover, the United States has, as one official put it on Tuesday, "no good military options" against North Korea.American officials in Seoul and at the Group of 8 summit meeting in Sea Island, Ga., said that new military technology would now do a better job at deterring North Korea than the mere presence of American troops would.The head of the American delegation visiting South Korea, Richard Lawless, the deputy under secretary of defense for Asian and Pacific affairs, said in a telephone interview on Tuesday that the North Koreans did not see the plan to reduce forces as a sign of America's diminishing resolve."They were the first to complain about the plan to relocate our forces and realign our forces south of the Han River," Mr. Lawless said. "They suggested that we would be adding to our combat power by doing that."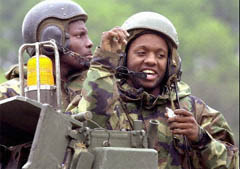 US troops in South Korea
Courtesy AFP(Jung Yeon-Je)
North Korea's response to previous indications of the American plan has been to say that the United States was positioning itself for a first strike. Pentagon officials have countered that a redistribution of troops would increase America's capacity to absorb a first strike from North Korea and preserve forces for striking back, thereby enhancing deterrence.The administration's decision comes at a time when American intelligence agencies are informally coming to a new consensus that North Korea has probably used the past 18 months — since it evicted international inspectors — to make enough new plutonium fuel to manufacture five or six new nuclear bombs.Previously, the country was thought to have one or two nuclear weapons.The decision to reduce American troop strength also comes as Mr. Bush's efforts to negotiate with North Korea appear to be floundering. A working-level meeting last month ended early, with North Korea showing little interest in continuing the discussions. A meeting expected this month may be delayed.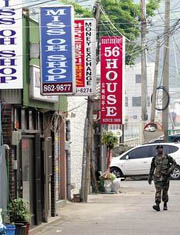 South Korea's Dongduchon City where US Second Infantry Division is stationed
"I'm just hoping the North Koreans haven't come to the conclusion that they are going to wait until the end of November to get serious," John R. Bolton, the under secretary of state for arms control and international security, said Tuesday in an interview at the summit meeting in Georgia. In the interview from Seoul, Mr. Lawless said the administration had "a lot of confidence they won't mistake what we are doing for any degradation in our capabilities."He added, "I think we have the advantage here of a regime that pays very close attention to how we are postured and where we are postured."Mr. Lawless said the United States would describe more fully exactly which units would be withdrawn from South Korea at talks scheduled in coming weeks. Likewise, he said it was premature to discuss where those American forces would make their new home. But for the first time he explained that the number described in the American proposal — 12,500 troops — was a net reduction."At the same time that folks would be flowing out of South Korea, different types would be flowing in," he said.As an example, he said, the United States would deploy by November its most modern air-defense system, the Patriot PAC-3, to South Korea.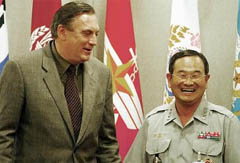 U.S. Assistant Secretary of Defense Richard Lawless (left) talks with his South Korean counterpart Kwon Ahn-doo in a meeting held at the Defense Ministry in Seoul on June 7, 2004.
During this week's discussions in Seoul, the United States and South Korea were unable to reach agreement on a separate set of proposals: to relocate American troops remaining in South Korea away from the demilitarized zone and to withdraw most American troops from a base that sits atop some of the most valuable real estate in Seoul.The proposed move out of Seoul is part of a broader discussion that includes a two-step plan to consolidate temporarily all of the American forces now stationed at many locations between Seoul and the demilitarized zone along the border with North Korea, before moving them to permanent quarters south of Seoul.Mr. Lawless said American and South Korean negotiators were working against a tight deadline to resolve their differences, which mostly focus on how much land in the south the government in Seoul would make available to the Americans.If an agreement cannot be reached and submitted to the South Korean Parliament by this fall, then the American timetable for completing the relocation, "lock, stock and barrel," by 2007 would be extended for at least a year, Mr. Lawless warned.If the two sides cannot reach agreement "within the next few weeks, and certainly within the next few months, we will miss a timeline whereby the Korean government would review it at a ministerial level and submit it to this year's National Assembly," Mr. Lawless said.
The above article is from The New York Times.