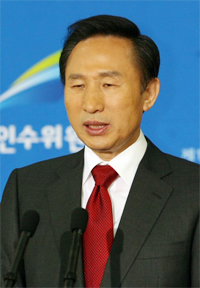 President-elect Lee Myung-bak. .
President-elect Lee Myung-bak promised on Jan. 31 to seek closer diplomatic ties with Middle Eastern nations through frequent summits with their leaders, an aide to Lee said. Lee made the remarks while meeting with ambassadors from 13 Arab countries, including the Saudi Arabian ambassador to Seoul, Abdullah A. Al-Aifan, in his office. "Although South Korea and Arab countries are closely related in the economic sector, the diplomatic ties have not been as strong," Lee was quoted as saying by his spokesperson Joo Ho-young. "I will promote frequent meetings with leaders of Arab countries to strengthen diplomatic ties with the Middle East under the incoming administration."
Lee will be inaugurated on Feb. 25. "The stable supply of energy resources from Arab countries has contributed a great deal to South Korea's economic growth," Lee added. "My government will strive to expand such cooperative ties to IT, tourism, culture and other sectors."
Lee also asked the ambassador of the United Arab Emirates (UAE), which will soon choose its next-generation trainer aircraft, to convey his request that the UAE purchase South Korea's first military jet, the T-50, Joo said. South Korea and Italy are competing for a 3-billion-won (US$3.2 million) deal to supply the UAE with about 40 to 60 trainer jets. A successful bid would mean South Korea's first overseas sales of its indigenous supersonic aircraft, making it the world's sixth-largest exporter of supersonic airplanes and increasing its market share in the global defense industry. Lee also requested leaders of Arab countries to pay active attention to the scheduled establishment of the Middle East Arab Society, a nonprofit foundation targeting energy cooperation between Korea and 18 Arab countries. Along with Lee and the ambassadors, Yim Tae-hee, chief of staff of the president-elect, Kwon Jong-rak, his foreign policy adviser, and Park Jin, chief of his transition team's committee on foreign affairs, were present at the meeting. Meanwhile, Lee is set to meet the chairman and chief executive officer of IBM Corporation, Sam Palmisano, in Seoul on Feb. 12 to discuss investment and other financial issues, Joo said.(Yonhap News)