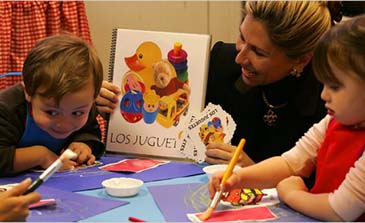 Yolanda Borrás of Musical Kids International, which teaches music in Spanish, French, Korean and Hebrew. Photo Courtesy of Ruby Washington/The New York Times
Feb. 2, 2008 — CONVENTIONAL wisdom says it is never too early for children to learn a foreign language. But conventional wisdom predates the days of paying someone to teach your child another tongue."The marketplace has parents totally bamboozled," said Roberta Michnick Golinkoff, co-author of "Einstein Never Used Flashcards: How Our Children Really Learn — and Why They Need to Play More and Memorize Less" (Rodale Books, 2003) and "How Babies Talk: The Magic and Mystery of Language in the First Three Years of Life" (Dutton, 1999). "Being immersed in the language and living within it are what lead to language learning, not 20 minutes of exposure to a limited set of vocabulary and sentence structures or attendance at a weekly one-hour Spanish class."An increasing number of American parents fluent in a foreign language, as well as their English-only counterparts, want their children to be bilingual if not multilingual. While no one knows how much is spent in total on games, books, DVDs, online tools and foreign-language baby sitters, the amount can easily reach thousands of dollars a year per toddler. That counts tutors who charge $70 an hour, classes for $50 a week, foreign au pairs who can cost $16,000 a year and annual tuition at private immersion schools that charge $20,000 for nine months of study. And this does not include the outlay to retain a language as a child ages.Laurie Dlugos-Schweik of Aurora, Ill., plays songs in French and Farsi for her 10-month-old son, Matthew, and has her mother speak to him in Polish. Ms. Dlugos-Schweik, who says she is proficient in French, studied Spanish and Latin in school and heard Polish growing up, plans to enroll Matthew in French class after he turns 2. "The thinking is that by exposing a child at an early age to a different language you create the pathway in the brain for them to learn a full language later in life at an easier and accelerated pace than a child without any exposure," she said. "Since Matthew is not speaking yet, I have no idea what impact it is having, but I figure it can't hurt." The most effective way for children to learn another language is through a parent or caregiver, in an immersion school or even living abroad, say linguists, language teachers and bilingual parents.Ms. Golinkoff said preschool classes in a foreign language every day might be effective but only if parents backed that up with books in the language or hired a baby sitter who spoke the language. Popular once-a-week classes, she said, do nothing more than train the ear — at best.To really learn a foreign language, children must spend 30 percent of their waking time exposed to it, said Christina Bosemark, founder of the Multilingual Children's Association in San Francisco, which guides parents rearing multilingual children. She said children with less contact might understand a language, but their ability to speak it correctly would be hindered. Nonetheless, limited exposure as babies or toddlers could help if children study the language later, she said. Brenda and Joseph Mirsky of New York enrolled their 3-year-old son, Zack, in a 30-week Spanish-language arts and crafts class. Mrs. Mirsky said she was unsure how much Zack got from it, but she said she would have said the same thing at that age about her daughter, Lauren, now 6. From the time she was a baby to 3 years, Lauren went to weekly Spanish classes. Now, with Spanish and French instruction twice a week at her elementary school, Lauren sings in Spanish and knows some greetings, numbers and colors, her mother said."She's doing great in Spanish. She loves it," Mrs. Mirsky said. As for French, which Lauren did not study as a baby, "she doesn't say much about it."Language teachers, linguists and scientists refer to the so-called critical period, the tender years when children most easily pick up languages. Opinions vary, with some experts saying the cutoff ends at 2, 3, 5, 7 or 13.Michael Kandel and Darryl Wong adopted their daughter, Chloe Kandel-Wong, from China in 2002. In 2006, the couple, who live in Douglaston, Queens, enrolled Chloe in a $1,000-a-year Mandarin class. With no knowledge of Chinese herself and none from her parents, Chloe lasted less than a year."We call our daughter the youngest Chinese-school dropout," Mr. Kandel said. He said that he realized the lessons were not going to be productive because he and his wife were not going to be able to reinforce the language at home.Language teachers say outside interaction — play dates in the language, additional classes, hearing parents read (even if they are not fluent) — is vital, especially if a child's primary exposure comes in periodic bursts. "The more you listen, the more you talk, the more you are exposed to a language, the better it is. It's like anything else — tennis, golf, the violin," said Yolanda Borrás, program director of Musical Kids International in New York, which teaches music in Spanish, French, Korean and Hebrew. "A pianist who works one hour a week won't be as good as a pianist who works 40 hours a week."Ms. Borrás said that even if a child did not know many foreign words at the end of a program, the effort had not necessarily been a waste. They should have picked up a language's cadence and phonetics as well as the concept that other cultures and languages exist."This is a society that wants instant rewards, instant results. It's not realistic to expect a child to speak a language after 30 hours of instruction over a school year when they spend their first two years of life without saying a word," Ms. Borrás said. Strict classroom training is wasted on the pre-5-year-old set, according to educators who say that toddlers are more inclined to chew on a doll's head than point to "la tête." Still, T. Berry Brazelton, the child development guru and author, said children as young as 3 might be well suited to language class — but only if they want to be there. Parents, he said, often steer their offspring into what they themselves find interesting rather than what the child enjoys. While many mothers, fathers and grandparents fixate on languages their children do not know, Ms. Golinkoff says they should lighten up."It is true that children are best at learning a foreign language before the age of 5," she said. "But it's not like you can't learn a foreign language later." Susan Behrens, associate professor of communication sciences and disorders at Marymount Manhattan College, cautioned against pushing a child into any activity, language or otherwise."They say kids are like a sponge and can learn anything, but you can also turn them off easily," she said. "If you introduce a language in the spirit of play and being embedded in their daily lives, you're going to be much more successful than if you say, 'O.K., you're going to class now.'"
The above article is from The New York Times.