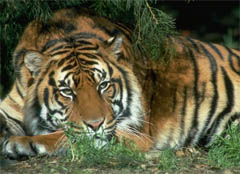 COLTON, Calif. — More than a year after 90 tigers were found dead and dozens more barely alive at an animal rescue center east of Los Angeles, the last group of survivors began a 340-mile trip on Thursday to a 10-acre sanctuary in San Andreas in the Sierra foothills.The group of 39 tigers left cramped and dilapidated cages of the center, Tiger Rescue, at a former sewage plant in Colton, a small city in San Bernardino County.The animals were found in April 2003 at Tiger Rescue and at the house of its owners, John Weinhart, 61, and his wife, Marla Smith, 48, in Glen Avon, a community 10 miles west of here in Riverside County. The State Fish and Game Department found the carcasses of 30 big cats strewn about the house, along with 58 dead cubs in a freezer, 11 starving tiger and leopard cubs and 2 alligators in a bathtub.
A tiger in captivity
One of the 39 adult tigers at the Tiger Rescue center in Colton, Calif. Last year, the State Fish and Game Department confiscated the site, a former sewage treatment plant in San Bernardino County.
Jamie Rector for The New York Times
Child welfare officials removed Mr. Weinhart's 8-year-old son, and he and his wife were charged with child endangerment and felony animal cruelty. They were released on bail. "It was a gruesome, disgusting, and depressing scene," said Charles F. Traisi, manager of the Fund for Animals, a wildlife rehabilitation center in San Diego.Of the 75 or so tigers, leopards, lions and cougars here and at Mr. Weinhart's house, zoos and other sanctuaries took in nearly half. But with sanctuaries around the United States at or near capacity, 39 cats were kept in particleboard shelters here.Aided by scores of volunteers, Mr. Traisi oversaw their care and feeding, which required 300 pounds a day of raw chicken. Veterinarians and volunteers used raw chicken on Thursday to coax tigers into individual cages to be loaded on horse trailers for the trip to San Andreas.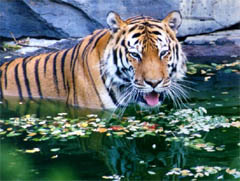 After an acclimation period there, the tigers will be able to roam freely in an environment similar to their natural habitat in Asia. The sanctuary was created for the tigers by the Performing Animal Welfare Society, or PAWS, with help from the Fund for Animals. Mr. Traisi and the president of the Fund for Animals, Michael Markarian, said Mr. Weinhart had illegally bred tigers here. They said such breeding had helped lead to the proliferation of an estimated 20,000 big cats in private ownership in the United States. They added that 5,000 tigers remained in the wild in Asia.Mr. Markarian said wild cats were easily available in this country. "People buy them on the Internet for $300," he said. "They're at gas stations, in backyards, in basements and in cages. Not only is it inhumane, but it's dangerous." Private ownership is legal in 32 states. Such ownership is illegal in California. Mr. Markarian said Mr. Weinhart was able to skirt that rule by obtaining a license for public exhibition from the United States Department of Agriculture.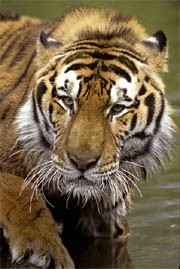 Reached by telephone at home, Mr. Weinhart said that his animals were being taken from him illegally and that the Fund for Animals was abusing and starving them. Saying Mr. Traisi had no experience with the animals, Mr. Weinhart said, "You might as well pick a guy off the street and give him a tiger." He said that the dead tigers had died of natural causes and that California law prohibited the backyard burial of animals. Many animals at his center, he said, came from other rescue centers or were the offspring of cats he originally brought from China and Vietnam. Mr. Weinhart denied that he bred any animals.Mr. Traisi said the presence of several pregnant tigers when he arrived here proved otherwise. He paused at the cage of an enormous white tiger that paced back and forth in the 12-by-6-foot enclosure. "This is depressing to me," he said. "Every day, I come here all day long, and I see them having to live in these conditions. That's why for the first time in a long time I'll have a smile on my face when those cats are on the road heading up north."
History of Tiger Populations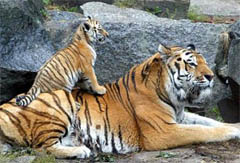 Until 1940 there were eight tiger subspecies in the world. Today, there are only five. All are endangered but the Siberian or Amur tiger, and the South China tiger, are under the greatest threat of extinction in the wild. Indeed, the South China tiger may have become extinct in the last few years — a count of between 20 and 30 living in the wild in 1998 suggests the population is too small to survive.Through the dedication and sheer hard work of a few people, the Bengal tiger population is the healthiest having stabilized at between 3,000 and 4,000 in India alone. This has been achieved by educating and involving the local people in the preservation of these magnificent animals.The Sumatran tiger population was thought to be between 400 and 500 in 1994 and Australians have been working hard to preserve them but, with the disastrous economic downturn in Asia followed by the political upheaval in Indonesia, the future is looking precarious.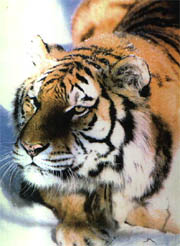 A count of the Siberian or Amur tiger, published a few years ago, gave figures of between 330 and 371 adults most of them on the slopes of the Sikhote-Alin mountain range in the Russian Far East. It is difficult to put briefly the situation in Russia but here are some of the problems. In the early 1990s, following the collapse of the for Soviet Union, several things happened which directly affected the future of Siberian tigers.The opening of Russia's borders with her South East Asian neighbors made smuggling easier. Increased mining and forestry encroached on the tiger habitat and also resulted in increased road construction, which opened up the area to poachers.Government funding for conservation dwindled. All this led to an increase in poaching. Tiger body parts are highly prized in Chinese medicine and, unfortunately, the tiger habitat in the Russian Far East is close to the Chinese border. A tiger can fetch upwards of $30,000 — far more than most Russians earn in a year.
Siberian Tiger
The Siberian Tiger, also known as the Manchurian or Amur or Northeast China tiger, is the largest ad heaviest living cat in the world. Its scientific name is "Panthera Tigris Altaica."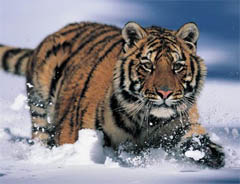 Formerly lived in Korea, Manchuria, Eastern part of Russia, now Siberian Tigers believed to be extinct in Korean Peninsular. Presently, Siberian Tigers are found in the Amur-Ussuri region of Siberia and also in northern China.
It lives in evergreen forests; the valleys there are where its best hunting and fishing grounds are located. Used to winter weather, this handsome animal has thick, fine fur, and a layer of fat that allows it to stand the bitter cold. It moves slowly and silently through the forest, hidden among branches and dead leaves.It has thick yellow fur with dark stripes. It has a broad, massive muzzle and large forequarters compared to other tigers. The Siberian tiger is the largest and heaviest subspecies. The tiger has round pupils and yellow irises. Due to a retinal adaptation that reflects light back to the retina, their night vision is six times greater than that of humans.
The above article is from The New York Times and other sources.