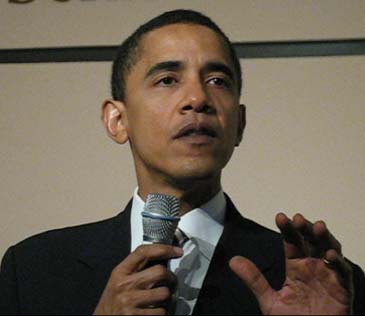 Barack Obama addresses an audience while on the road to the white house.
I'm one of those guys that grumbles about America's insistence on choosing Presidents based on personality. "In Europe, you vote for a platform, not a pretty face," I grouse. "Civilized nations have a parliamentary system." But in America, we elect the candidate most likely to sidle up next to you at the bar, order a cold beer and chat about the missus and the kids. Bah.
So here's Barack Obama, who has racked up two Kennedy endorsements in 24 hours. Yes, the Democrats want their warm fuzzies, their Camelot. Obama fans clamor for a sense of the future that is as bright as it is vague. While Hillary prescribes, "To solve this crisis, We must convene this congressional committee, and that congressional committee," Obama serves up a Rodney King-flavored "Why can't we all just get along?" and wins the hearts.
Alright, alright. I'm selling us a little short, I suppose. What Americans really look for in a candidate is a raw instinct for leadership, and are not that concerned with credentials or firm ideology. The results are usually disastrous, but not always. I'm thinking of Abraham Lincoln, woefully underestimated in his day, considered a lightweight by opponents and allies alike. He even invited political foes to serve in his cabinet. Because of his policy of "Keep your friends close and your enemies closer," his allegiances were maddeningly unclear. He led by gathering input from all sides, then made decisions based on how far he believed he could push the nation towards change – and not an inch farther. Ideologues thought him weak, wobbly, unsure of himself. Similarly, there's FDR, a man who entered the White House fully opposed to permanent benefits for the downtrodden, and was won over to that cause by liberal advisors. Not right away though. First he frustrated one and al
One wonders then, if Obama might be cut out of the same cloth, a man who will listen to all sides without much regard to ideology, who will frustrate "knowledgeable" observers by his insistence on giving each side their due, and end up doing something nation-saving, something inspirational, intuitive, even imaginative. Kennedy-esque? Nah. Think Lincoln-esque. He's already an Illinois lawyer. All he needs is a beard and a black suit.John Pierce
unai.astorkiza@wanadoo.es