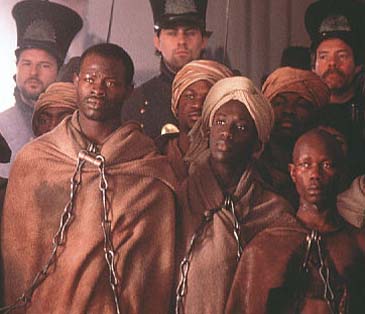 Chains and forlorn faces show a grim reminder of the horrors of slavery. Photo compliments of the movie "Amistad."
Black slavery in America would have been impossible without the cooperation of African chiefs of various tribes and kingdoms in Africa. This is true even considering the firearms and technological superiority of Western nations. It wasn't until after the siphoning of many millions from Africa, via the slave trade, that depopulated African kingdoms and tribes would become weak enough for Western nations to overcome militarily and, hence, afterwards to colonize. Western Africa, particularly, with its jungle terrain and climate was too formidable for conquering no matter how many rifles so long as there were sufficiently populated warriors in the indigenous tribes and kingdoms of Africa.
Slavery was practiced by Africans against other Africans, when one African kingdom or tribe conquered another African kingdom or tribe, long before Europeans ever saw an African or thought of enslaving Africans. This is why it was easy for Europeans to get African chiefs to fight and conquer other tribes in order to obtain slaves. The African chiefs, in turn, received gold, silver, and other precious commodities in payment.
Many in society, blacks and whites, tend to think that Africans were easy for the taking and that Africans were only naked savages because they see pictures of them coming aboard on slave ships with no clothes. The fact is many Africans of that time, depending on their class in society, were often well-dressed but everyone, the poor as well as the other classes of society, were made naked before entering the slave ships. It's not because all of them were found naked.
Why does all of this matter? It matters because the perception that all Africans lived naked in their societies and were easy for the taking to be made into slaves naturally causes people of African descent and whites, as well as others in society, to have a sense of disrespect, even revulsion and loathing, for being African or Black. Of course, these things shouldn't matter when it comes to why we should respect our fellow human beings, but it is a natural tendency because of sinful human nature to think diminutively of the weak. No one, by nature, desires to be associated with weakness.
Knowing the true facts of history concerning African slavery may restore some natural dignity and pride to those of African heritage, but the greatest and best of reasons for uplifting dignity among those of African descent as well as for all others in society is knowing that all of us have been created in the image of God and that in Jesus Christ we are all equally his spiritual children.
The author, Babu G. Ranganathan, is an experienced Christian writer. Mr. Ranganathan has his B.A. with academic concentrations in Bible and Biology from Bob Jones University. As a religion and science writer he has been recognized in the 24th edition of Marquis Who's Who In The East. The author's articles have been published in various publications including Russia's Pravda and South Korea's The Seoul Times. The author's website may be accessed at: http://www.religionscience.com.