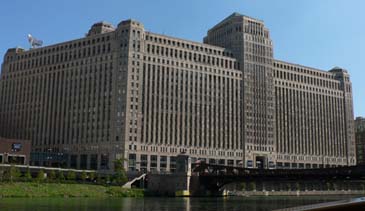 Chicago Merchandise Mart
CHICAGO — A carefully vetted compilation of 181 of the world's foremost contemporary and modern art galleries will be exhibiting at Art Chicago 2008, running April 25 – 28, at The Merchandise Mart. A 17% increase in applications was received for Art Chicago 2008, with 350 galleries submitting in contrast to 300 the previous year. Additionally, 95% of the 132 exhibitors who participated in the 2007 fair re-applied for 2008 — a dramatic increase from the 75% re-sign of the 104 participating galleries in 2006. Under different ownership, Art Chicago 2005 saw only 50% of galleries reapplying. International representation has been bolstered 36% for 2008, with 30 cities presenting, up from 22 in 2007. The strong roster of U.S. galleries continues, with 27 cities represented, a 35% increase over 20 in Art Chicago 2007. "In every measurable way," commented Merchandise Mart Senior Vice President Mark Falanga, "Art Chicago is bigger and better. We attribute many of these improvements to the standards established by our Selection Committee, which was re-instituted in 2007." ART CHICAGO 2008 GALLERIESThe Art Chicago 2008 Selection Committee members, all of whom will also exhibit at the fair, include: Joel Beck, Roebling Hall, New York
Stephen Daiter, Stephen Daiter Gallery, Chicago
Paul Gray, Richard Gray Gallery, Chicago
Robert Fishko, Forum Gallery, New York
James Goodman, James Goodman Gallery, New York
Rhona Hoffman, Rhona Hoffman Gallery, Chicago
Hans Mayer, Galerie Hans Mayer, Düsseldorf
Richard Solomon, Pace Prints, New York
Martin Weinstein, Martin Weinstein Gallery, Minneapolis
"The quality of our 2008 exhibitor list defines Art Chicago as a prominent international contemporary and modern art fair," said Tony Karman, director of sales and development, Art Chicago. "Leading galleries – from Chicago to Seoul, from Paris to Los Angeles — will offer an extraordinary experience for art collectors, curators and art enthusiasts, showcasing works of more than 2,000 artists in a variety of media including painting, drawing, sculpture, photography, prints and video installations." The new team created by the Merchandise Mart Properties, Inc.'s acquisitions of Art Chicago, The Armory Show and Volta, establish the Merchandise Mart as the strongest, most important American art show producer. "The Art Chicago experience allows collectors to view and purchase in the broader context of a city with renowned museums, terrific curators and great collections," said Mart President Christopher Kennedy. "A single location is more convenient, and gives credibility and confidence that all exhibiting galleries have been vetted for quality. Chicago has always been the destination for the thoughtful collector." ABOUT ARTROPOLISThe Merchandise Mart will act as the hub of Artropolis, a city-wide celebration of the arts which attracts thousands of visitors to savor a rich menu of art and entertainment experiences that are unique to Chicago. Educational programs, guided tours, music, theatre and dance performances are planned at venues throughout the city, from major museums to small galleries, world-class concert halls to cutting-edge clubs, lakefront parks to exclusive private parties.Along with Art Chicago, four additional shows will be produced concurrently at The Merchandise Mart April 25 – 28, 2008. NEXTTM is an exciting new invitational art fair installed on the 7th floor of The Merchandise Mart. NEXT will offer focused curatorial visions of some of the most important developments in contemporary art. ART CHICAGO GALLERIES 2008The Merchandise Mart International Antiques FairTM, an established, premier antiques destination, celebrates their 11th year, and will feature a breath-taking array in a wide range of categories from 120+ dealers from around the globe. The Artist Project™ is an art exhibition and sale featuring original work from independent artists undiscovered by the gallery community. The Artist Project provides theopportunity to discover interesting and affordable works directly from the artists. The Intuit Show of Folk and Outsider ArtTM exhibits self-taught art, outsider art, art brut, ethnographic art, non-traditional folk art and visionary art. More information on Artropolis is available by visiting www.artropolischicago.com. Art Chicago Event Specifics Dates: Friday, April 25 – Monday, April 28, 2008 (Opening Night Preview Party: Thursday, April 24)Times:
Friday, April 25: 11 a.m. – 7 p.m.
Saturday, April 26: 11 a.m. – 7 p.m.
Sunday, April 27: 11 a.m. – 6 p.m.
Monday, April 28: 11 a.m. - 4 p.m.[Thursday, April 24: Opening Night Preview Party. Tickets are $100.]Location: The Merchandise MartTickets: $20 for entry to all five shows. $25 for multiple day pass. Information: www.artchicago.com or 312.527.4141 Merchandise Mart Properties, Inc. (MMPI) is a trade show and property management firm, specializing in managing buildings devoted to wholesale showrooms and commercial office space. MMPI produces more than 300 trade shows, market events and conferences each year. MMPI manages The Merchandise Mart and 350 West Mart Center in Chicago; Market Square, the Suites at Market Square, Hamilton Market, Plaza Suites, Furniture Plaza and the National Furniture Mart in High Point, N.C.; the Architects & Designers Building and 7 W New York in New York; the Boston Design Center in Boston; the L.A. Mart in Los Angeles; and the Washington Design Center and Federal Center Southwest in Washington D.C. Vornado Realty Trust, owners of MMPI, based in New York City, is a fully integrated equity real estate investment trust. Vornado's common shares are listed on the New York Stock Exchange and are traded under the symbol VNO. MMPI Art Group,is comprised of Art Chicago, NEXT, The Armory Show, Volta Basel, Volta NY and the Toronto International Art Fair, all owned and produced by Merchandise Mart Properties, Inc.