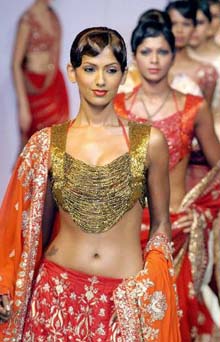 An Indian fashion show
Photo Courtesy of Times of India
India has inspired food, film and fashion. If the North Indian "Balti Chicken" is a favorite with Londoners, the Asian nation's music, religious hymns and folklore, have pepped up movies like "Eyes Wide Shut" and "Moulin Rouge." It is not unusual to find "Tandoori Kebabs" and notes from the Sitar creating exotica in the most unlikely corners. And, now comes fashion — seeking inspiration from India. Leading global luxury brands, such as Pal Zileri, Lladro, Alberta Ferretti, Jean Paul Gaultier, Salvatore Ferragamo and Zegna have started using Indian elements to enrich their couture.Hermes has brought out a range of scarves that look very, very Indian. Rajasthan royalty stimulated Gaultier's last haute couture line. Italian men's luxury apparel, Pal Zileri, showed off its "sherwanis" and "bandhgalas," the classic evening costumes whose style and seductive charm have been flaunted in palaces and parties. Spain's top name in porcelain, Lladro, has just introduced its fascinating "Spirit of India." Indian embroidery and mirror work have adorned Ferretti's unique clothes, and the country's traditional jewellery "elements" have been used by Italian fashion-maker, Ferragamo, to embellish footwear.
Adarsh Amin, general manager of Pal Zileri India, avers "there is an emerging demand for Indian cuts and designs not only among Indian customers but also from other parts of the globe…India is a prestige market for us."
Couture that breathes India through traditional motifs has now become the latest rage on the world fashion scene. Figurines styled in classic India adorn drawing rooms in all corners. If women like Aishwarya Rai are redefining the concept of beauty in the West, Indian folk arts and culture, music and melody and dress and design are revolutionising appeal in the most dramatic manner. India appears to lie in the eyes of the beholder, who may be Tom Ford or John Galliano or Karl Lagerfeld himself.