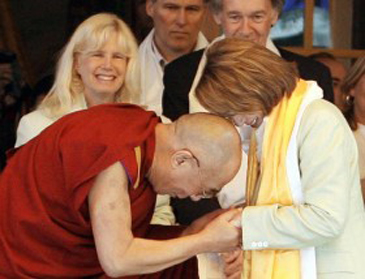 Tibetan spiritual leader Dalai Lama greets US House Speaker Nancy Pelosi as US congressional delegates and Tibetan officials look on in the northern Indian hill town of Dharamsala on March 21.
US House of Representatives Speaker Nancy Pelosi said on March 21 Tibet was a challenge to the world's conscience and called for an international probe to clear the Dalai Lama's name in the violent protests this month.Pelosi said the free world will have lost its moral authority to speak about human rights if it did not speak up against Chinese oppression in Tibet."The situation in Tibet is a challenge to the conscience of the world," Pelosi told a gathering of about 2,000 Tibetans after meeting the Dalai Lama in Dharamshala, the seat of his government-in-exile.China's crackdown on anti-government protests in Tibet - which it says were orchestrated by the Dalai Lama - has drawn sharp international criticism and clouded preparations for the Beijing Olympics.The Tibetan spiritual leader has denied encouraging the violent protests in Tibet, the largest in almost 20 years, and has even offered to resign as Tibetan leader if violence worsens.Pelosi described the Dalai Lama as the "embodiment of non-violence" and said China's allegation that he was behind the violent protests did not make sense.Nonetheless, she called for "an independent, outside investigation" to clear the Dalai Lama's name.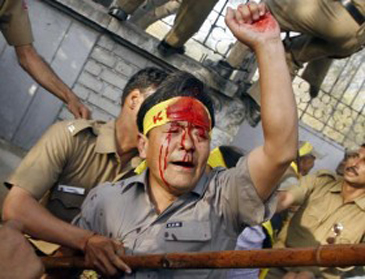 A Tibetan man scuffles with policemen during a protest in front of Chinese embassy in New Delhi on March 21.
Hours after Pelosi met the Dalai Lama, about a dozen Tibetan protesters stormed the Chinese embassy in New Delhi, jumping over a spiked fence and then running around the high-security compound. They waved Tibetan flags and held up posters."Boycott 2008 Beijing Olympics," read one poster. Police and embassy staff soon overpowered the slogan-shouting Tibetans. At least 60 protesters were reportedly taken away in police vehicles.Pelosi said she was not surprised "about the use of violence on the part of the Chinese government.""If freedom-loving people throughout the world do not speak out against Chinese oppression and China and Tibet, we have lost all moral authority to speak on behalf of human rights anywhere in the world," she said."Perhaps it is our karma, perhaps it is our fate that we be with you at the time," she said to a huge round of applause from the crowd. (Reuters).