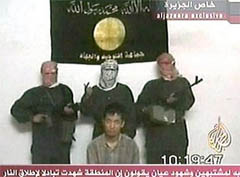 A man identified as South Korean Kim Sun-Il, front, sits in front of his captors in this image taken from an undated but recent video obtained by Al-Jazeera television station Sunday, June 20, 2004. In the video, a group calling itself Monotheism and Jihad said that Korea had 24 hours to meet its demands of the withdrawal of Korean troops from Iraq, or they would kill Kim Sun-Il. (AP Photo/Al-Jazeera via APTN)
BAGHDAD, Iraq — The Arab satellite TV network Al-Jazeera aired a videotape Sunday purportedly from al-Qaida linked militants showing a South Korean hostage begging for his life and pleading with his government to withdraw troops from Iraq . The kidnappers, who identified themselves as belonging to a group led by Abu Musab al-Zarqawi, gave South Korea 24 hours to meet its demand or "we will send you the head of this Korean." "Please, get out of here," the man screamed in English, flailing his arms. "I don't want to die. I don't want to die. I know that your life is important, but my life is important." A South Korean television news station, YTN, identified the hostage as Kim Sun-il, 33, an employee of a South Korean company called Arab Trading. It said he was captured in the Fallujah area. The video came two days after news of the beheading of American hostage Paul Johnson by Saudi militants, and an announcement Friday by South Korea that it will send 3,000 soldiers to northern Iraq beginning in early August. Once the deployment is complete, South Korea will be the largest coalition partner after the United States and Britain. After showing the hostage's plea, the tape showed him kneeling in front of three masked men, one of them armed with a Kalashnikov. The man standing in the middle read a statement in Arabic. "Our message to the South Korean government and the Korean people: We first demand you withdraw your forces from our lands and not send more of your forces to this land. Otherwise, we will send to you the head of this Korean, and we will follow it by the heads of your other soldiers." The statement gave Seoul 24 hours starting from sunset Sunday to meet its demand.
An Al-Jazeera staff member at the network headquarters in Qatar, Mohammed al-Saadi, told The Associated Press by telephone that the two-minute videotape was mailed to the Al-Jazeera bureau in Baghdad. "Our office in Baghdad received an unknown package; they opened it and they found the tape," al-Saadi said. The group identified itself as Monotheism and Jihad; its purported leader, al-Zarqawi, is a Jordanian-born terrorist linked to al-Qaida.
The above article is from Associated Press.