America
Why Obama Won't Separate From His Pastor
Special Contribution
By Babu G. Ranganathan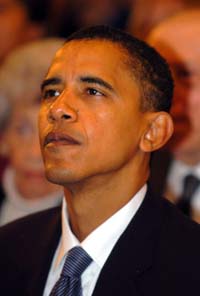 Barack Obama
Although I am socially conservative, I must admit, after reading Barack Obama's speech, that he is the most honest of any of the presidential nominees. Barack Obama recognizes that there are contradictions in all of us, and that includes his pastor Jeremiah Wright. I was confused as to why Obama still associated with Wright and had suspicions about Obama's own motives. Not any more.Obama understood that Wright's rantings were based on his generational experiences and that his old pastor simply refused to forgive America regardless of how much racial progress had already been made.However, all of Wright's rantings did not take away the positive characteristics that Obama observed in Wright. As Obama said, Wright helped him enormously in his faith and that on a personal level Wright was always gracious to others regardless of race, whites included.An analogy I can think of is if you had an aunt who helped you a lot in life but because she was raped by a man early in her life she turned out to have a very strong anti-male sentiment even if on a personal level she was friendly towards men. Would you have separated from your aunt over that? What would have been the use of pulling her to the side and talking to her when you knew that what she felt was not based on reason but pure emotion? Barack Obama has rightly and publicly rejected his old pastor's prejudices. Considering the context of his old pastor's experiences we should not have to demand that Obama totally separate and disassociate with him. We know where Obama stands and Obama is not racist or anti-American.I encourage everyone to fully read Obama's speech. It's available on the Internet. An honest man he is.Obama is not just rhetoric as many have so ignorantly dismissed him. He has very good and specific, detailed plans and ideas for the economy and foreign relations, although these do not receive the same public and media attention
Some other Internet articles by the author are: "Why The Traditional View of Hell Is Not Biblical," "Artificial Life By Intelligent Design," "Any Life On Mars Came From Earth!," "Creationists Right On Entropy, Evolution," "Are There Natural Limits To Evolution?,""Intelligent Design On Another Planet?," "Where Are All The Half-Evolved Dinosaurs?," "Christ Was Begotten, Not Made." The most up-to-date versions of these and other articles may be accessed at: Babu G. Ranganathan's Articles.

Related Articles
Life on Mars Could Have Come from Earth
Understanding God in Reformed Theology
Why America Doesn't Need Foreign Oil
The Woman Who Couldn't Become President
Why Genetic Similarities Don't Prove Evolution!
Do Corporations Owe Anything To Society?
Fossil Doesn't Support Bat Evolution!
Legacy of African Slavery Still With Us
Tribal Warfare Hinders Progress in Kenya
Understanding Intelligent Design Theory
Many Indian Christians Are Suffering!
How All The Races Came from Adam and Eve
How Do Egg Yolks Turn into Chickens?
Where Are All the Half-Evolved Turtles?
Natural Laws Vs. Intelligent Design?
What Is Liberal Theology?
Scientists Are Not Creating Life!
The Genetic Boundaries of Evolution
Rational Christian Response to Ayn Rand
Jerusalem: The Babylon of Revelation of 14:8?
Any Life on Mars Came from Earth!
Have Scientists Created Life?
Christ Fulfilled The Sabbath!
Modern Israel Not Fulfillment of Bible Prophecy
Madonna and The Cross
Egypt: The Land of Ham
Where Are The Half-Evolved Chipmunks?
In Nature But Not Invented By Nature
Darwin Only Had A Theology Degree!
Popular Misconceptions About Hell
Christ Was Begotten, Not Created!
The Christian Response to Homosexuals
Evolutionists Wrong About Entropy
On Real Black History
God and Science
Traditional Doctrine of Hell Has Greek Roots
The Facts of Life Reviewed
Are There Natural Limits To Evolution?
Tale of Two Dogs
Israel and The Land
Science and a Young Earth
Creationists Right on Entropy, Evolution
Negro Slavery and The Myth of Ham's Curse
Where Are All The Half-Evolved Dinosaurs?
How Does My DNA Work?
Common Misconceptions on Evolution
Intelligent Design On An Another Planet?
Entropy: Enemy of Evolution?



The author, Babu G. Ranganathan, is an experienced Christian writer. Mr. Ranganathan has his B.A. with academic concentrations in Bible and Biology from Bob Jones University. As a religion and science writer he has been recognized in the 24th edition of Marquis Who's Who In The East. The author's articles have been published in various publications including Russia's Pravda and South Korea's The Seoul Times. The author's website may be accessed at: http://www.religionscience.com.