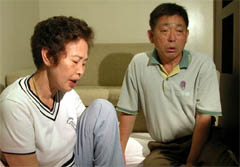 Parents of Kim Sun-Il who was kidnapped by Islamic militants Courtesy Yonhap
Islamic militants in Iraq have threatened to execute a South Korean hostage within 24 hours. A video message called on South Korea to withdraw its armed forces from Iraq, three days after it said it would increase its troops there. In Seoul officials held emergency talks and said that although they would seek the man's release there would be no change in the deployment plan. "Get out of here, I don't want to die," the hostage screams on the tape. "My life is important," shouted Kim Sun-il, a 33-year-old translator working for a company that supplies the US army. The video was broadcast on the Arabic TV channel al-Jazeera, which said that the it arrived in an unmarked package at the station's Baghdad office. The two-minute tape showed the hostage surrounded by armed men wearing masks. "We ask you to withdraw your forces from our land and not to send any more troops, and if not we'll send you this Korean's head," said one of the men. The tape said that the 24-hour deadline would expire at sunset on Monday. A banner identified the group as Jamaat al-Tawhid and Jihad, which is led by a leading al-Qaeda member, Abu Musab al-Zarqawi.
A Korean kidnapped
A man identified as South Korean Kim Sun-il, front, sits in front of his captors in this image taken from an undated but recent video obtained by Al-Jazeera television station Sunday, June 20, 2004. In the video, a group calling itself Monotheism and Jihad said that Korea had 24 hours to meet its demands of the withdrawal of Korean troops from Iraq, or they would kill Kim Sun-il. (AP Photo/Al-Jazeera via APTN)
Last month the same group beheaded an American hostage, Nick Berg, and it has been responsible for a number of other attacks, including the killing of Iraqi Governing Council head Ezzedine Salim.
Warning
South Korea already has 660 army engineers and medical personnel in the southern Iraqi city of Nasiriya, where they are involved in humanitarian and rehabilitation projects. But on Friday, the South Korean defence ministry announced that it would send another 3,000 troops to northern Iraq from early August. The next day, the government issued a warning against any travel to Iraq, saying its troop decision might lead to attacks on South Korean citizens. "The government will closely work with the US military command in Iraq and international religious and human rights organizations to get the Korean hostage released as soon as possible," said Foreign Minister Ban Ki-moon. There has been considerable opposition in South Korea to the deployment of troops in Iraq. A recent poll published in the Hankook daily showed 57.5% opposed the sending of any more troops, while 40% backed the plan.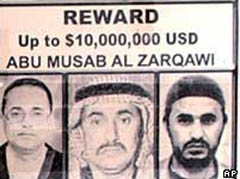 Zarqawi's group has carried out a number of attacks. Courtesy AP
President Roh pledged to US President George W Bush last October that he would send troops to Iraq, in a gesture of support for a key ally who currently has 37,000 troops in South Korea.
Failed negotiations
Kim Sun-il studied English at the elite Korea University, and had been in Iraq for several months. He also spoke some Arabic, and was employed as a translator by South Korea's Gana Trading Company, which supplies heavy machinery for civil engineering projects. It is not known when Mr Kim was abducted. But South Korean officials said that Gana had already tried to negotiate Mr Kim's release without informing the government of the situation. The company has 12 staff in the Iraqi capital and the other employees have been moved to a hotel. Mr Kim's sister, Kim Jung-sook, told YTN TV that he planned to return to South Korea next month for their father's 70th birthday.
The above article is from BBC.