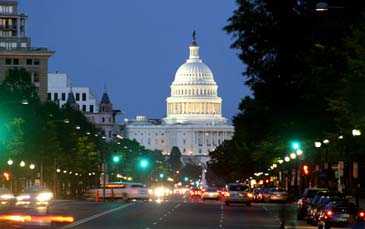 The United States Capitol is the capitol building that serves as the seat of government for the United States Congress, the legislative branch of the U.S. federal government. It is located in Washington, D.C., on top of Capitol Hill.
After years of becoming progressively more negative, public views of the United States have begun to improve, according to a BBC World Service Poll across 34 countries. While views of US influence in the world are still predominantly negative, they have improved in 11 of the 23 countries the BBC polled a year ago, while worsening in just three countries. The average percentage saying that the US is having a positive influence has increased from 31 percent a year ago to 35 percent today while the view that it is having a negative influence has declined from 52 percent to 47 percent. Looking just at the countries that have been polled in each of the last four years, positive views of the US eroded from 2005 (38% on average), to 2006 (32%), and to 2007 (28%); recovering for the first time this year to 32 percent. People were asked to rate Brazil, Britain, China, France, Germany, India, Iran, Israel, Japan, North Korea, Pakistan, Russia, the USA and the European Union, as having a mainly positive or negative influence in the world.As was the case a year ago, Iran and Israel receive the most negative ratings. While negative views of Israel have eased over the last year from 57 to 52 percent, negative views of Iran's influence have held steady at 54 percent making it the most negatively rated of the countries tested. Pakistan follows Israel as the third most poorly rated country.Similar to last year, Japan is among the most positively rated countries. However, it comes a close second to Germany which is included in the ratings for the first time. The European Union comes third.The country with the greatest improvement is Russia. Positive views of Russia have risen on average from 29 percent to 37 percent and negative views have fallen from 40 percent to 33 percent. In 12 countries, the view of Russia grew more positive.The BBC World Service Poll has been tracking opinions about country influence in the world since 2005. These latest results are based on 17,457 in-home or telephone interviews conducted across a total of 34 countries (including the 23 tracking countries) by the international polling firm GlobeScan together with the Program on International Policy Attitudes (PIPA) at the University of Maryland. GlobeScan coordinated fieldwork between October 31, 2007 and January 25, 2008. Steven Kull, director of PIPA comments, "It may be that as the US approaches a new presidential election, views of the US are being mitigated by hope that a new administration will move away from the foreign policies that have been so unpopular in the world." GlobeScan president Doug Miller added: "The poll suggests that Iran continues to pay a price for its nuclear stand-off with the United Nations. World opinion continues to see it as the country having the most negative influence."Countries that have shown the sharpest increase in their positive views of the US include South Korea (35% in 2007 to 49% today), France (24% to 32%), Portugal (29% to 42%), Brazil (29% to 39%), Chile (32% to 41%), and the UAE (25% to 37%).While Iran and Israel continue to have the most negative ratings, nearly as negative are views of Pakistan (rated for the first time this year prior to the most recent election there). Fifty percent view Pakistan as a negative influence while just 18 percent give it a positive rating. In no country does a majority give it a positive rating, though Indonesia comes close with 48 percent.Germany—rated for the first time this year—gets the most positive ratings of all countries. On average 56 percent say it is having a positive influence with just 18 percent saying it is having a negative influence. No country gives Germany a majority negative rating. Japan continues to be one of the countries with the most positive ratings. On average 56 percent say that it has a mostly positive influence and 21 percent say mostly negative—statistically unchanged from a year ago. Two countries—China and South Korea—continue to have a majority with a negative view of Japan.Britain has also enjoyed an improvement with positive views rising on average from 46 to 50 percent and negative views dropping from 29 to 24 percent. Thirteen countries have improved views of Britain while just three have worsened.When asked for their views of their own country's influence in the world, Japanese citizens are the most modest of those polled, with only 36 percent saying Japan is having a mainly positive influence. Americans come next with only 56 percent saying the US is having a positive influence. Conversely, fully 91 percent of Chinese citizens and 78 percent of Russian citizens say their country is having a positive influence.In total 17,457 citizens in Argentina, Australia, Brazil, Canada, Chile, China, Costa Rica, Egypt, El Salvador, France, Germany, Ghana, Great Britain, Guatemala, Honduras, India, Indonesia, Israel, Italy, Japan, Kenya, Lebanon, Mexico, Nicaragua, Nigeria, Panama, the Philippines, Portugal, Russia, South Korea, Spain, Turkey, the UAE, and the United States were interviewed face-to-face or by telephone between October 31, 2007 and January 25, 2008. Polling was conducted for the BBC World Service by the international polling firm GlobeScan and its research partners in each country. In 16 of the 34 countries, the sample was limited to major urban areas. Given that country ratings were given by samples of about 500 per country, the margin of error per country ranges from +/-3.4 to 4.6 per ent.
United States
Views of the United States continue to be largely negative, but with a modest improving trend. Among tracking countries the positive views of the US have risen on average 4 points from 31 percent to 35 percent, while negative views have dropped from 52 to 47 percent. Eleven countries have shown increases in positive attitudes. Two have even shifted from a predominantly negative attitude to a predominantly positive attitude. In 2007 South Korea had a majority of 54 percent with a negative view. However this negative view has dropped 16 points to 38 percent this year while positive views have risen to 49 percent. In 2006 South Koreans were also predominantly negative (44% positive, 53% negative). Similarly in Portugal in 2007 there was a majority of 55 percent with a negative view. This has dropped 18 points to 37 percent while positive views have elevated to 42 percent. Two Latin American countries have moved from a majority negative view—Brazil (57% negative in 2007) and Chile (51%)—to divided views. In two countries there has been a significant drop in the majority holding a negative view—France (69% to 51%), UAE (57% to 42%)—and in three countries a significant increase in their minority holding a positive view—Turkey (7% to 20%), China (28% to 38%), and Indonesia (21% to 32%). Two countries have had their already large majority with a positive view grow: Kenya (70% to 80%), Philippines (72% to 79%). In three countries majority negative views have grown—Canada (56% to 62%), Lebanon (58% to 67%), Egypt (59% to 73%)—while in Nigeria majority positive views have slipped (72% to 66%). Among new countries polled views are mixed. Japan leans negative (21% positive, 38% negative, with a large 41% not answering) while a majority of Spanish are negative (53%, positive 28%). However a large majority of Israelis are positive (68%), as are a majority of Ghanaians (65%) and Central Americans (57%).While in 2007 Europe was the region with the most negative views of the US, these have moderated a bit and now the Middle East is the most clearly negative. Negative views have also softened in most Latin American and Asian countries.
North Korea
Views of North Korea continue to be largely negative, though views have improved somewhat. Among tracking countries positive views of North Korea have, on average, risen slightly from 20 to 23 percent, while negative views have fallen a bit from 48 to 44 percent. Fourteen of the 23 countries have a negative view. Five lean positive, but in no case is this a majority; China comes the closest with 47 percent positive. Five countries have shown significant improvement in their views of North Korea. In three countries, their impressions shifted from predominantly negative impressions to predominantly positive ones. Philippines showed the most dramatic shift with positives rising 18 points, from predominantly negative (21% positive, 41% negative in 2007) to predominantly positive (39% positive, 30% negative today). Chinese opinion also improved from predominantly negative (34% positive, 39% negative) to predominantly positive (47% positive, 32% negative), as did Russian views (20% positive/37% negative to 28% positive/21% negative). Two countries have had minority positive views improve: Australia (7% to 16%) and Italy (9% to 16%). In one country, India, positive views have slipped, shifting from predominantly positive (26% positive, 18% negative) to divided (11% positive, 14% negative). Those saying "don't know," however, increased 10 points from 31 percent to 41 percent.Among new countries polled, most view North Korea's influence as negative. An overwhelming majority of Japanese are negative (90%), with only 2 percent positive. Spain has a majority that is negative (55%) as does Israel (52%). In Ghana, views lean negative (30% negative, 21% positive), while in Central America views are divided (30% positive, 29% negative, and 30% not answering).The only region where a significant number of countries lean positive on North Korea is East Asia, including China (47%), Indonesia (41%), and the Philippines (39%).
The above article is from World Publis Opinion.