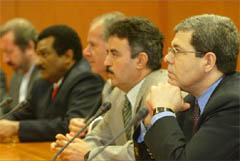 Arab Envoys urged to mediate
Tunisian Amb. Othman Jerandi (right) and other ambassadors of Arabic countries gathered on June 21, 2004 in the South Korean Ministry of Foreign Affairs and Trade at the request of South Korean government were asked by Seoul government to help mediate the release of Kim Sun-il, a South Korean businessman kidnapped by Islamic militants in Baghdad. Courtesy Joins
South Korea will go ahead with its plan to send 3000 troops to Iraq despite a televised threat from an Iraqi group to kill a South Korean captive, the Foreign Ministry has said. The government would do its best to seek the release of 33-year-old businessman Kim Sun-il, who has been shown repeatedly on South Korean television pleading for his life, Vice Foreign Minister Choi Young-jin told reporters. Choi said Kim, an Arabic graduate, had been seized in Falluja on 17 June — the day before South Korea announced where its troops would be deployed after months of agonising because of security concerns and public opposition. The group holding Kim said South Korea had 24 hours from on Sunday night to withdraw its decision or they would kill him, Aljazeera satellite channel reported. "It's very regrettable and unfortunate," said Roh in comments released by the presidential Blue House. "I request the foreign ministry and other related agencies to make all their efforts to save him and address the issue with great care and urgency as Koreans are very concerned about the incident."
A Korean kidnapped
A man identified as South Korean Kim Sun-il, front, sits in front of his captors in this image taken from an undated but recent video obtained by Al-Jazeera television station Sunday, June 20, 2004. In the video, a group calling itself Monotheism and Jihad said that Korea had 24 hours to meet its demands of the withdrawal of Korean troops from Iraq, or they would kill Kim Sun-il. (AP Photo/Al-Jazeera via APTN)
Roh insisted S. Korean troops were being sent to rebuild Iraq, not to "engage in hostile activity" against Iraqi people or Arabs. The president of Kim's company, which supplies goods to the US military commissary, had initially sought to negotiate with the captors without telling the government, Choi said. "I am telling you that there will be no change to our government's basic spirit and position — our plan to send troops to Iraq is for the support and reconstruction of Iraq," Choi said. He chairs a special task force set up to handle the crisis. The ministry called in Arab ambassadors to ask for help.
Crucial gesture
Aljazeera broadcast the videotape showing masked men standing behind Kim as they made their threat. South Korean television stations showed the film repeatedly. YTN television quoted Kim's family as saying he had called, sobbing, from Iraq. He is the seventh of eight children. Kim worked for Gana General Trading, a company with 12 employees in Iraq, Yonhap news agency said.
A family member of the South Korean captive
One of the relatives looks worried about her nephew Kim Sun-il abducted by Islamic militants. She is holding Kim Sun-il's graduation photo.
Courtesy Yonhap
Many South Koreans reacted with shock, particularly because of the footage of Kim imploring people to help to free him. But most said Seoul should not alter its decision to send troops. "I felt terribly chilled this morning watching the Korean crying and yelling in front of the terrorists' camera. I am so sorry for his family. But feeling sorry and national security should be considered separately," said Sung Jeong-hun, a 29-year-old graduate school student in Seoul. Ryu Hee-man, a 51-year-old businessman, said he had expected an incident of some kind so he was not greatly surprised. Others said they had been shocked.
Delay
"It's sad and may trigger a further delay in the troop deployment or an early withdrawal of South Korean soldiers in Iraq," said Kim Byung-ho, a 34-year-old engineer. "But I don't think the government should change its commitment." Roh is unlikely to change tack, despite protests against the plan, although the crisis could magnify public and parliamentary opposition.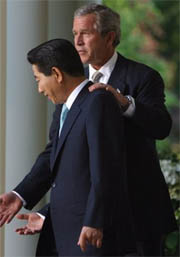 South Korean President Roh Moo-hyun with US President George Bush in the White House
He views the deployment as a tough but crucial gesture to support Seoul's main ally, the United States, which has 37,500 troops stationed in the South to deter North Korea. Friday's announcement capped months of debate in South Korea on a pledge first made to US President George Bush by Roh in October last year and approved by parliament in February. South Korea already has about 670 military engineers and medics in southern Iraq, and they will join the larger deployment in the North. About half the troops are combat-ready forces trained to protect the non-combat troops.
Group Threatens to Kill S. Korean Captive
A purported Iraqi group has threatened to kill a South Korean captive if Seoul fails to withdraw its troops from Iraq in 24 hours.Aljazeera aired a videotape of captive Kim Son Il filmed by a group calling itself Jamaat al-Tawhid and Jihad. Kim is described as a worker with a trade company in Baghdad.The captors called on the Seoul government not to send additional troops to Iraq.Kim was first shown on his own, distraught and in tears, asking the South Korean government to rethink its troop deployment plans.
New deployment
On Friday, Seoul announced it would begin deploying 3000 troops to northern Iraq in early August to complement an already existing forces of more than 600, mostly comprised of engineers and medics.
Seoul Citizens Object Sending
of Additional Troops
Members of South Korean civic groups are clamoring for an immediate cancellations of
South Korean government's plan to send additional troops to Iraq in front of the main government building downtown Seoul. Large number of South Koreans are opposed to the planned sending of 3,000 South Korean troops to Iraq.
Courtesy Joins
"Please get out of here, here, here. I do not want to die; I do not want to die. I want to live. My life is important," he shouts.The captors threatened to behead the captive if the South Korean government would not reconsider its deployment decision within 24 hours beginning Sunday evening. "Our message is to you, the government of [South] Korea and the Korean people: we call you on to withdraw your forces from our land and not send new additional troops to this land [Iraq]. "Otherwise, we will send you the head of this Korean (pointing at the hostage) and heads of your other soldiers will follow," one of the captors said.
Emergency meeting
Hours after the video first aired, the South Korea Foreign Ministry announced it had set up a special task force and that President Roh Moo-hyun's National Security Council will hold an emergency meeting on Monday to discuss Kim's seizure in Iraq."A task force was formed and they are holding a meeting this morning, presided by [the] vice foreign minister," a foreign ministry spokesman told Reuters, adding that the meeting was scheduled for 8:00am (2300 GMT Sunday).
The above article is from Aljazeera and other sources.