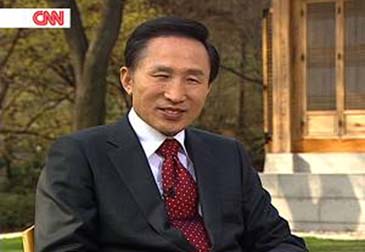 S. Korean President Lee Myung-Bak
Airtimes:
Hong Kong, Kuala Lumpur, Manila, Singapore and Taipei
Saturday, April 19 at 0730 & 2300
Sunday, April 20 at 0830 & 2100
Bangkok and Jakarta
Saturday, April 19 at 0630 & 2200
Sunday, April 20 at 0730 & 2000
Seoul and Tokyo
Saturday, April 19 at 0830
Sunday, April 20 at 0000, 0930 & 2200Two months into office as South Korea's President, Lee Myung-bak joins CNN's Anjali Rao this weekend on TALK ASIA to discuss his vision for his country and its relations with North Korea and the United States. Addressing his tough new position and the heightened tensions between Seoul and Pyongyang he says: "I don't believe the inter-Korean relationship has deteriorated since I assumed office. Rather I believe that the relationship between the two Koreas is entering into a new phase." Lee also says he is prepared to meet North Korean leader Kim Jong-II and addresses him via CNN: "I heard from my sources that Chairman Kim watches and likes CNN very much. If I were to have an opportunity to say this, I would tell him that we should work together to bring genuine peace and prosperity to (the) Korean peninsula. I believe Chairman Kim is capable of making that very big and important decision so I will be ready to meet whenever it is possible." As the race to the White House continues in the United States, the 66-year-old President is reluctant to reveal who he backs amongst the candidates: "I believe in the three candidates…no matter who becomes the next U.S President, I believe that each and every one of them will further develop the traditional relationship with Korea and shares the same thoughts regarding North Korea nuclear issue." Lee was born into a very poor family and he shares with Rao the remarkable story of his rise from - paying his way through school by doing manual jobs including collecting garbage. He recalls these early hardships on TALK ASIA and attributes his success today to his parents: "When I was young, actually not just me, but we were all poor. However despite such circumstances, I was very, very fortunate to be blessed with having parents who always instilled in a spirit of can-do… they always gave me the confidence that I will succeed in life and I believe it's because of them that I am here today." The former Hyundai-CEO earned his nickname the "Bulldozer" for his ability to beat challenges and it was well proven by his efforts to restore the previously buried Cheonggyechon stream in Seoul earning him respect from TIME magazine as an "Environment Hero." The onetime Seoul Mayor is again tackling ambitious plans with the Grand Korea Waterway that will attempt to connect with South Korea's four major rivers through a system of canals, but he denies that the project is unrealistic: "This is not just some sort of a campaign pledge. The question of the lack of water…the issue of the various development projects inland. The Great Canal way is a comprehensive plan to tackle all of these problems."As to the Korean economy undergoing a difficult period amid a global economic slow down, Lee is determined to turn around the country and place it in the world's top seven economies: "My economic plan is actually a ten-year plan. We will prepare ourselves so that we can achieve the 7% growth (in annual GDP)…we will try to encourage more corporations to invest into the Korean economy and especially for foreign companies to come in to Korea." As a new President, Lee realizes there are new issues he has to tackle, one of which touches upon the subject of corruption. When asked about allegedly falsely registering family details to avoid tax payments and another sensitive corruption scandal for which he was exonerated, Lee says: "However, now that I am President, such a culture in the political culture, as well as the corporate culture, must change. One of the aims of my administration will be to bring up and upgrade Korea to the global standard and this means not just in politics or in business but throughout society, and that we must be different from the past.." As for spending time with family, Lee points out that no matter how hectic his schedule was when he was Hyundai CEO and now as the country's President, he always finds time to spend with his children and grandchildren: "It has always been my belief that those who are busy, those are the ones actually who can find the time to do the really important stuff in life. It is those people with too much [time on their hands] that really don't get anything done." For more program information on TALK ASIA visit www.cnn.com/talkasia.