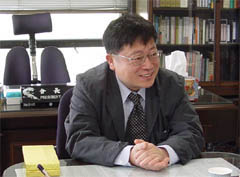 Lee Sang-ki, president of the JAK
The Journalists Association of Korea (JAK) strongly called for urgent support and help from the international media community June 22, 2004 to secure an immediate and safe release of a South Korean civilian abducted by Iraqi militants. To drum up international support, the JAK sent a letter appealing to the International Federation of Journalists and other major international media organization, as well as journalists associations and journalists around the world. A South Korean civilian, Kim Sun-il, 33, who works as an Arabic interpreter for Baghdad-based Korean trading firm Gana General Trading Co., was abducted in Falluja on June 17 by Iraqi insurgents, who claim they belong to Tawhid wa al-Jihad, led by al-Qaida operative Abu Mussab al-Zarqawi but the Gana president identified them as members of a Monotheism and Jihad Group. The abduction came one day before the Seoul government announced that it would send an additional 3,000 troops to the Irbil area in northern Iraq. About 600 South Korean military engineers and medics are now stationed in the southern Iraqi city of Nasiriyah. Over the additional troop dispatch plan, opinions have been sharply divided in South Korean political circles, even within the ruling party. Most civic groups and the JAK have also opposed the deployment plan, while the Seoul government has maintained that its mission "is to help reconstruct the war-ravaged Iraq."
A Korean kidnapped
A man identified as South Korean Kim Sun-il, front, sits in front of his captors in this image taken from an undated but recent video obtained by Al-Jazeera television station Sunday, June 20, 2004. In the video, a group calling itself Monotheism and Jihad said that Korea had 24 hours to meet its demands of the withdrawal of Korean troops from Iraq, or they would kill Kim Sun-il. (AP Photo/Al-Jazeera via APTN)
In video footage that was aired June 20 by the Qatar-based pan-Arab satellite television station, Al-Jazeera, Kim begged for his life and pleaded for the Seoul government to call off its plan to additionally send troops to Iraq. Kim was seen sitting in front of three masked gunmen, one of whom threatened to behead him unless the Korean government drops its additional deployment plan within 24 hours. The 24-hour deadline already passed as of 2 a.m. June 22 local time. The fate of Kim is still uncertain but Koreans hope he is still alive. "Such inhumane acts of abduction and beheading of innocent civilians couldn't be justified at any means and we urgently and strongly urge the Iraqi militants to set an innocent Kim free immediately and unconditionally," said Lee Sang-ki, president of the JAK. "It is totally absurd for Iraqi militants to link Kim's release to Seoul's calling off its troop deployment plan."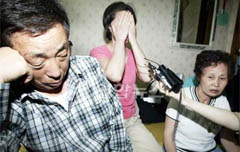 Father (left) and mother (right) of Kim Sun-il who was kidnapped by Islamic militants are extremely worried about the fate of their 33-year-old son in thier house in Bomil-dong, Dong-gu, Busan on June 22, 2004. Courtesy Yonhap
Lee said in the appeal letter, "Kim should be first freed unharmed as an innocent civilian's life should be respected duly." "As the time has already run out and there is no time to lose, we strongly call for the world media community to exert its efforts to pressure the Iraqi abductors' immediate release of Kim." In his latest phone call to his parents, Kim, unmarried, the third and only son of four children, promised to return home next month to celebrate his father's 70th birthday, according to Kim's family members. Kim's family said he dreamed of being a missionary in Arab countries.