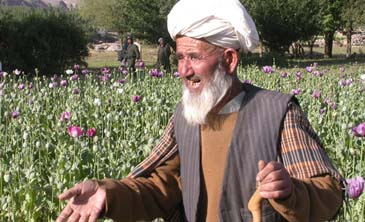 Afghanistan is the greatest illicit opium producer in the world, before Burma, part of the so-called "Golden Triangle." Its opium production has been a significant problem or a significant business for Afghanistan, especially since the downfall of the Taliban in 2001. Courtesy of Wikipedia
New York — A report by the Center on International Cooperation of New York University – Counter-narcotics to Stabilize Afghanistan: the false promise of crop eradication - released in the run-up to a major international meeting on Afghan policy in Tokyo, warns that U.S.-driven efforts to eradicate the country's opium crop, rather than deprive the Taliban of funding, will instead make more drug money available to fund insurgency, terrorism, and corruption. The report, co-authored by Barnett R. Rubin with Jake Sherman, argues that the international community's priority of eradicating opium production disproportionately harms impoverished farmers, who lack legal livelihoods. Depriving these rural communities of their livelihoods before secure alternatives are available drives them to align with the Taliban. The eradication policy also fails to target traffickers and processors at the high end of the value chain, whose gross profits make up 70-80 percent of the drug economy. It is their profits, not those of farmers, that are passed on Taliban, other illegal armed groups, and Afghan government officials who protect the drug trade."Proponents of 'forced eradication' believe they are integrating counter-narcotics with counter-insurgency, but instead are making badly conceived counter-narcotics a recruiter for the insurgency," according to Rubin. "If 'forced eradication' is implemented where economic alternatives are not available, Afghans will conclude that foreigners are in Afghanistan only to pursue their own interests, not to help Afghanistan."
The Joint Coordination and Management Board responsible for implementing the Afghanistan Compact (involving the U.S., financial donors, NATO troop contributors, the UN and the Afghan government) will meet in Tokyo on 6 February, and Professor Rubin argues that its substantive focus should be on overhauling counter-narcotics policy, promoting an alternative strategy involving:Increased targeting of major drugs traffickers and interdiction of drug convoys by NATO and Afghan forces;
Ending forced opium eradication where Afghans lack confidence in economic alternatives;
Gradual measures for the reconciliation and reintegration of cultivators and traffickers who are willing to support the government to move out of their illicit occupations;
"Top to bottom" reform of the Afghan Ministry of the Interior, with a primary focus on rooting out corrupt senior officials.
The report concludes that if the international community and Afghan government do not develop a new counter-narcotics strategy involving these elements, the continued impact of eradication on poor communities may provoke resistance to the current Afghan government on a level comparable to that against the misguided land reforms of the Communist authorities and Soviets in 1978-79, presenting the government's international supporters with a choice of military escalation or defeat.Counter-narcotics done properly is exactly what Afghans have been asking for: removing criminal power holders and bringing security and development.
The above article is from The Senlis Council.