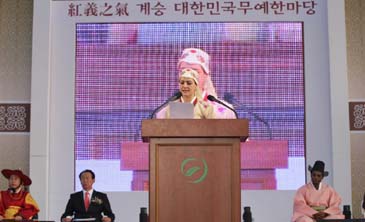 Mrs. Aida Al-Maaina delivers a congratulatory speech at the 36th Traditional Martial Arts Festival held on April 19, 2008 in Uiryong-Gun, South Korea's South Gyeongsang Province.
Mrs. Aida Al-Maaina, wife, of UAE Amb. Abdulla Mohammed Al-Maainah, visited the 36th Traditional Martial Arts Festival held on April 19, 2008 in Uiryong-Gun, South Gyeongsang Province, South Korea.She made the congratulatory speech for the largest traditional martial arts contest in the nation. Thousands of martial artists from around the country participated in the competition. The competition consisted of five categories — Taekwondo, Akido, Kendo, Royal Court Martial Art, and Special Attack Martial Art.Equestrian martial arts was displayed prior to the main competition. The event was co-hosted by the Uiryeong-Gun, the Righteous Army Festival Committee, and the Korea Youth Promotion Association.In the speech she thanked and congratulated the residents of Uiryeong-Gun, the place from which the late patriotic Gen. Kwak Jae-Woo came from. She said that the event is very meaningful in that it can provide a chance for juveniles to be inspired by the spirit of Gen. Kwak and his colleague officers who volunteered themselves to save the nation from the Japanese invaders hundreds of years ago.Countless numbers of farmers and other laypeople volunteered to become a Uibyong (ëùܲ) or literally rightious soldier to save the nation in 1592 when tens of thousands. When Japanese invasions of Korea (1592–1598) broke out, A patriot Kwak Jae-Woo (άî¢éÞ: 1552-1617) sold his house and lands to mobilize some 2,000 Uibyong soldiers and led a series of successful guerilla warfares against Japanese regular army. Kwak was one of the most famous patriotic Uibyong leaders.This event is an "opportunity to experience the reasons why Gen. Kwak Jae-Woo and his colleagues sacrificed themselves and gave their souls not for personal gains but for the righteous of the nation and the good of the whole Korean people," she praised Ubyongs who volunteered to save the nation.Uibyongs played a significant role in Korea's fighting off the Japanese invaders during Hideyoshi's invasion of Korea (1592-1598). For this invasion some 200,000 Japanese soldiers were mobilized by Toyotomi Hideyoshi (ù¥ãí â³ÑÎ: 1536-1598), who unified Japan.
The Traditional Martial Arts Festival was held on April 19-20, 2008 as part of the 36th Uibyong Festival, which is held annually to honor the spirit of patriotic farmer soldiers. Foreigners were also invited to the festival.
For details or inquiries please call the UAE Embassy in Seoul at 02-790-3235/7.