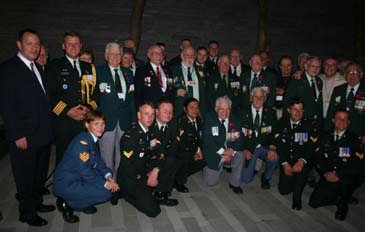 Canadian Amb. Ted Lipman (far left) poses for camera with Canada's Korean War veterans at his embassy on April 18, 2008.
Canadian Ambassador to Seoul Ted Lipman threw a reception for scores of visiting Canadian veterans of the Korean War (1950-53) at his embassy in Jeong-dong, Jung-gu, Seoul on April 18, 2008 .Among about 70 "old soldiers" belonging to the Korea Veterans Association of Canada (KVA) were Col. Ed Bauer (76 years old, Douglas L. Bamford (76 years old), and James Wright (77 years old).In a speech Col. Bauer said that there is a far cry between the era of Korea War and now in 2008. He described South Korea as "a thriving prosperous democratic society.""Look at what greets us — huge buildings, paved streets, 8-lane highways, and massive bridges," said Col. Bauer "They never existed way back then." The Canadian veterans visited Gapyeong-Gun, Gyeonggi Province, where Korean War monuments are for the war deads from England, Australia, Canada, and New Zealand — the British Commonwealth of Nations. About 300 Korean War veterans and families from the four nations held memorial ceremonies there.In terms of the number of soldiers Canada was the third largest country only after the US and England, which helped South Korea during the tragic Korean War.A total of 26,791 Canadian soldiers fought along with South Koreans against the Communist North Koreans during the Korean conflict. Out of them 516 Canadian soldiers died in battles. Most of them were killed while defending Busan perimeter.During the Korean conflict 16 nations came to the rescue of South Korea and fought under the UN flag.
For details or inquiries please contact Ms. Ryu Kyung-Hwa, press officer of the Canadian Embassy in Seoul at 3783-6110.