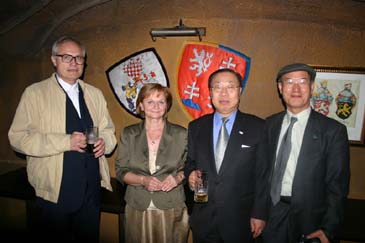 Ms. Nadia Vlnasova (second from left), head of Economic and Commercial Department of the Czech Embassy in Seoul, poses with other participants at Castle Praha on April 10, 2008. To her right is Chairman Choi Soo-Myung of the Korea-Czech Friendship Association.
The Embassy of the Czech Republic and Castle Praha co-hosted a dinner gathering to introduce a new Czech beer and opened an exhibition on the fascinating history of Czech brewing at the Hongdae branch of Castle Praha on April 10, 2008. Among the participants was Chairman Choi Soo-Myung of the Korea-Czech Friendship Association. The Czech Republic is considered one of the elite beer brewers of the world. Not only do they have a passion for making beer, they also love to drink it.The average Czech consumes an average of 159 liters of beer a year, making the Central European country world's No. 1 in terms of per-capita beer consumption.
Beer and its production are major themes in Czech culture as they are also credited as having the first beer museum, and Czech was the first nation to print text books on how to brew beer. It is also home to the elite brewing company Anheuser Busch. In fact Czech lager beer is the blueprint for producing the world's lagers.Martin Cech, second secretary of the Czech Embassy in Seoul could be seen in attendence enjoying his favorite homeland brew."The Czech beer is distinctive. I am not in a position to say that it is the best beer in the world," he said. "But more and more Asian countries are importing and now people can judge for themselves."This popular beer hall and restaurant are modeled after the Old Town Square in historic downtown Prague, capital of Czech Republic.An increasing number of Korean tourists are flocking to Prague because of its reputation as a romantic and mysterious city of the arts as well as its affordability compared to Western European capitals. Many young Koreans first understood the stunning beauty of Prague when watching "Lovers in Prague," a popular melodrama which was aired years ago on the local TV. The TV soap opera had Korean viewers watching feverishly as it was one of the most popular one-year-run dramas in Korean television history. Interestingly enough, the popularity of Prague and the Czech Republic have not faded as Chairman Choi suggests "I always tell Korean people you have to go there for the beer and architecture. They are both very special."
For details or inquiries contact 02-334-2121.