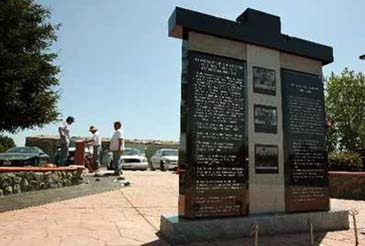 Workers put the finishing touches on a commemorative plaza built around a monument that marks the site of the Dinuba Korean Presbyterian Church. Photo Courtesy of Craig Kohlruss/The Fresno Bee
The unveiling of a plaque in Reedley and two monuments in Dinuba today will honor the settlement of Koreans who were lured to the area by farmwork in the early 1900s.The plaque and monuments will help preserve the heritage and identity of local Koreans, especially for the younger generation, said Marn J. Cha, president of the Central California Korean Historical Society.The plaque will be unveiled in front of Hotel Burgess in Reedley, where two Korean dignitaries stayed during the 1920s and 1930s. The two — Syngman Rhee, the founding president of the Republic of Korea, and Ahn Chang-ho, a Korean patriot — made frequent visits to the area seeking support while Koreans fought against Japanese colonialism, Cha said.Both were instrumental in the fight for independence in Korea, he said.In Dinuba, the monuments will mark the site of the Dinuba Korean Presbyterian Church and the memory of a March 1920 parade through Dinuba to celebrate the Korean uprising against Japanese rule.About 7,000 Koreans migrated to Hawaii to work on sugar plantations beginning in 1903, Cha said. Some of them eventually moved to the mainland, coming to Reedley and Dinuba to be farmhands.Harry S. Kim migrated to Reedley from Korea in the early 1900s and eventually opened a fruit packinghouse with Charles H. Kim, who was no relation. The two cultivated the American version of the fuzzless nectarine, Cha said. Harry Kim become wealthy and helped finance support for Korea's independence movement.Rhee often was Kim's guest at Hotel Burgess while attending fundraisers for the independence efforts. Portraits of Rhee and Ahn will be hung inside the hotel.The Dinuba monument is dedicated to a March 1, 1920, parade. One year earlier, Korean masses led a civil unrest declaring that the Japanese should leave their country.Koreans paraded on an unpaved L Street in Dinuba through the rain and mud in 1920 in support, Cha said.The monuments will add to the rich history and significance of Koreans in the area, said Dinuba City Manager Ed Todd."I suspect these will be very important sites for Koreans to come visit," he said.Cha believes the Reedley and Dinuba landmarks will help the younger Korean generation strengthen its identity."If you know yourself well, you understand others, and that's the way we live together," said Cha, a professor of political science at California State University, Fresno."That's what America is all about."
The reporter can be reached at ejimenez@fresnobee.com or (559) 441-6386.The above article is from The Fresno Bee.